"Don't worry. I'm the strongest"
Prime 1 Studio is extremely proud to present a fan-favorite in the Concept Masterline Series: CMJUK-04DXS: Satoru Gojo Deluxe Bonus Version from Jujutsu Kaisen!
Our favorite teacher is clocking into work as the students are getting attacked by cursed spirits. But rest assured, as the world's strongest special-grade jujutsu sorcerer is here, no harm will be done to any of his students and friends.
Our talented artists at Prime 1 Studio have come together to bring Tokyo Jujutsu High's most handsome and charismatic teacher to life! Once again, they have pushed their skills to the limit in order to capture the complex essence of Satoru Gojo's character and it shows!
Standing at almost 19 inches tall, Satoru Gojo is ready to unleash his fearsome Domain Expansion upon his opponent. Domain Expansion is a rare and extremely powerful ability that very few jujutsu sorcerers possess. It requires a very profound understanding of their own magic and the ability to control and manipulate the surrounding environment. Satoru here, being the sorcerer prodigy that he is since a very young age, already knows that his opponent is in for a very good treat! With a sly smirk and a relaxed composure, Satoru dons his slim-fitted dark blue, high-collar jacket and his simple black blindfold. Casually casting his Domain Expansion ability, his right fingers are crossed, and his left thumb casually slipped inside his pocket, nothing can ruin this man's day.
The Deluxe Version allows you to expand your own domain of storytelling by adding one swappable arm and a swappable head. The right arm lifts the blindfold up, revealing his beautiful ethereal cerulean-blue right eye.
And when you order the Deluxe Bonus version from our official online store or any authorized distributor, you will receive an extra swappable head and left arm: Satoru Gojo unleashes his full jujutsu magic potential and holds nothing back by completely pulling down his blindfold with his left arm, revealing his entire face and both of his eyes.
Satoru takes a step forward on a Jujutsu Kaisen-themed base as purple magic energy slowly vibrates and gathers, forming a menacing sphere all around him. The Infinite Void is about to expand at any second!
Whether you are already collecting our Jujutsu Kaisen line or want to start, this piece will surely be a treasured piece in the warmth of your home. Pre-order the CMJUK-04DXS Satoru Gojo Deluxe Bonus Version today while quantities last!
Specifications:
Jujutsu Kaisen-themed base
Two (2) swappable head parts
Two (2) swappable right arms
One (1) Bonus swappable left arm [BONUS PART]
One (1) Bonus swappable head part [BONUS PART]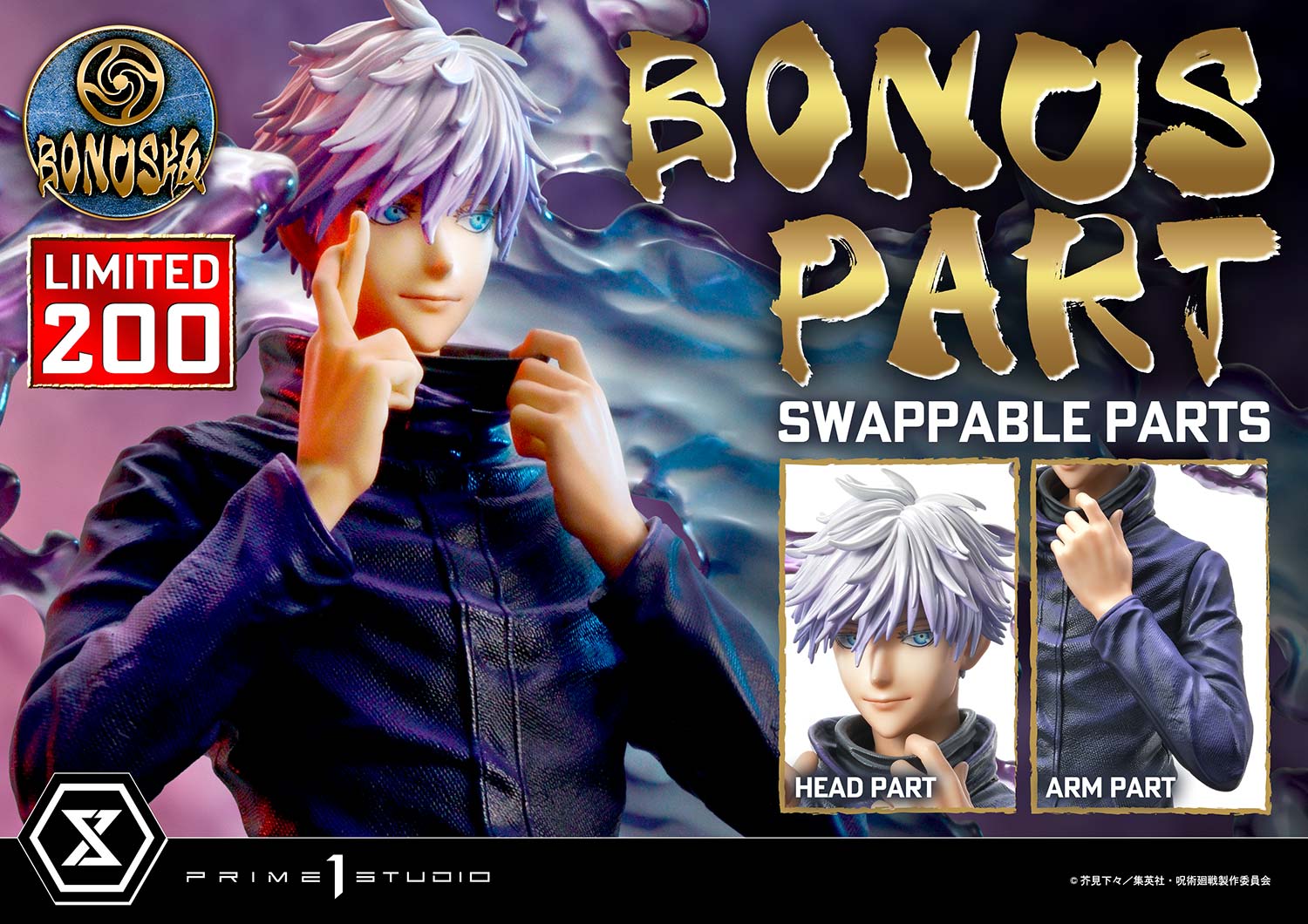 Notice:
Prototype samples shown.
Product details could be subject to change without further notice.
Please note the final product specifications may differ because each product is Handmade.
Since the product is still in the development stage, the Size (up to 10%) & Weight (up to 10kg) may be changed during the production stage.
©芥見下々/集英社・呪術廻戦製作委員会
DETAILS
Product Size Approx.

H:48cm W:43cm D:37cm

Package Weight
Approx.

about 9.5 kg

Materials

Polystone and other materials

JAN

4580708046969
RELATED PRODUCTS