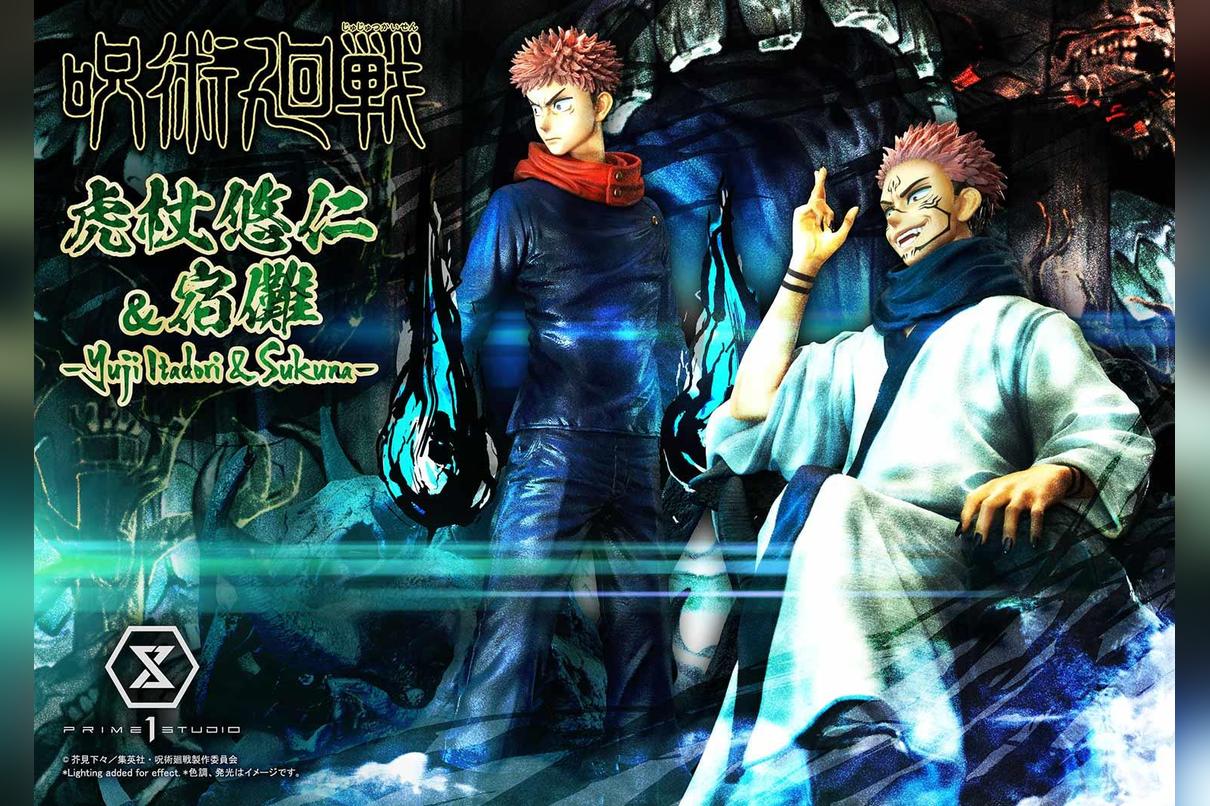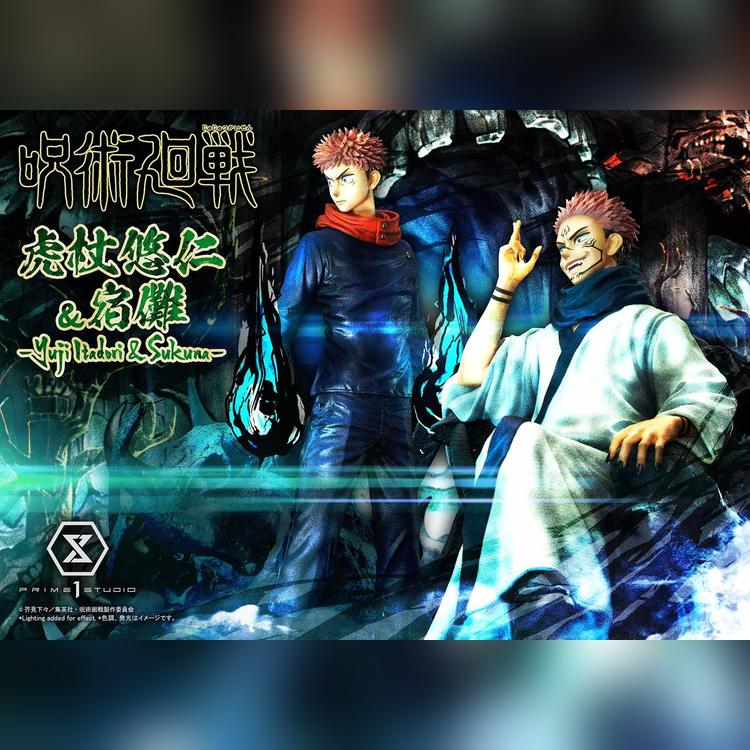 Jujutsu Kaisen
Yuji Itadori & Sukuna
Edition Size: 150
Sep. 2023 - Dec. 2023
"Got it. I won't let Sukuna out." – Yuji Itadori
"Still, irritatingly enough, I don't have control of this body." – Ryomen Sukuna
Prime 1 Studio is very proud to present this fan-favorite diorama set in the Concept Masterline Series: CMJUK-03: Yuji Itadori and Sukuna Jujutsu Kaisen Set from Jujutsu Kaisen!
First-year Sorcerer Yuji Itadori's body is a battleground! After ingesting one of Ryomen Sukuna's fingers, he unwittingly became both the guardian and the gatekeeper to the most malevolent cursed demon spirit in a thousand years!
Prime 1 Studio's skilled artisans have crafted a complete diorama with the main characters of the Jujutsu Kaisen anime! In this combined 360-degree diorama masterpiece, you will enjoy having Yuji Itadori on one side of the diorama, while Sukuna resides on the other side. Entirely representative of the conflict raging within Yuji's body, this diorama set is definitely the one to get!
Standing at a very grounded 15 inches tall, Yuji Itadori looks ready to fight. Ingesting one of Ryomen Sukuna's fingers gave Yuji immense otherworldly abilities, which he uses to battle the supernatural threats of the magical world he's been thrust into! Yuji portrays a steady, and able fighter in his trademark Tokyo Jujutsu High uniform, which Yuji himself has personalized with a striking red hood! His face is pulled straight from the anime, perfectly poised for a cursed attack. Sitting at a leisurely 13 inches tall, Sukuna looks almost bored to death! But that's the problem when you're the most powerful demon curse of all time...the challenges come few and far between! However, he's found a new plaything in Yuji Itadori...through Yuji, he is poised to take over the world, like he attempted a thousand years before. But in the meantime, Sukuna lounges on his throne of skulls and bones, enrobed in a simple kimono, scarf and zori. His tattooed face looks pensive, in an expression pulled straight from the anime. Waiting for the next entertaining chapter of this new development, his face leans on his right arm, resting on the armrest of his demon throne.
This Diorama Set features a wealth of swappable features! Yuji comes with three swappable portraits, each depicting a different emotional weight! He also comes with two swappable right arms, and three swappable left arms. Sukuna, on the other hand, comes equipped with three different swappable portraits, with differing levels of sinister energy, as well as two swappable right arms, conveying a different posture each time.
Yuji and Sukuna are situated on a fine Jujutsu Kaisen-themed base, featuring beast skulls and ribs...reminiscent of Sukuna's Malevolent Throne in his Domain Expansion! This base is infused with evil, and just the perfect environment for a metaphysical cursed spirit vs sorcerer fight to the death!
Jujutsu Kaisen fans, what are you waiting for? Don't delay and Pre-Order CMJUK-03 Yuji Itadori and Sukuna Jujutsu Kaisen Set today!
Specifications:
Jujutsu Kaisen-themed base
Three (3) Swappable Left Arms (Yuji Itadori)
Two (2) Swappable Right Arms (Yuji Itadori)
Three (3) Swappable Portraits (Yuji Itadori)
Two (2) Swappable Right Arms (Ryomen Sukuna)
Three (3) Swappable Portraits (Ryomen Sukuna)
Notice:
Prototype samples shown.
Product details could be subjected to change without further notice.
Please note the final product specifications may differ because each product is Handmade.
Since the product is still in the development stage, the Size (up to 10%) & Weight (up to 10kg) may be changed during the production stage.
©芥見下々/集英社・呪術廻戦製作委員会
DETAILS
Product Size Approx.

H:38cm W:29cm D:38cm

Product Weight
Approx.

About 13.5 Kg

Materials

Polystone and other materials

JAN

4580708041667
RELATED PRODUCTS