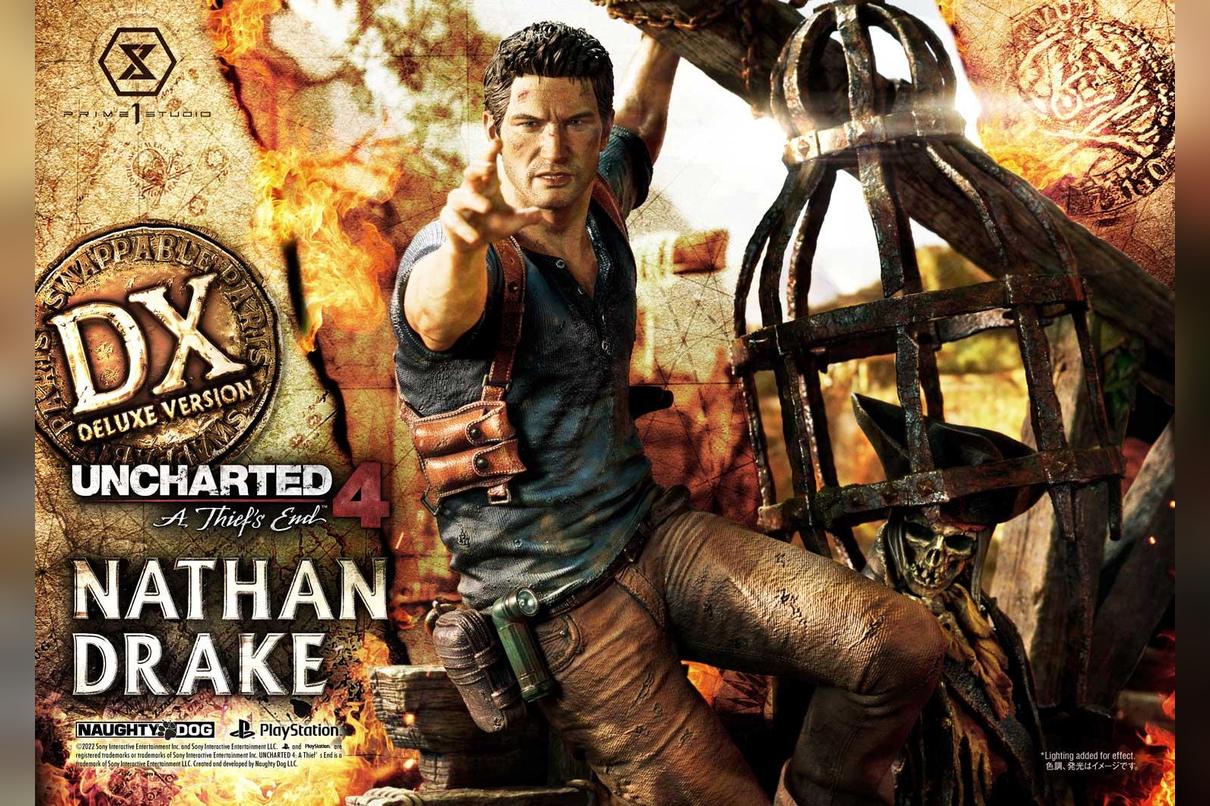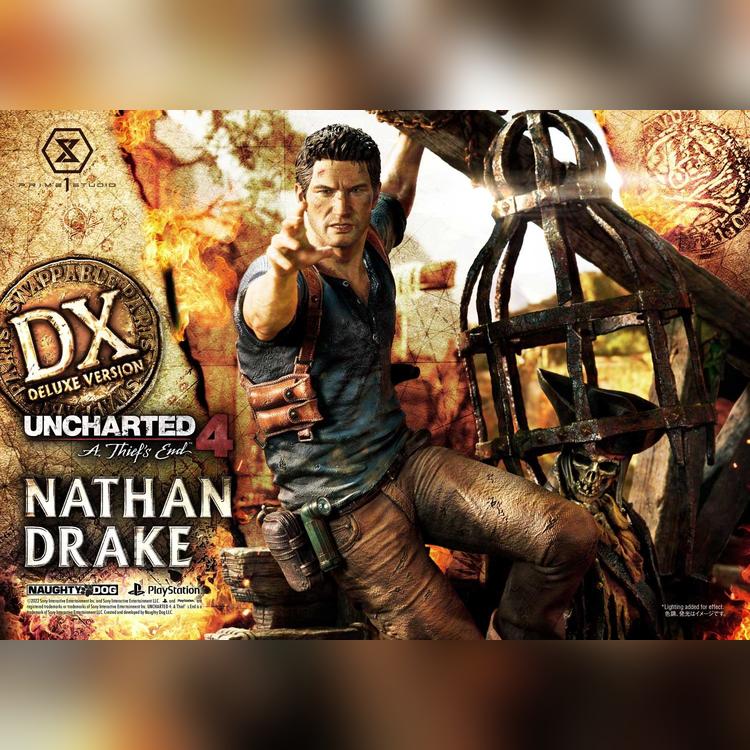 Uncharted 4: A Thief's End
Nathan Drake

DX Bonus Version
Edition Size: 300
Expected To Ship: 7th December
Important Notice
When an order for this product has been canceled by another customer, you may be selected from the Waitlist.
If your Waitlist order is selected, you will have the opportunity to order the product through the notification email or from MyPage. The availability period to order is limited. Please note if the order is not confirmed within this period, the order will be canceled automatically.
"
Oh man, I'm so tired of climbing shit.
" – Nathan Drake
Wow! Prime 1 Studio is proud to present the ultimate chapter of Nathan Drake's epic saga with their Ultimate Premium Masterline statue: the 1:4 Scale UPMU4-01DXS Nathan Drake Deluxe Bonus Version from Uncharted 4: A Thief's End!
Uncharted 4: A Thief's End was the best-selling game of the whole Uncharted series! And to celebrate this, the amazing artists at Prime 1 Studio have brought you an exhilarating piece to pull you into Nathan Drake's adventurous, treasure-hunting world!
Nathan Drake began his life as a globetrotting, treasure seeker with his brother Sam. Together as teenagers, they went after the treasure of Libertalia, which they finally find in the game.
In this thrilling 27 inch tall statue, Prime 1 Studio artists have posed an extremely acrobatic Nathan Drake in the midst of yet another exciting adventure. Nathan hangs off a wooden beam, supporting a cage inhabited by a long dead crewmate of the famed pirate, Henry Avery! Nathan aims his trusty sidearm at an unknown combatant, who is bound to lose his life in this encounter!
Our skillful artisans have included a variety of textures and materials in this statue, which underscores the importance the source material played in the creation of it. The world of Uncharted is nothing if not dense with detail, grit, and atmosphere. The Studio took full advantage of this when creating this magnificent figure! The weathering, the dirt, the grime, all come alive with the lifelike rendering of the painting masters.
In this Deluxe Bonus Version, Nathan comes with two (2) swappable heads (one determined look, and one seriously annoyed look) and two (2) swappable right arms (one holding his sidearm, and one open hand). And when you pre-order this Deluxe Bonus Version from our official online store or any authorized distributor, will you receive a super cool, extra Bonus Part: Nathan Drake's AK-47 Machine Gun, slung behind his back!
Nathan Drake's base is a Libertalia-themed environment, complete with an overgrown jungle, ancient masonry, and incarcerated pirate corpses!
Uncharted 4 fans! Take advantage of this phenomenal UPMU4-01DXS Nathan Drake Deluxe Bonus Version statue before it gets lost in time. Pre-Order now!
Specifications:
Two (2) Swappable Heads
Two (2) Swappable Right Arms
Libertalia-themed environmental base
One (1) AK-47 with Shoulder Strap [BONUS PART]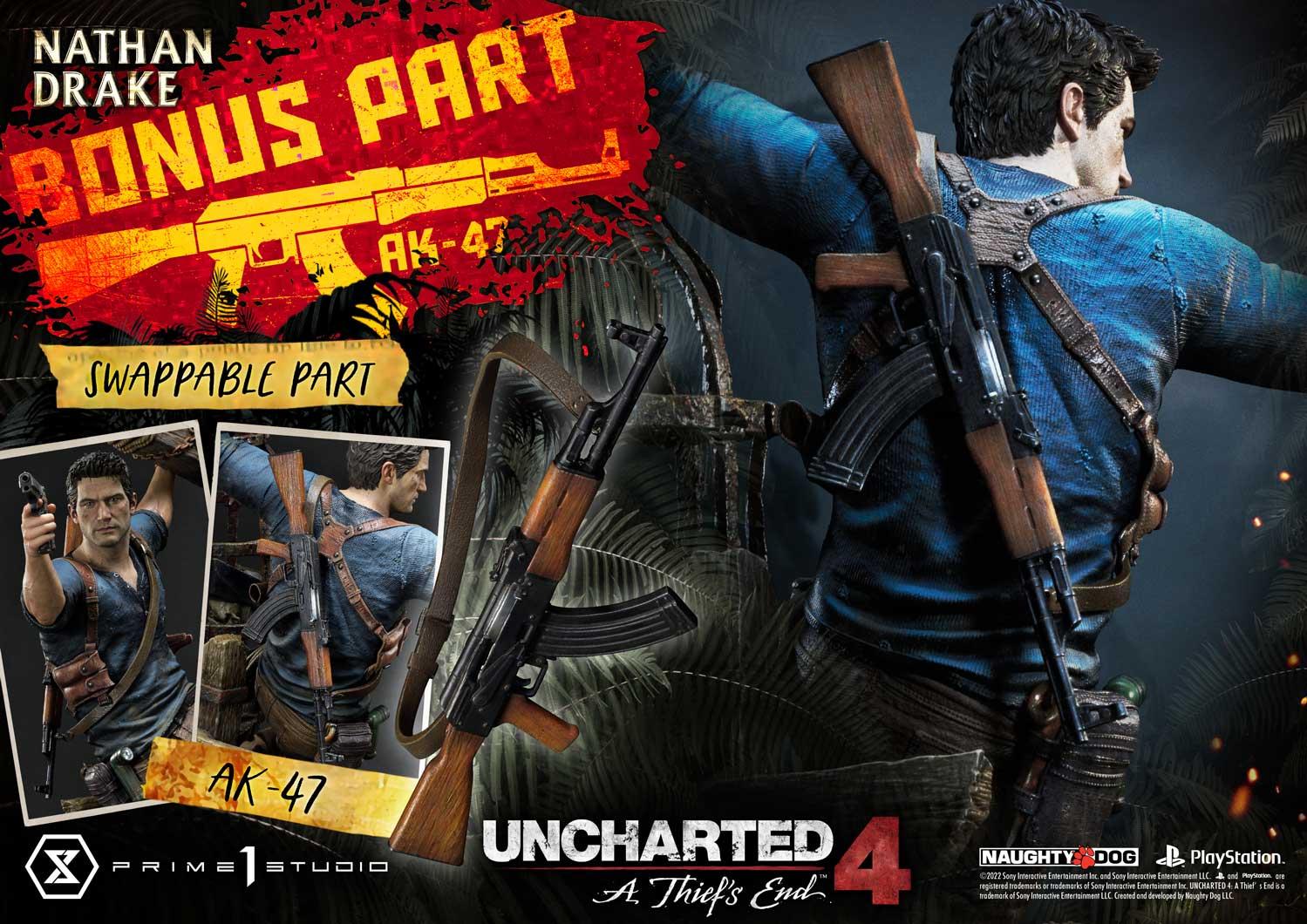 Notice:
Prototype samples shown.
Product details could be subjected to change without further notice.
Please note the final product specifications may differ because each product is Handmade.
Since the product is still in the development stage, the Size (up to 10%) & Weight (up to 10kg) may be changed during the production stage.
©2022 Sony Interactive Entertainment Inc. and Sony Interactive Entertainment LLC. "PlayStation Family Mark" and "PlayStation" are registered trademarks or trademarks of Sony Interactive Entertainment Inc. UNCHARTED 4: A Thief's End is a trademark of Sony Interactive Entertainment LLC. Created and developed by Naughty Dog, Inc.
DETAILS
Product Size Approx.

H:69cm W:46cm D:62cm

Carton Size
Approx.

20.3 kg (1 box)

Product Weight
Approx.

13.7 kg

Materials

Polystone and other materials

JAN

4580708042527