Jurassic World: Dominion (Film)
Giganotosaurus

Bonus Version
Edition Size: 300
Aug. 2024 - Nov. 2024
"Giganotosaurus. Largest known terrestrial carnivore. You put two apex predators in one valley, pretty soon there's only going to be one." – Kayla Watts
Prime 1 Studio is very proud to present you with the next entry to our Legacy Museum Collection of the Jurassic World: Dominion Film. The 1/15 Scale LMCJW3-04S Giganotosaurus Final Battle Bonus version!
In this epic conclusion to the Jurassic World Trilogy, the Biosyn Sanctuary is set ablaze, Owen Grady and his companions try their best to escape as the final battle of the dinosaurs begins. It comes without a surprise that Prime 1 Studio would choose this climactic battle as the next giant reptile to bring to life. The Giganotosaurus made its long-awaited appearance in this film and left a lasting impression among fans.
Our exceptional team of artists has come together and done an outstanding job of capturing the enormity of this creature. Standing at almost 19 inches and 30 inches wide, the Giganotosaurus stands ready to take on both the T-Rex and Therizinosaurus simultaneously and show them what the most powerful predator is made of. With a long and narrow skull, lined with extremely sharp, serrated teeth, its powerful jaw is open, about to snap on its prey, crushing the bones and flesh altogether. Muscular legs, stepping on the ruins of a partially destroyed Sanctuary, ready to lunge at high speed. Texturing, shading and coloring, big scales, a long-striped tail, and every little detail take this piece to the next level. This massive carnivore theropod is ready to wreak havoc and lay its enemy to waste. The base features a layer of fossils beneath the earth and the crumbles of the Biosyn Sanctuary.
Limited to 300pcs only, when you order this Bonus version from our official online store or any authorized distributor, you will receive a cool extra Bonus Part: a bonus freestanding fang to be displayed next to your statue.
This monstrosity of a statue will surely be a fearsome addition to your Jurassic collection. Bring home the ultimate dinosaur collectible along with its two opponents and recreate the epic final battle of the Dominion film in the warmth of your own home. Order this LMCJW3-04S: GIGANOTOSAURUS FINAL BATTLE Bonus Version while quantities last!
Specifications:
One (1) Biosyn Sanctuary rubble from Jurassic World: Dominion-themed base
One (1) Bonus Fang stand [BONUS PART]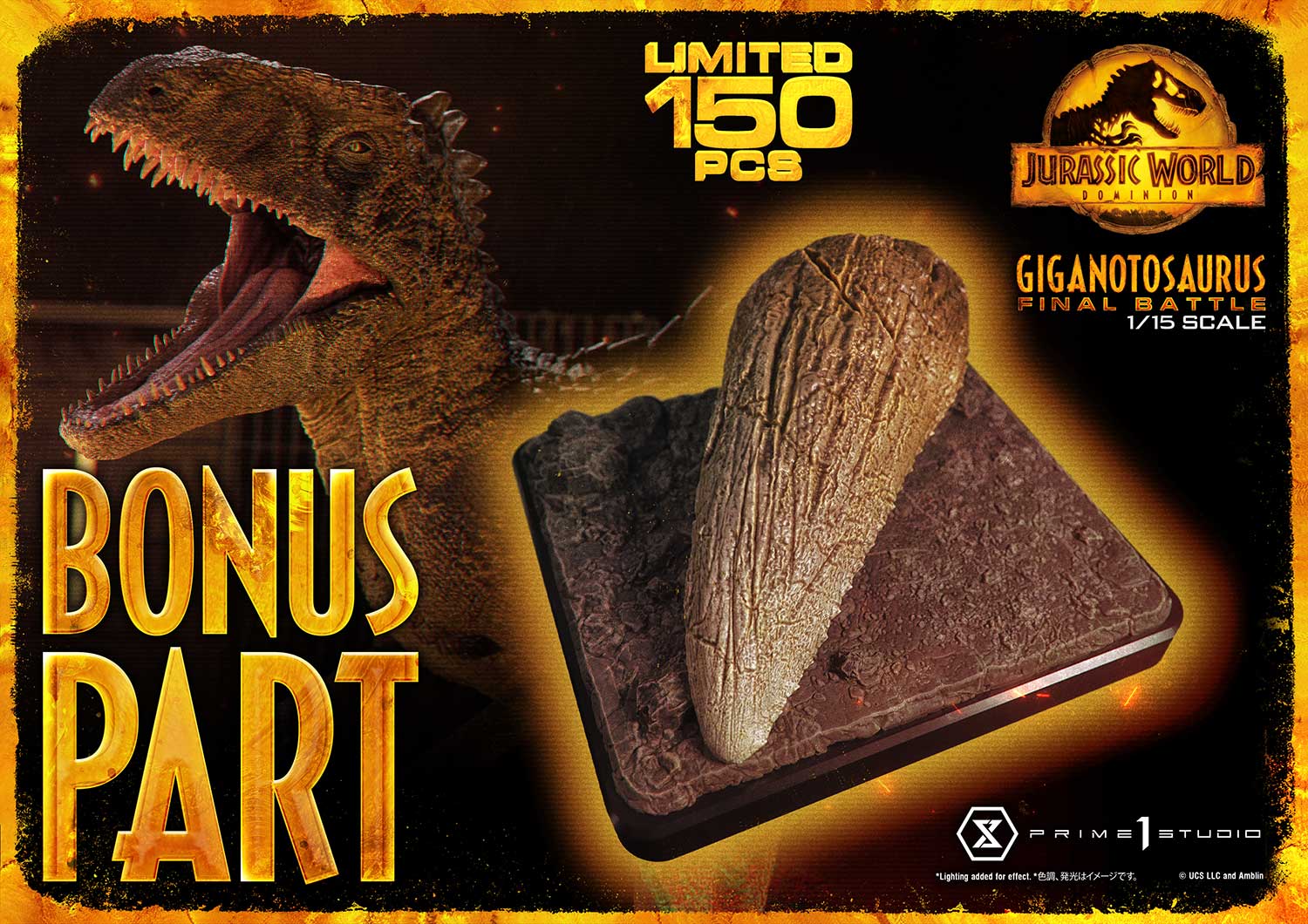 Notice:
Prototype samples shown.
Product details could be subject to change without further notice.
Please note the final product specifications may differ because each product is Handmade.
Since the product is still in the development stage, the Size (up to 10%) & Weight (up to 10kg) may be changed during the production stage.
© UCS LLC and Amblin
DETAILS
Product Size Approx.

H:48cm W:76cm D:35cm

Package Weight
Approx.

about 24.5 Kg

Materials

Polystone and other materials

JAN

4580708047140
RELATED PRODUCTS