Jurassic World: Dominion (Film)
Blue & Beta

Bonus Version
Edition Size: 100
Feb. 2024 - May. 2024
Important Notice
When an order for this product has been canceled by another customer, you may be selected from the Waitlist.
If your Waitlist order is selected, you will have the opportunity to order the product through the notification email or from MyPage. The availability period to order is limited. Please note if the order is not confirmed within this period, the order will be canceled automatically.
"You look just like your mother." - Maisie
Prime 1 Studio is extremely proud as we continue to add more amazing dinosaurs to our Legacy Museum Collection: The 1:6 Scale LMCJW3-01S Blue & Beta Bonus Version from Jurassic World: Dominion!
In this thrilling conclusion to the Jurassic World Trilogy, we encounter an older Blue, Owen Grady's most loved, and trusted Velociraptor, with an adorable surprise of her own! Prime 1 Studio is incredibly proud to bring you a heartwarming vignette into the life of one of the saga's most fan-favorite dinosaurs: Blue & Beta!
The amazing artists of Prime 1 Studio have breathed intricately detailed life into these statues. Every scale, muscle, and wrinkle can be seen in stark realism. The lifelike painting of these figures is impeccable!
In this impressive and quaint diorama from the blockbuster movie, the highly intelligent Velociraptor Blue, named for the tell-tale, unique blue stripe along her body, stops in a North American forest to survey her surroundings with her baby, Beta. The calm, snowy terrain is in bright contrast to the alert, reptilian creatures it contains. Here we see Beta observing her mother carefully...for cues on how to behave and how to regard the unfamiliar environment.
When you pre-order this Bonus Version from our official online store or any authorized distributor, you will receive a cool, extra Bonus Part: a bonus, freestanding Jurassic World: Dominion Logo Plaque!
Fans of Jurassic Park will love this cool diorama from Jurassic World: Dominion! Pre-order LMCJW3-01S: Blue & Beta Bonus Version today!
Specifications:
Snowy Forest from Jurassic World: Dominion-themed base
One (1) Jurassic World: Dominion Logo Plaque [BONUS PART]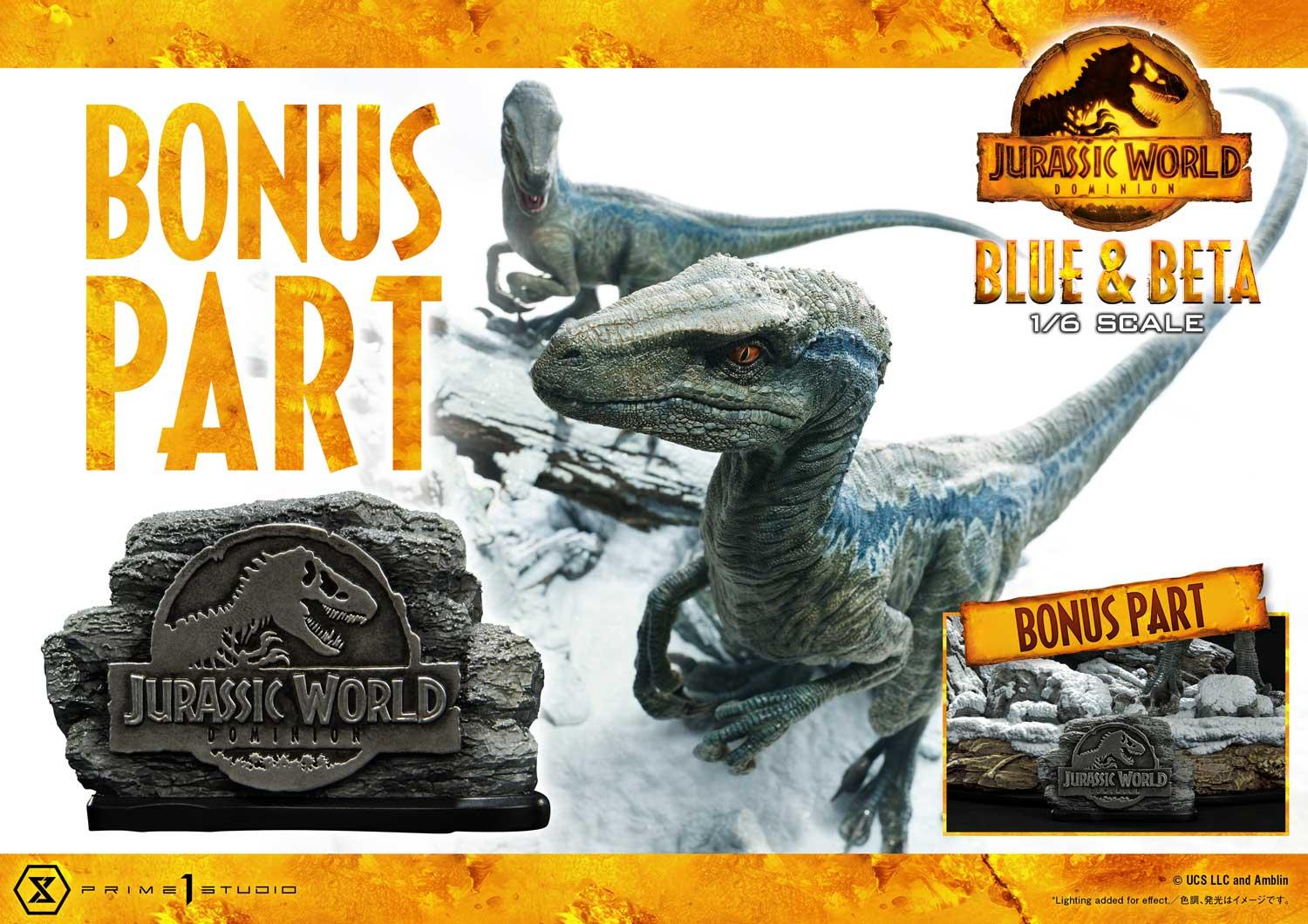 Notice:
Prototype samples shown.
Product details could be subject to change without further notice.
Please note the final product specifications may differ because each product is Handmade.
Since the product is still in the development stage, the Size (up to 10%) & Weight (up to 10kg) may be changed during the production stage.

*Region Exclusive
© UCS LLC and Amblin
DETAILS
Product Size Approx.

H:41cm W:53cm D:67cm

Package Weight
Approx.

11.5 kg

Materials

Polystone and other materials

JAN

4580708043937
RELATED PRODUCTS