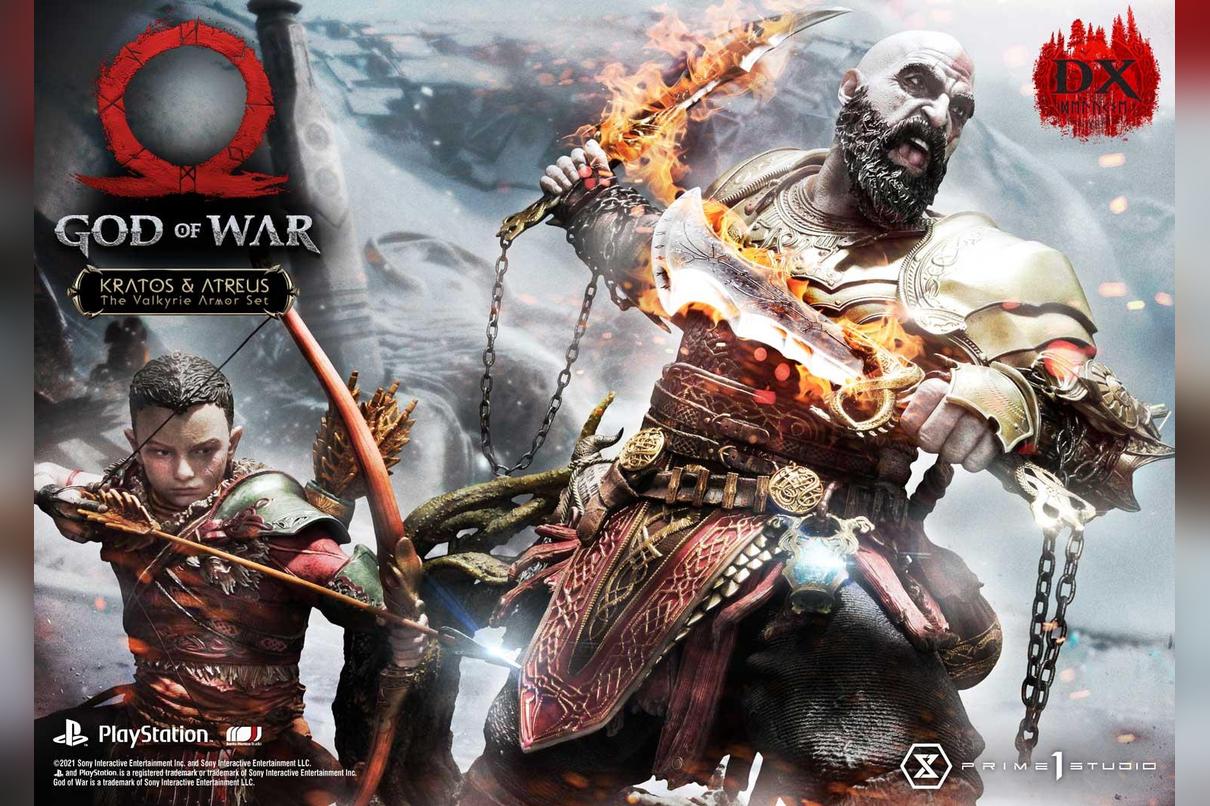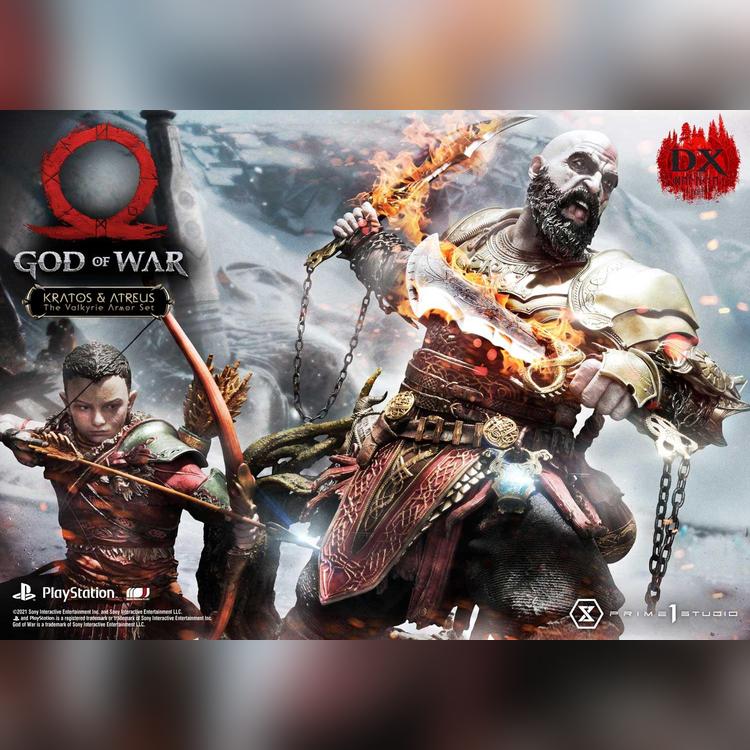 God of War
Kratos & Atreus
The Valkyrie Armor Set
Deluxe Version
Edition Size: 180
Important Notice
When an order for this product has been canceled by another customer, you may be selected from the Waitlist.
If your Waitlist order is selected, you will have the opportunity to order the product through the notification email or from MyPage. The availability period to order is limited. Please note if the order is not confirmed within this period, the order will be canceled automatically.
"The Truth. I am a god, boy. From another land, far from here. When I came to these shores, I chose to live as a man. But the truth is...I was born a god. And so were you."
- Kratos to Atreus
Prime 1 Studio is proud to reveal another jaw-dropping addition to the Ultimate Premium Masterline Series: The 1/4 Scale Kratos and Atreus in the Valkyrie Armor Set (Deluxe Version) from God of War!
2018's God of War, heralded as one of the best video games of all time, won the coveted Game of the year honor by dozens of awards shows and media publications! In honor of this, we at Prime 1 Studios thought that it was only fitting that we offer our Kratos and Atreus statue with the best armor set in the game: the Valkyrie Armor Set!
At approximately 28 inches tall to the tip of the Leviathan Axe, and about 26 inches tall to the tip of the Blades of Chaos, this statue is breathtaking! Kratos is resplendent in the famed Valkyrie Armor Set: The Cuirass of the Valkyrie, The Gauntlets of the Valkyrie, and The Waist Guard of the Valkyrie.
Our sculptors worked very hard to replicate the in-game design of the Valkyrie Armor Set to make it functional for a real-world figure. There are layers upon layers of plating, all with their own special embossing and scrollwork. Every strap, every buckle, every texture...True to the game, and embellished for our discerning fans. Not to be left out, Atreus has been painted in eye-popping scarlet and emerald colors, with his loincloth bedecked in metallic crimson armor plating.
Far from being empty-handed, Kratos wields his signature game weapons: the Leviathan Axe and the Guardian Shield...both rendered in stunningly crisp detail as only our talented stable of artists can reproduce. Likewise, Atreus is shown ready to loose an arrow from his fully upgraded Talon Bow!
With the Deluxe Version, you get so much more! You have a choice of three (3) different portraits for Kratos, one solid angry emotion for every occasion. You also have a choice of different swappable arm sets so you can have Kratos holding his Leviathan Axe and Guardian Shield or his famous Blades of Chaos (for that descent into Helheim aesthetic!) And for an added touch of realism, his Leviathan Axe and Blades of Chaos are available as items you can attach to his back when they are not in use.
And of course, accompanying Kratos and Atreus on their journey is the decapitated head of Mimir, the smartest man alive! In this statue, the God of Wisdom is equipped with LED Illuminated eyes, so they can light up just like in the game.
This statue set is a perfect companion piece to another God of War stunner: the 1/4 Scale UPMGOW-01: Baldur and Broods Statue. You will be able to display them facing each other for that perfect confrontational scene!
If Kratos and Atreus in the Ivaldi's Deadly Mist Armor Set wasn't your cup of tea, then definitely pick up this statue as soon as possible because we can guarantee that everyone else will!
Specifications:
Three (3) Alternate Portraits (Angry/Closed Mouth/Shouting)
One (1) Swappable set holding the Leviathan Axe & the Guardian Shield
One (1) Swappable set holding the Blades of Chaos
One (1) Swappable Leviathan Axe on the back
One (1) Pair of Swappable Blades of Chaos on the back
LED Illumination in Mimir's eyes
God of War themed Base
Notice:
Prototype samples shown.
Product details could be subjected to change without further notice.
Please note the final product specifications may differ because each product is Handmade.
Since the product is still in the development stage, the Size (up to 10%) & Weight (up to 10kg) may be changed during the production stage.
©2021 Sony Interactive Entertainment Inc. and Sony Interactive Entertainment LLC. PlayStation is a registered trademark or trademark of Sony Interactive Entertainment Inc. God of War is a trademark of Sony Interactive Entertainment LLC.
DETAILS
Product Size Approx.

H:72.2cm W:54.1cm D:52cm (When right hand is equipped with axe)
H:65.5cm W:54.1cm D:52cm (When right hand is equipped with sword)

Product Weight
Approx.

23.3 kg

Materials

Polystone and other materials

JAN

4580708036120
RELATED PRODUCTS