Demon's Souls
Penetrator

Bonus Version
Edition Size: 500
Arrival Date:Sep. 2024 - Dec. 2024
"All the rest, along with Boletaria, are either devoured by the fog or fallen afoul of the demons. The Boletarian knights are no longer." – Ostrava of Boletaria
Prime 1 Studio is very proud to introduce our next addition to the Ultimate Premium Masterline Series of Souls Statues: the 1:4 Scale UPMDMS-02S: Penetrator Bonus Version from Demon's Souls
We take you back into the kingdom of Boletaria, where the wise and respectful King Allant once ruled and protected as he fought back the demonic invasion. Amongst his trusted and loyal knights is Metas, Knight of the Lance, also known as the Penetrator. Our hero, the Slayer of Demons, comes face to face with this formidable opponent after defeating the Tower Knight in the Boletarian Palace Archstone's Inner Ward.
Our team of talented artists at Prime 1 Studio has put all their efforts into bringing to life the impressive 32-inch-tall mind-blowing statue of the Penetrator. The once-noble Knight of the Lance stands clad in his ornate shimmering silver armor – adorned with intricate patterns and magical engravings, all recreated with the utmost attention to detail. His helmet features a rounded top with a pointed fin-like crest that extends backward as he peers through the narrow cracks of his visor – truly an imposing presence! His armor has a slender and streamlined silhouette, not only providing him solid protection but also high mobility and swift movements in combat. The Penetrator wields his long, silver double-edged blade, the Penetrating Sword – hence his name – with both hands, in a stance that is stoic and steadfast. Our hero must tread carefully, as this long sword becomes an extension of the Penetrator's formidable combat prowess. The slightest misstep could mean death by a single devasting thrust. The Knight stands on a Boletarian Palace-themed base, where four busts of ancient loyal knights have been carved in stone and withstood the test of time.
When you order this Bonus Version from our official store or any authorized distributor, you will receive the hero's weapons and helmet to display next to your statue.
Whether you are a seasoned Souls-player or a newcomer to the series, it is no surprise that you feel the call to adventure as you stare at this stunning recreation of the Penetrator. Step through the fog and add this to your collection by pre-ordering the UPMDMS-02S The Penetrator Bonus Version today and bring the thrill of combat into your warm home!
Specifications:
Boletarian Palace Courtyard themed-base
One (1) Slayer of Demons Weapon & Helmet display [BONUS PART]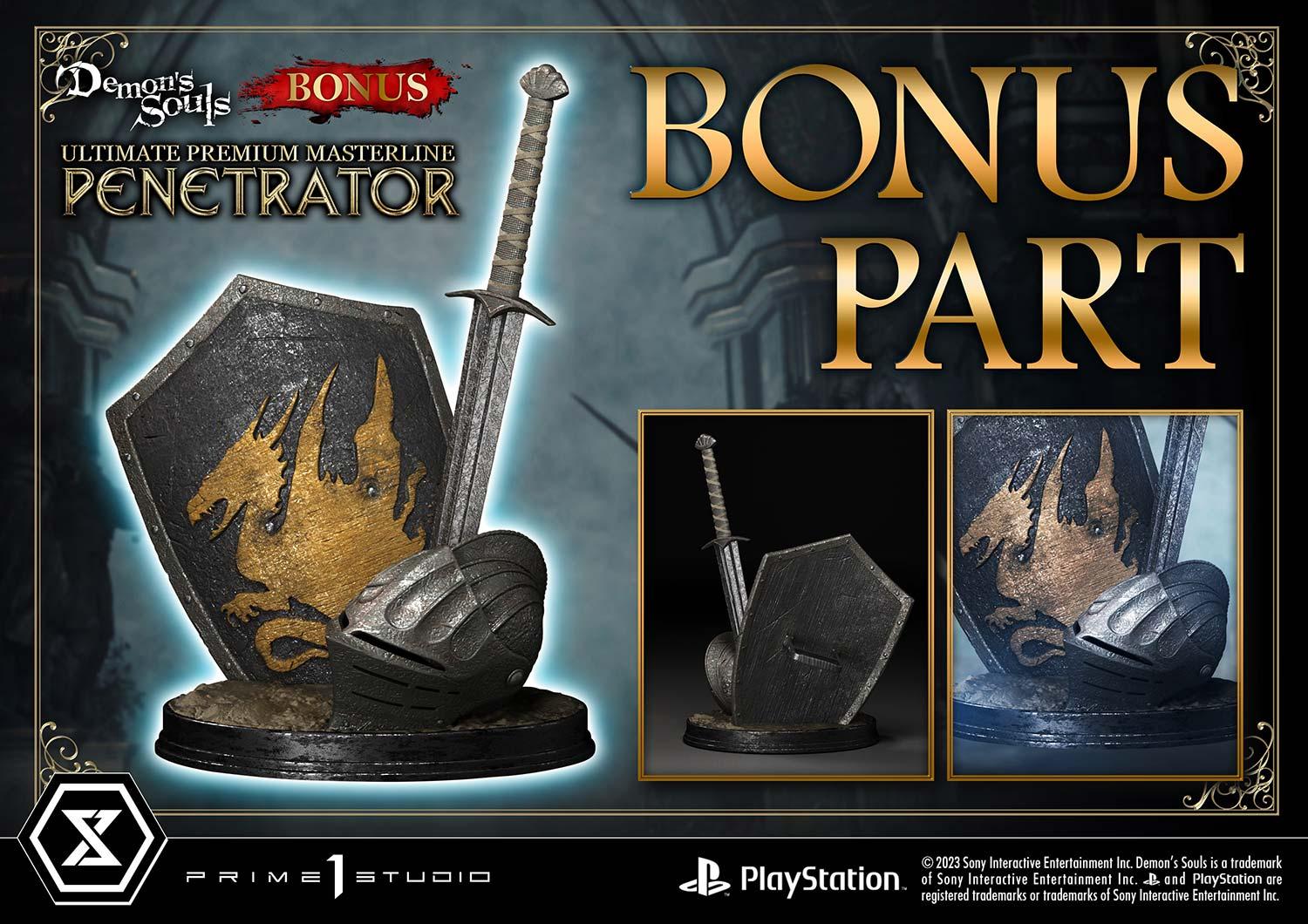 Notice:
Prototype samples shown.
Product details could be subject to change without further notice.
Please note the final product specifications may differ because each product is Handmade.
Since the product is still in the development stage, the Size (up to 10%) & Weight (up to 10kg) may be changed during the production stage.
©2023 Sony Interactive Entertainment Inc. Demon's Souls is a trademark of Sony Interactive Inc. "Playstation Family Mark" is a registered trademark of Sony Interactive Entertainment Inc.
DETAILS
Product Size Approx.

H:82cm W:34cm D:66cm

Product Weight
Approx.

about 12.2 kg

Materials

Polystone and other materials
RELATED PRODUCTS