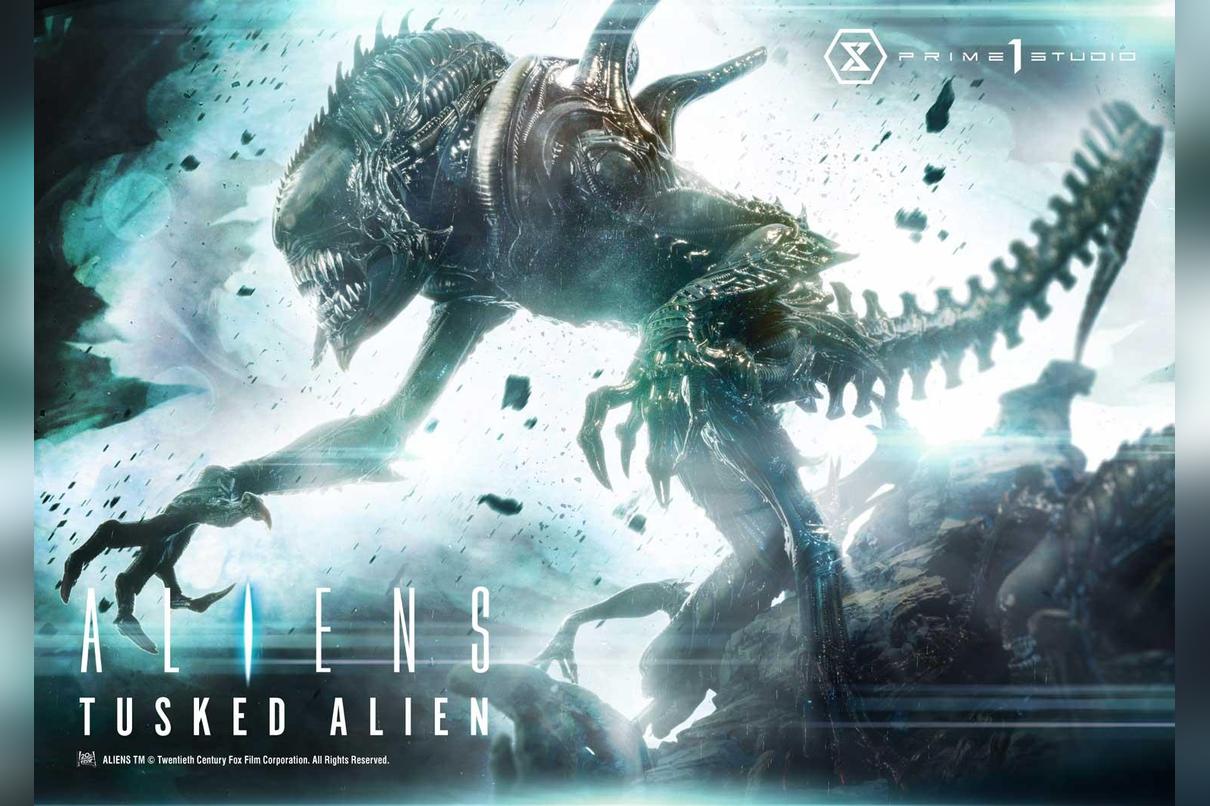 Aliens (Comics)
Tusked Alien

Bonus Version
Edition Size: 350
"The dream I'd been unable to remember earlier came back to me with sudden clarity, horrifying clarity. Only it wasn't a dream-it was a nightmare- and it was real." – Machiko Noguchi
Prime 1 Studio is proud to add another Xenomorph to our growing Premium Masterline Series: The Non-Scale Tusked Alien Bonus Version from the action-packed Dark Comics!
In Aliens vs. Predator: Three World War, Machiko Noguchi descends on a mining planet to confront an all-new clan of Predators called "Killers". What makes them so deadly is not only their honed predatory instincts and cunning, nor is it only their advanced lethal tech...but something more ruthless: The Tusked Alien!
Utilized as attack dogs by the Killer Clan, the Tusked Aliens are a never-before-seen subspecies of the Alien Xenomorphs. They possess plated skulls, stunning speed, and striking tusks on the sides of their heads. Prime 1 Studio artists had an incredible time interpreting the fearsome creatures for this statue. Our sculptors filled every inch of the figures with intricate detailing to show off the Tusked Alien's anatomy, and our painters applied layer upon layer of shading and gloss coating to showcase the sleek killer in the best manner possible!
The Tusked Alien creeps ever so slowly on an incredibly realistic, craggy, rock base, flanked by two other pack members...and all ready to strike!
When you purchase the Bonus Version that is available from the official Prime 1 Studio shop and authorized retailer, you will receive a bonus Chest Burster Alien on its own stand! A compelling addition to any collection.
Whether you side with the Aliens or the Predators, don't miss this opportunity to add to your growing Alien vs Predator collection today!
Specifications:
Aliens -themed base featuring two more Xenomorphs
One (1) Stage 2 Xenomorph Alien Chest Burster on its own stand [BONUS PART]
Notice:
Prototype samples shown.
Product details could be subjected to change without further notice.
Please note the final product specifications may differ because each product is Handmade.
Since the product is still in the development stage, the Size (up to 10%) & Weight (up to 10kg) may be changed during the production stage.
TM & © Twentieth Century Fox Film Corporation. All rights reserved.
DETAILS
Product Size Approx.

H:71.9cm W:87.9cm D:95.6cm

Product Weight
Approx.

21.84 kg

Materials

Polystone and other materials

JAN

4580708036014