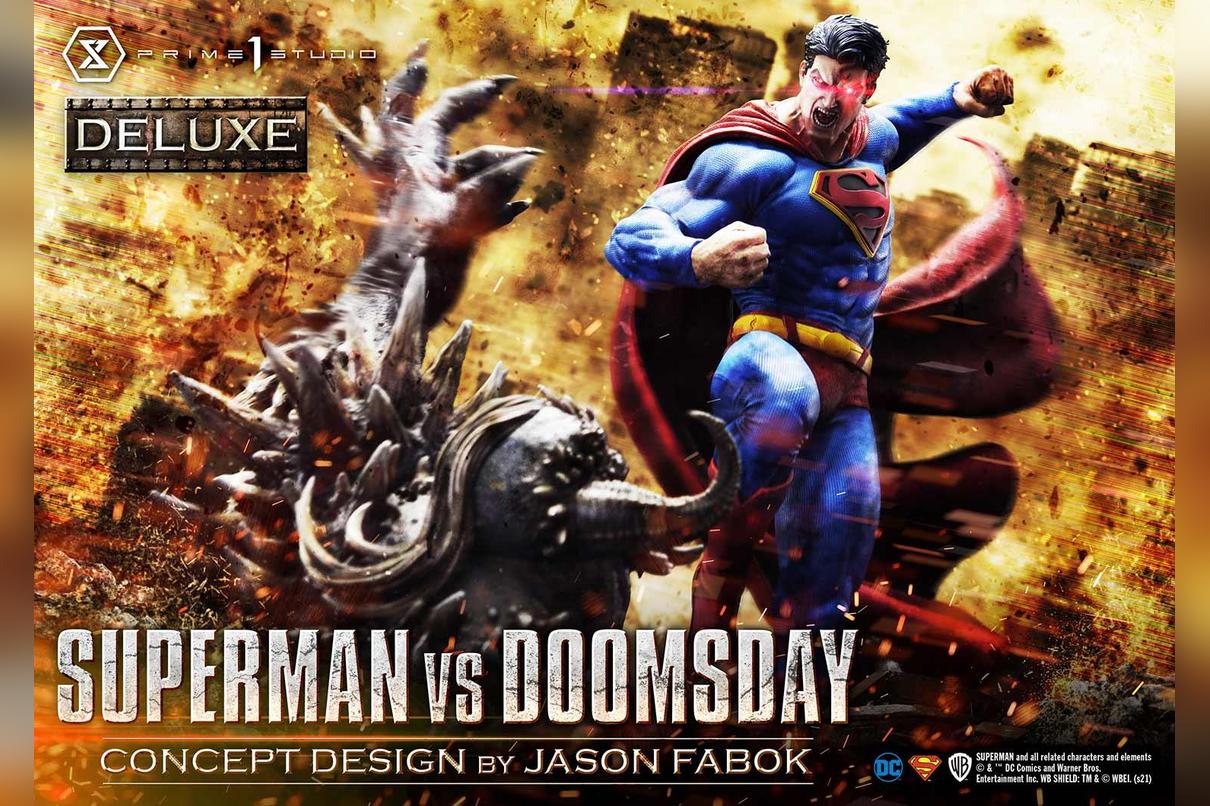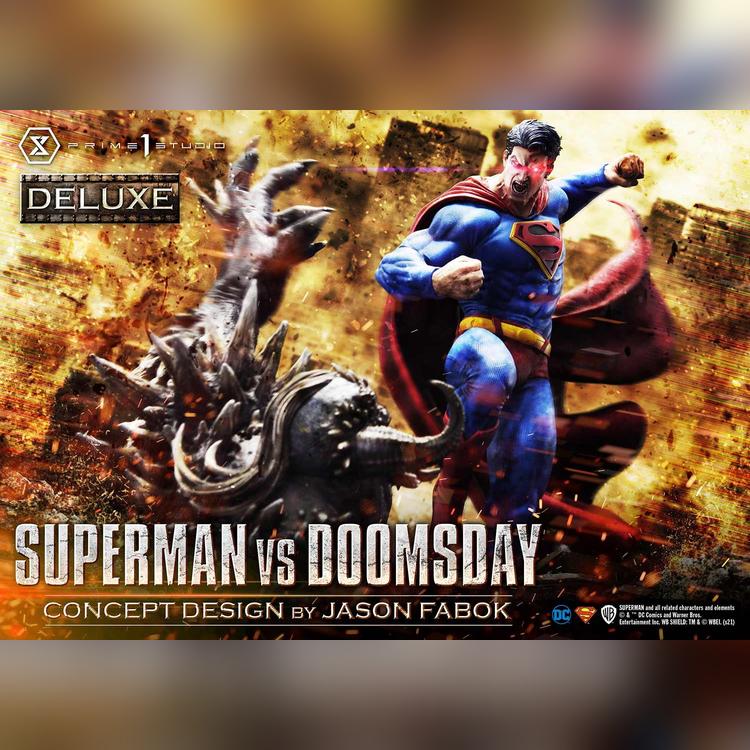 Superman (Comics)
Superman VS Doomsday
(Concept By Jason Fabok)
DX Bonus Version
Edition Size: 400
"Your rampage ends here, Doomsday! Even if it kills me!" – Superman
Prime 1 Studio is proud to present an iconic addition to the Ultimate Museum Masterline DC Series: The 1/3 Scale Superman Vs. Doomsday, concept by Jason Fabok!
Some conflicts seem eternal, and in no rivalry is this truer than between Superman and Doomsday. Superman, defender of Truth and Justice, alien savior to the world holds his own against Doomsday, Death and Destruction personified. In our Ultimate Museum Masterline statue, we bring you Jason Fabok's glorious concept of their eternal conflict! Coming in at over 3 feet tall, our Superman Vs. Doomsday statue has The Man of Steel locked in terrifying battle with Doomsday, as the monster bursts out of the remains of The Daily Planet globe! Jason Fabok has envisioned their titanic fight exploding in and around Metropolis, the grim setting for 1992's groundbreaking (and heartbreaking) Death of Superman story arc. Mr. Fabok has designed Superman floating in mid-air, getting ready to deliver the mother-of-all-punches to a Doomsday that looks quite eager to receive it. Doomsday stands indignantly amidst the rubble of the Daily Planet globe which usually sits atop the Daily Planet building, but now in ruins, a stark foreshadowing of their fatal confrontation!
Our Prime 1 Studio sculptors have taken Mr. Fabok's concept to heart and enriched the statue at every level. We have faithfully reproduced Superman's chiseled portrait and godly physique, embellished his iconic Superman suit with telltale textures of fabric and numerous other materials. We've heightened the danger and peril that Doomsday represents with gritty rock textures, protruding bones and sharp horns. The base envelops the lower half of Doomsday's body and features realistic rubble details and twisted and broken metallic structures which includes the legendary Daily Planet name. And Prime 1 Studio has not compromised on the eye-catching paint application for this classic confrontation: we've layered this statue with bright base colors, dimensional washes, weathering and highlight effects to bring out the realism of the piece!
And more fittingly to the story, our Deluxe Version of this bombastic battle allows you to extend the storytelling once more. Choose between three (3) swappable heads for The Last Son of Krypton. Change his serious head to one of two heads where his eyes are glowing with the power of his Heat Vision, and Superman is shown with gritted teeth or full-on rage! Furthermore, enjoy swapping out his iconic Superman chest symbol between the classic Golden Age design or the one inspired by the original Max Fleischer cartoons of the 1940's!
And if that's not enough, delight in purchasing our Deluxe Bonus Version, that includes another swappable Superman head: this time, Superman's rage boils over and comes out in the form of Heat Vision pouring from his eyes!
Bring home this epic battle, reenvisioned by the genius mind and pen of Jason Fabok, today!
Specifications:
Doomsday and Daily Planet-themed rubble base
Three (3) Swappable Superman Heads
Two (2) Swappable Superman Chest Symbols
One (1) Additional Swappable Superman Head [BONUS PART]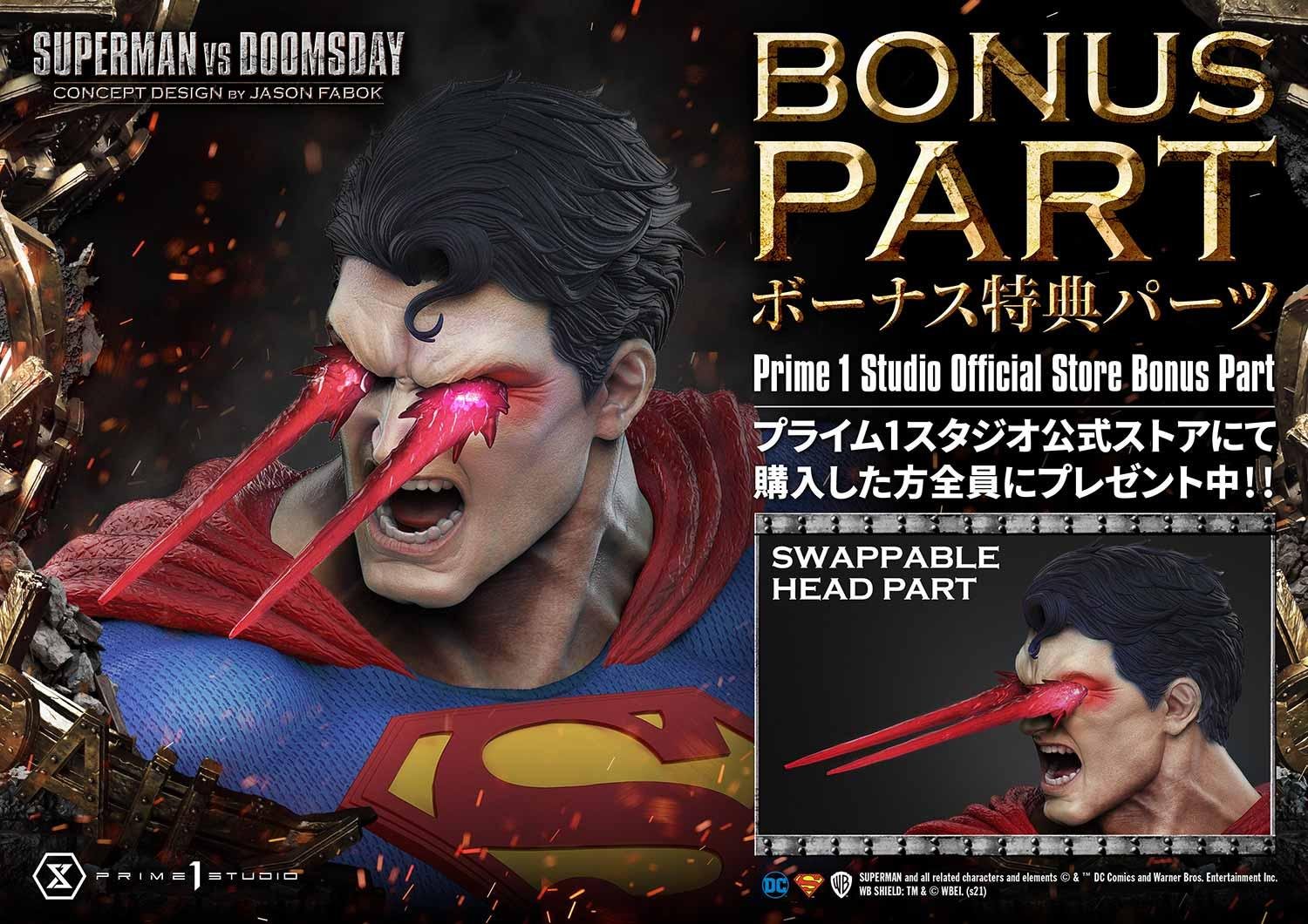 Notice:
Prototype samples shown.
Product details could be subjected to change without further notice.
Please note the final product specifications may differ because each product is Handmade.
Since the product is still in the development stage, the Size (up to 10%) & Weight (up to 10kg) may be changed during the production stage.
SUPERMAN and all related characters and elements © & ™ DC Comics. WB SHIELD: © & ™ WBEI. (s21)
DETAILS
Product Size Approx.

H:95cm W:107cm D:68cm

Product Weight
Approx.

64 kg

Materials

Polystone and other materials

JAN

4580708034171