Power Girl (Comics)
Power Girl

DX Bonus Version
Edition Size: 100
Feb. 2024 - May. 2024
Important Notice
When an order for this product has been canceled by another customer, you may be selected from the Waitlist.
If your Waitlist order is selected, you will have the opportunity to order the product through the notification email or from MyPage. The availability period to order is limited. Please note if the order is not confirmed within this period, the order will be canceled automatically.
"Well, unfortunately for you, you're not dealing with Superman...You're dealing with me!"
Prime 1 Studio is so proud to finally bring one of the most iconic heroes of the DC Universe into our Museum Masterline Series: the 1:3 Scale MMDC-63DXS: POWER GIRL DELUXE BONUS VERSION from DC COMICS!
Power Girl first appeared in 1976 in All Star Comics #58. Karen Starr, Kara Zor-L or Kara Zor-El is none other than Superman's Kryptonian cousin! Although she's from a different universe, she's still markedly different from her much younger, biological equivalent, Supergirl.
The artistic teams at Prime 1 Studio have taken their time to bring out the right balance of strength and beauty for this Power Girl statue. Few and far between, a Power Girl statue deserves the utmost respect and care, to make her as compelling to display on fans' shelves as any other DC super-hero!
The top-notch team at Prime 1 Studio has been meticulous with their rendering of Kara's bob haircut, and her beautiful features. Her super suit, which more often than not, would appear as plain, stretchy fabric in unskilled hands, is fully-textured in this amazing rendering. Prime 1 Studio's Power Girl has unbelievable texture not only to her suit, but also on her cape, gloves, and boots! Power Girl's paint job was applied as carefully as well. The application had to be perfectly sublime, and subtle: highlighting her attractive features, as much as her powerful muscular physique.
For this exceptional Deluxe Bonus Version, the Maid of Might comes equipped with two (2) different, and unique swappable heads, and four (4) swappable Right Arm positions! And when you pre-order this Deluxe Bonus Version from our official online store or any authorized distributor will you receive a cool, extra Bonus Part: an extra swappable head featuring a beautiful, smiling face with a new, shorter haircut!
Power Girl's base is a cool environment in which to display her powers of flight. Here, she floats among the clouds and birds, with her name emblazoned front and center...a super tribute to a super cousin!
Keep your immense DC Universe statue collection growing with the new MMDC-63DXS: Power Girl Deluxe Bonus Version from DC Comics! Pre-order today!
Specifications:
Clouds and stars-themed environmental base
Two (2) Swappable Heads
Four (4) Swappable Right Arms
One (1) Extra Swappable Head with Shorter Haircut [BONUS PART]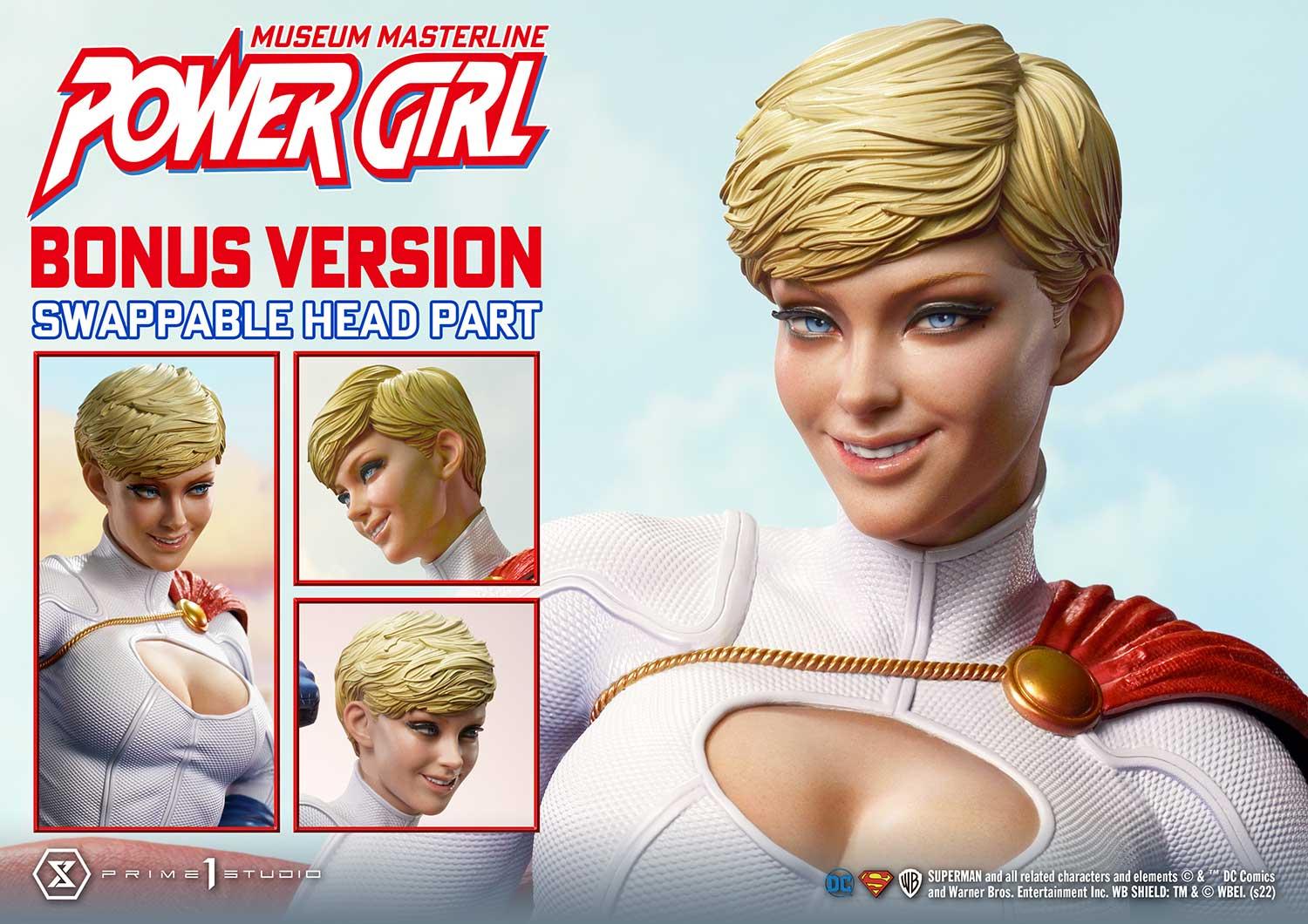 Notice:
Prototype samples shown.
Product details could be subject to change without further notice.
Please note the final product specifications may differ because each product is Handmade.
Since the product is still in the development stage, the Size (up to 10%) & Weight (up to 10kg) may be changed during the production stage.
SUPERMAN and all related characters and elements © & ™ DC Comics. (s22)
DETAILS
Product Size Approx.

H:75cm W:46cm D:31cm

Package Weight
Approx.

16.4 kg

Materials

Polystone and other materials

JAN

4580708044118
RELATED PRODUCTS