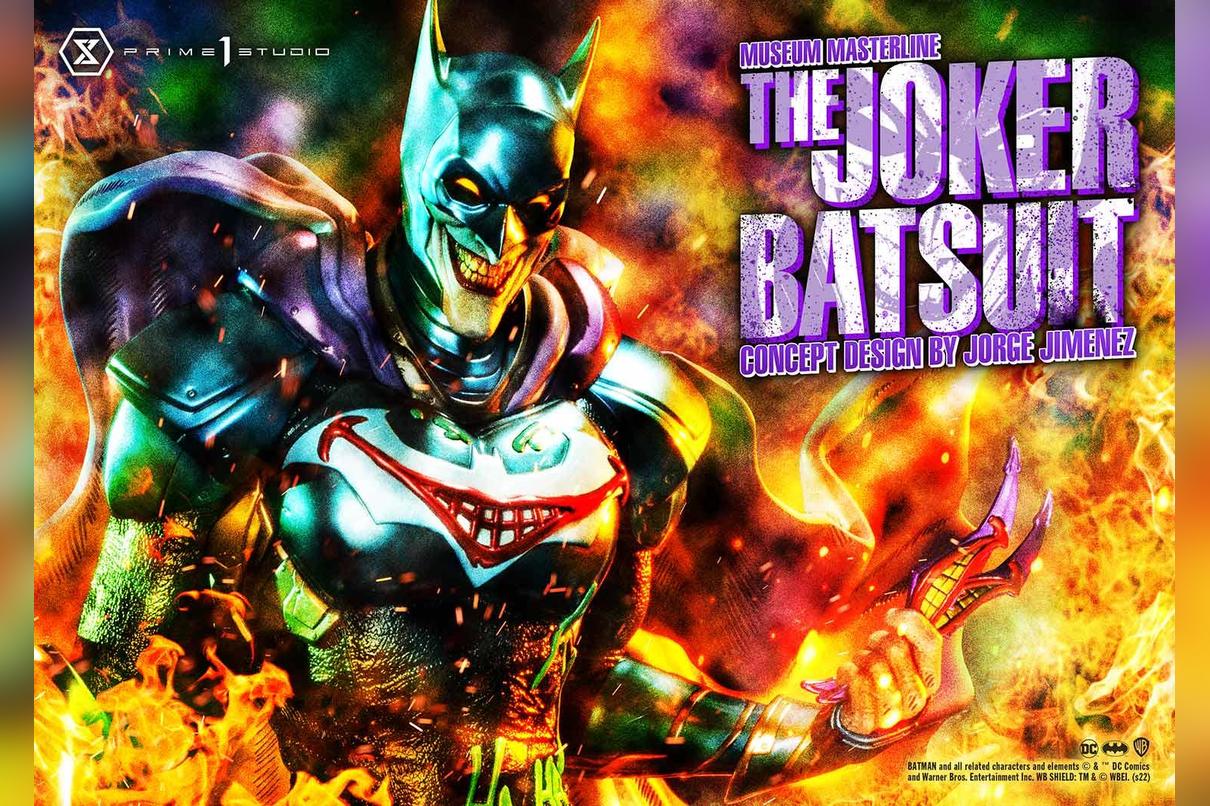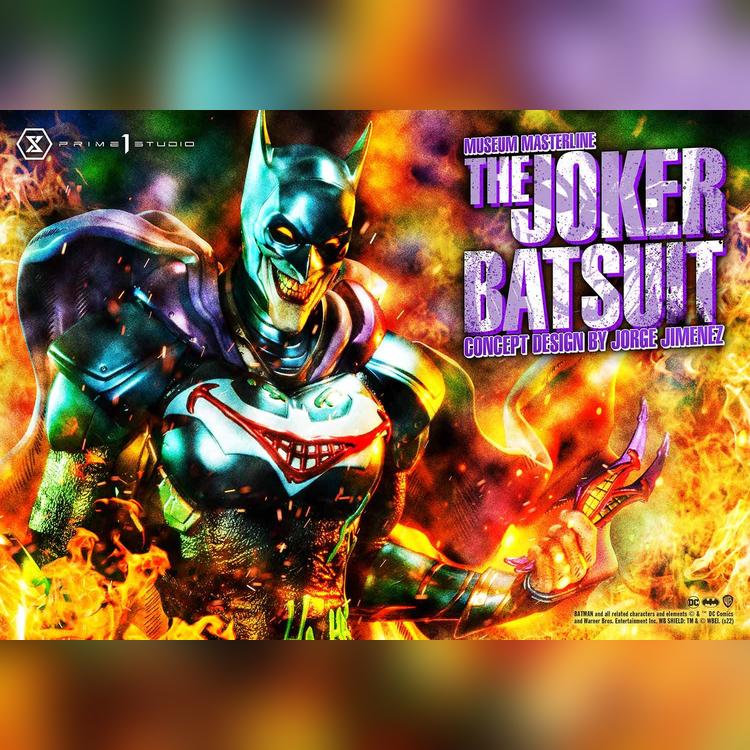 Batman (Comics)
The Joker Batsuit
(Concept Design by Jorge Jimenez)
Bonus Version
Edition Size: 100
Jan. 2024 - Apr. 2024
"See, Bruce. I promised...You're not ready for this at ALL."
Prime 1 Studio is proud to present an iconic addition to the Museum Masterline Series of DC statues: the 1:3 Scale MMDC-62S THE JOKER BATSUIT CONCEPT DESIGN by JORGE JIMENEZ BONUS VERSION from DC COMICS!
Appearing in Batman #99 of The Joker War arc, The Joker has further violated not only Batman's property but also his teetering psyche! He has committed yet another unimaginable act of perversion! The Joker has reanimated Alfred's dead body and stolen the Future Batsuit that Alfred made for Batman...a future where Batman would have been ready to become a brighter symbol of Gotham!
However, that brighter future is in peril as The Joker has taken Batman's Future Suit and defiled it with his own take on the Caped Crusader's costume.
In this 31-inch-tall statue, the talented artists at Prime 1 Studio have delivered another comic-accurate masterpiece! The Joker is at his most colorful in this Future Batsuit replete with bright blues, an eye-catching purple cape, and as his malicious tweaking of the Batsuit shows...the bright red smile over the Bat symbol and his trademark HA-HA-HA's all over the place.
The Joker's malevolent sneer comes in a couple of unique swappable heads: The Joker can either be fully cowled, or he can be wearing a half-destroyed cowl, showing more of his evil intent. And when you pre-order this Bonus Version from our official online store or any authorized distributor will you receive a cool, extra Bonus Part: a completely unmasked swappable head. The Joker's malevolence is on full display!
The Joker poses with a couple of Batarangs he has corrupted for his own use. He stands on another of Batman's nightmare scenarios: a completely demolished and totaled Batmobile environmental base!
MMDC-62S: The Joker Batsuit Concept by Jorge Jimenez Bonus Version will be an instant Pre-Order for Batman and Jorge Jimenez fans everywhere, so don't wait. Pre-Order now!
Specifications:
Demolished Batmobile-themed Environmental Base
Three (3) Swappable Heads [Fully Cowled, Half Cowled, Unmasked (BONUS PART)]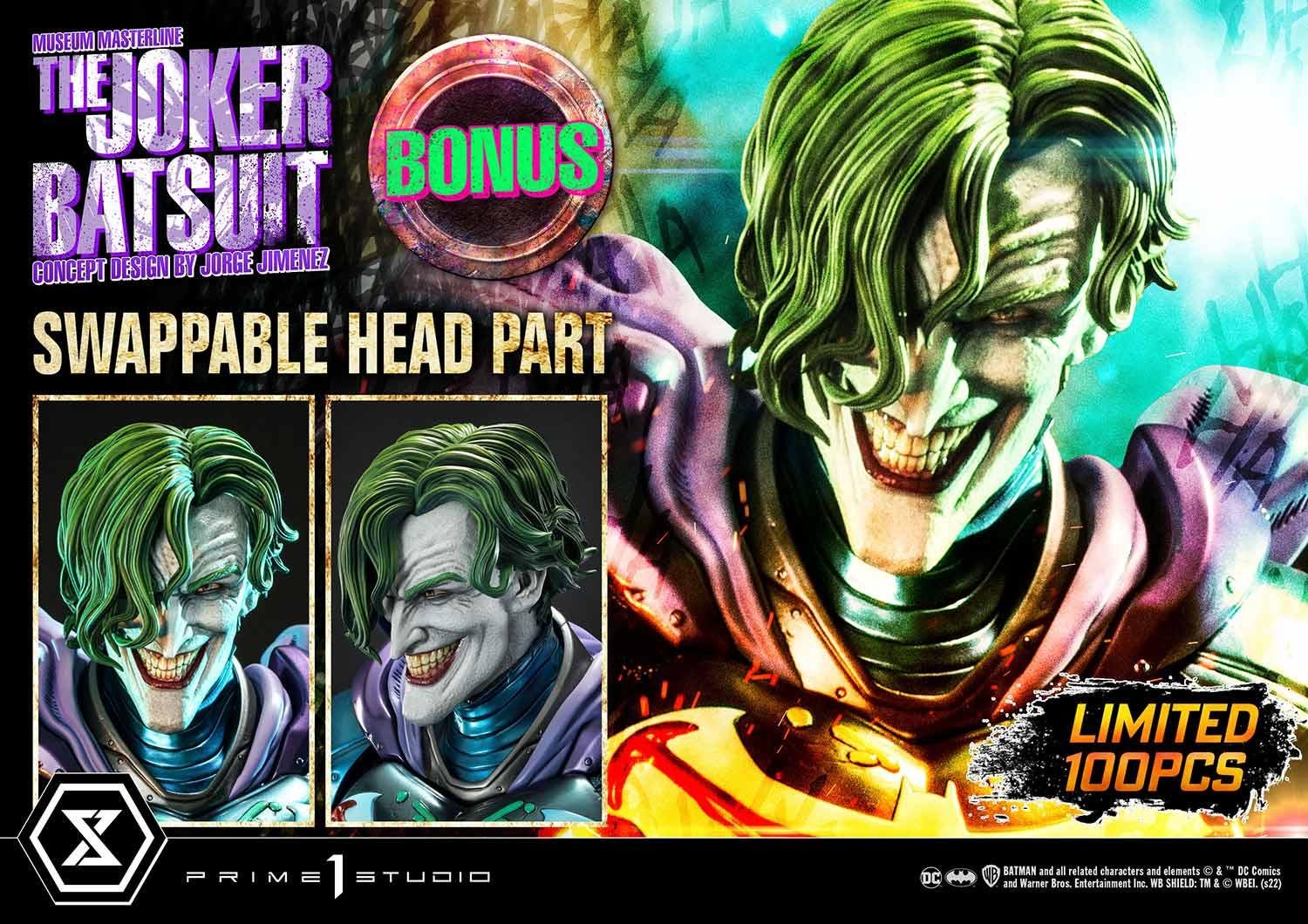 Notice:
Prototype samples shown.
Product details could be subject to change without further notice.
Please note the final product specifications may differ because each product is Handmade.
Since the product is still in the development stage, the Size (up to 10%) & Weight (up to 10kg) may be changed during the production stage.
BATMAN and all related characters and elements © & ™ DC Comics. WB SHIELD: TM & © WBEI. (s22)
DETAILS
Product Size Approx.

H:79cm W:65cm D:57cm

Product Weight
Approx.

35.8 kg

Materials

Polystone and other materials

JAN

4580708043913
RELATED PRODUCTS