"If you win, you live. If you lose, you die. If you don't fight, you can't win!"
Prime 1 Studio is extremely proud to present a long-awaited entry into the Ultimate Premium Masterline Series: the 1:4 Scale UPMAOT-01DXS: Eren, Mikasa, & Armin Deluxe Bonus Version from Attack on Titan!
After its 12-year run, the Attack on Titan manga has ended. But that can't stop Prime 1 Studio from delivering a much requested, much sought-after statue to celebrate the pulse-pounding, heart-stopping, groundbreaking anime!
Our team of skillful Prime 1 Studio artists has dug deep into their passionate fandom of Attack on Titan to create a truly dynamic statue. Featuring Eren Yeager, Mikasa Ackerman, and Armin Arlert in full Omni-directional Mobility Gear, the statue distills the pure essence of what makes the anime great.
This over 28-inch-tall statue shows the fateful trio at the height of their combined attack. Mikasa looks lovely, graceful, and deadly in her windup as she is decked out in the Survey Corps distinct uniform and the red scarf that she inherited from Eren. Right in the middle of her attack swing, her form draws a straight line to Eren Yeager. Eren is also in mid-jump, ready to destroy any Titan in his path. His enraged face, still showing signs of his recent transformation into a Titan! Below Mikasa and Eren is their trusty childhood friend Armin Arlert, crouched and ready to strike, his face exhibiting intense concentration.
This Deluxe Bonus Version comes not only with Eren, Mikasa, and Armin's regular heads, it also comes with a swappable alternate head for each of them. Eren can either be shouting or focused... Mikasa, cold and deadly, or determined...while Armin can either be focused or concerned! And when you Pre-order this Deluxe Bonus Version from our official online store or any authorized distributor, will you receive a cool, extra Bonus Part: another Eren Yeager swappable head, this time showing Eren's intense anger!
The three elite warriors of the Survey Corps are surrounded by a thrilling Attack on Titan themed base set on a pedestal reminiscent of the Eldian Walled City, complete with a big-eyed Titan reaching out to catch an unsuspecting Scout, rooftop rubble, and not in the least, Eren's Attack Titan, in the crystalline form!
Attack on Titan fans, your long-awaited statue is finally here! Don't delay and Pre-Order UPMAOT-01DXS Eren, Mikasa, and Armin Deluxe Bonus Version today!
Specifications:
Attack on Titan-themed base
One (1) Eren Yeager Swappable Head
One (1) Mikasa Ackerman Swappable Head
One (1) Armin Arlert Swappable Head
One (1) Eren Yeager Swappable Bonus Head [BONUS PART]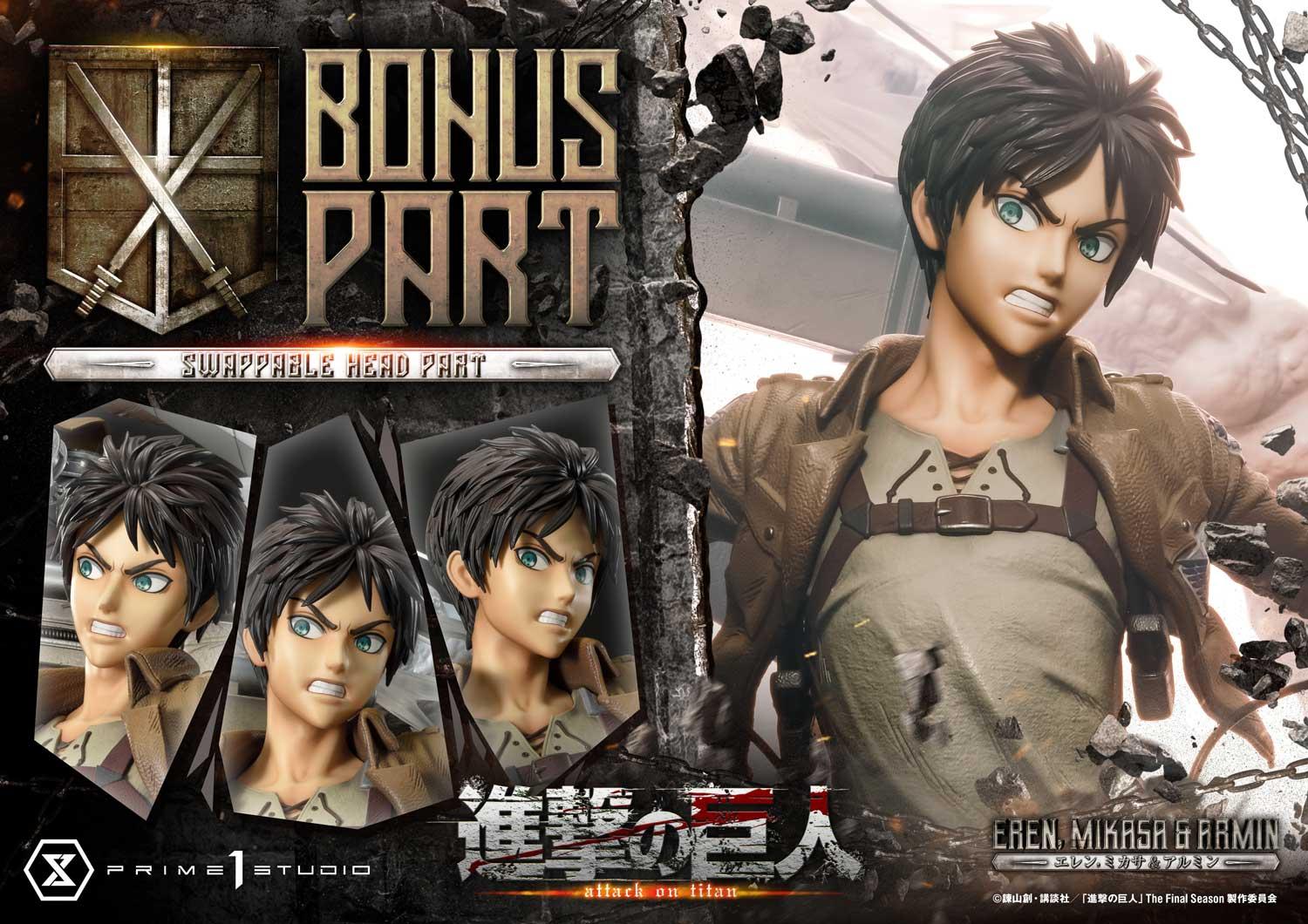 Notice:
Prototype samples shown.
Product details could be subjected to change without further notice.
Please note the final product specifications may differ because each product is Handmade.
Since the product is still in the development stage, the Size (up to 10%) & Weight (up to 10kg) may be changed during the production stage.
©諫山創・講談社/「進撃の巨人」The Final Season製作委員会
DETAILS
Product Size Approx.

H:72cm W:61cm D:56cm

Product Weight
Approx.

25.22 kg

Materials

Polystone and other materials

JAN

4580708041858