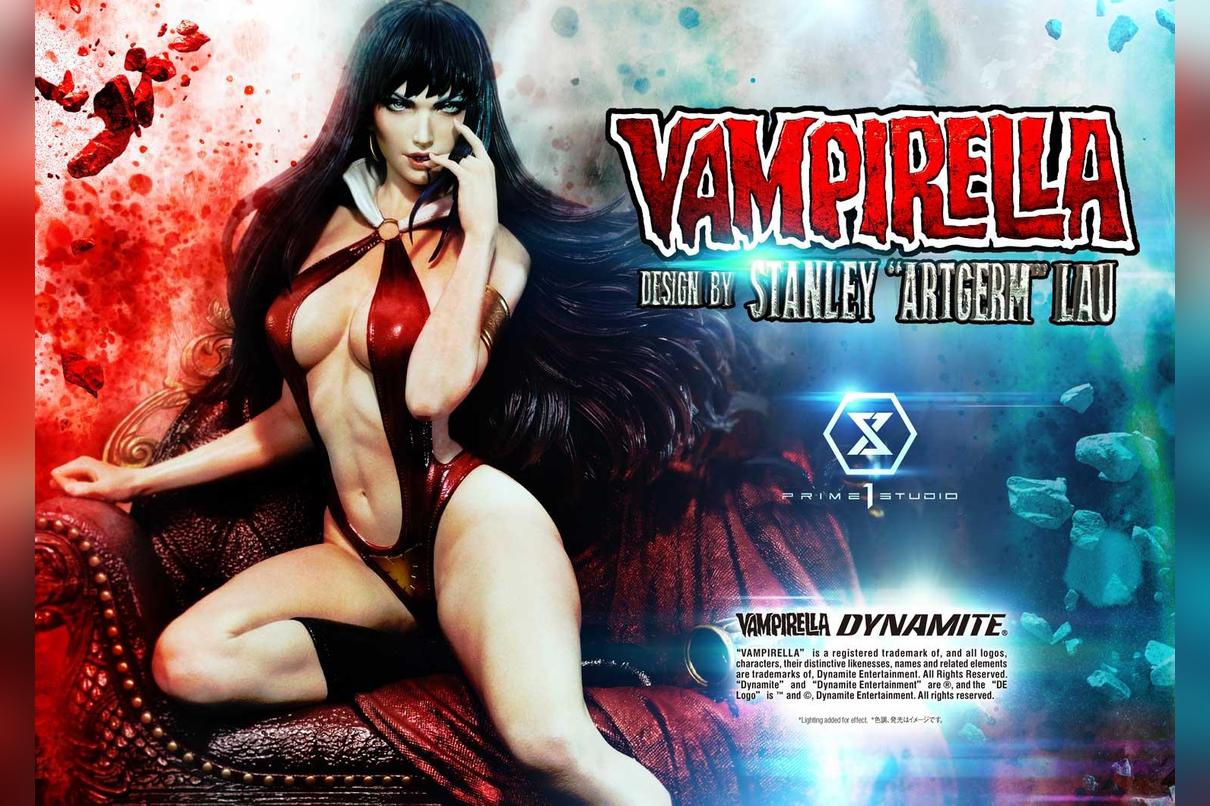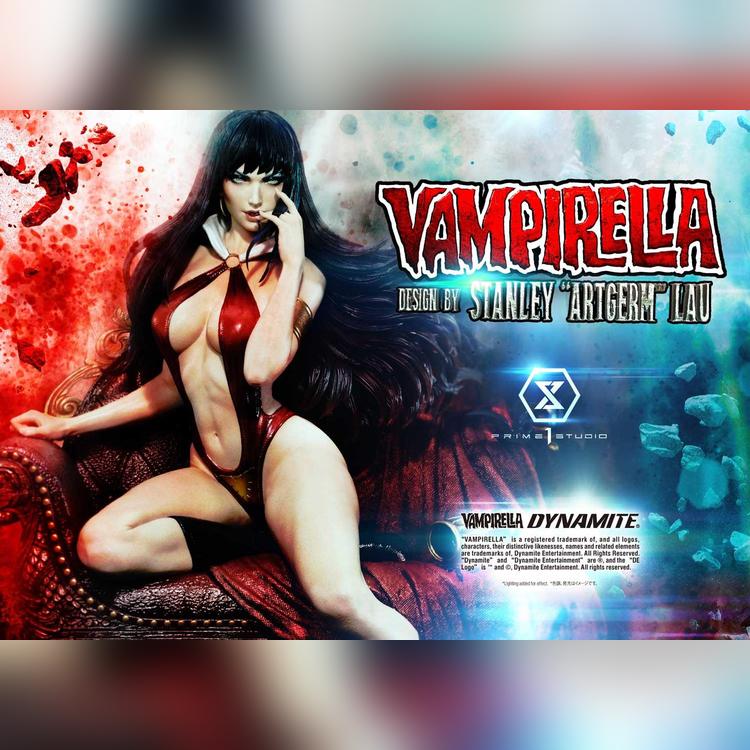 Vampirella
Vampirella
(Concept by Stanley "Artgerm" Lau)
Bonus Version
Edition Size: 500
Important Notice
When an order for this product has been canceled by another customer, you may be selected from the Waitlist.
If your Waitlist order is selected, you will have the opportunity to order the product through the notification email or from MyPage. The availability period to order is limited. Please note if the order is not confirmed within this period, the order will be canceled automatically.
"You have become like me. Like Dracula and Eva...We are all monsters."
Prime 1 Studio is proud to present a breathtaking addition into our Museum Masterline Series: the 1:3 Scale MMVP-01S: Vampirella Design by Stanley "Artgerm" Lau Bonus Version from Dynamite Entertainment!
Hot from the pages of Dynamite's thrilling monthly comic, VAMPIRELLA comes to you from the fantastic mind of Stanley Lau and the impressive artistry of Prime 1 Studio! Based on Vampirella No. 6's famous Artgerm cover, Prime 1 Studio's 22-inch tall Vampirella statue carries on with the theme of Vampi unwinding by herself on a finely appointed chaise lounge base, adorned with the familiars and accessories of her world.
Prime 1 Studio's impressive artists took the kernel of Artgerm's cover and expanded on the theme to present a full-bodied Vampirella, complete with furniture and environment. It's easy to see that Studio's sculptors were inspired by Stanley's art, by the intricate delicateness of each of her hair strands. It's stunning in its layered complexity.
Her face is textured with small, sublime pores and translucent skin. Being a creature of supernatural origins, she always looks like she is glowing, and Prime 1 Studio captures this perfectly. They've also captured Vampirella's intense, hypnotic stare as well. Her look, a mix of invitation, and subtle warning, sum up how dangerously desirable she is. While Vampirella fights on the side of good, she still needs blood to survive, and Prime 1 Studio's painters have interpreted that very well. They've also rendered what little clothing she has on as true to its natural material as possible. Each precise stitch, every wrinkle, and slight leather texture are reproduced to perfection.
The chaise that Vampirella lounges on supports her relaxed demeanor very well. It features quilted leather, fine wooden carvings, and a large textured throw blanket. A goblet of spilled blood adorns the blanket, while a small, rising colony of bats balances her out very well. Encircling Vampirella's fine leather boots are some venomous snakes slithering between a dozen or so human skulls. Moreover, if you order from Prime 1 Studio's online store and authorized distributor, you will get a displayable Vampirella logo as a bonus.
Specifications:
Vampirella-themed Chaise Lounge Base
One (1) Displayable Vampirella Logo [BONUS PART]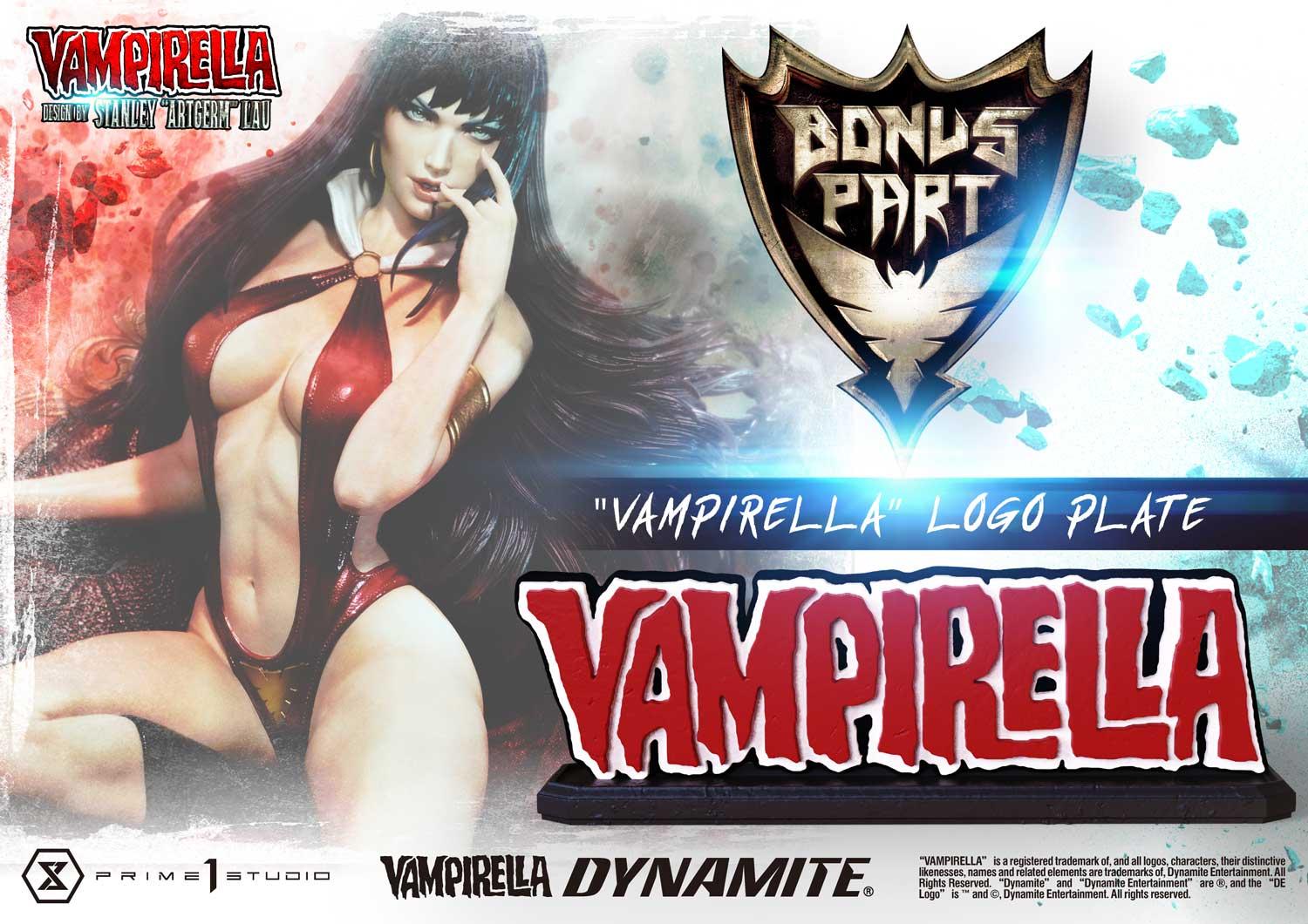 Notice:
Prototype samples shown.
Product details could be subjected to change without further notice.
Please note the final product specifications may differ because each product is Handmade.
Since the product is still in the development stage, the Size (up to 10%) & Weight (up to 10kg) may be changed during the production stage.
"VAMPIRELLA" is a registered trademark of, and all logos, characters, their distinctive likenesses, names and related elements are trademarks of, Dynamite Entertainment. All Rights Reserved. "Dynamite" and "Dynamite Entertainment" are ®, and the "DE Logo" is ™ and ©, Dynamite Entertainment. All rights reserved.
DETAILS
Product Size Approx.

H:55cm W:54cm D:35cm

Carton Size
Approx.

33.5 kg (1 box)

Product Weight
Approx.

26.5 kg

Materials

Polystone and other materials

JAN

4580708042237