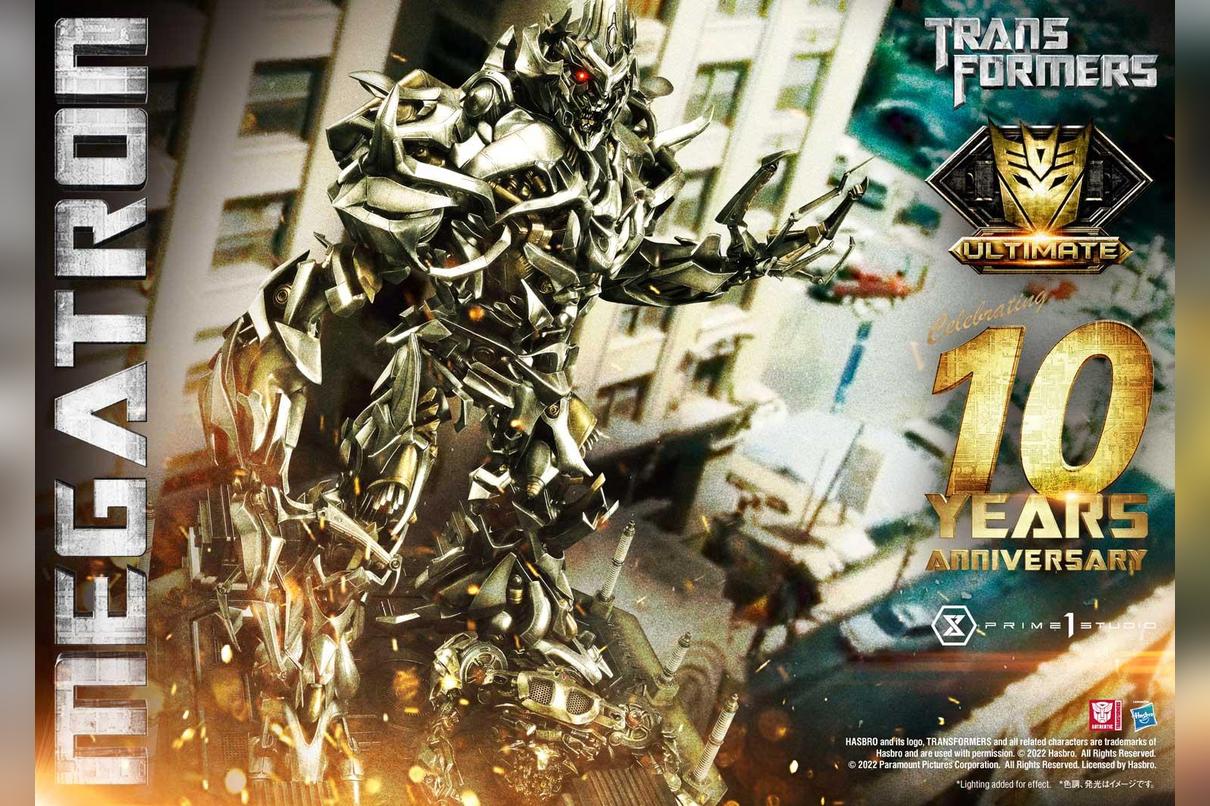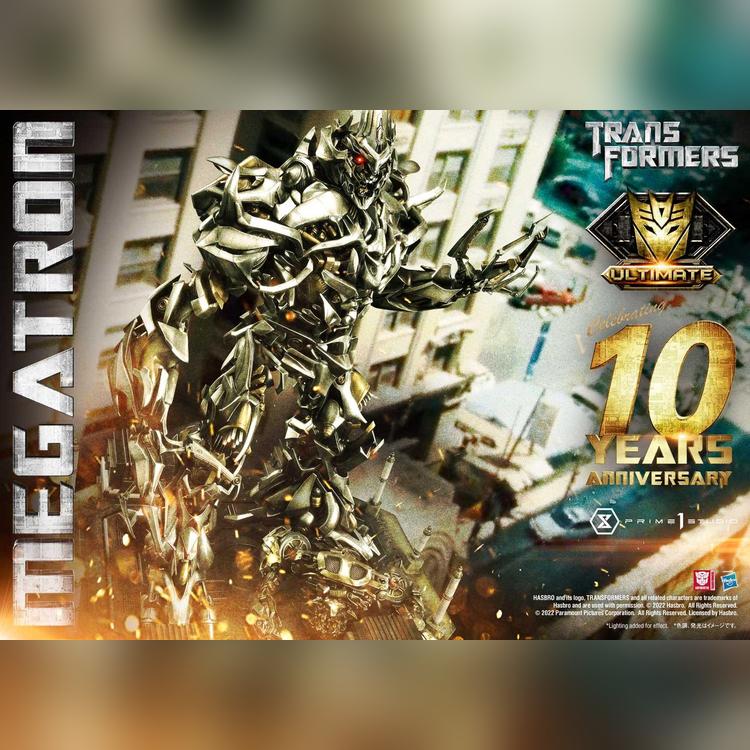 Transformers (Film)
Megatron

Ultimate Bonus Version
Edition Size: 80
Jan. 2024 - Apr. 2024
"Humans don't deserve to live...Join them in EXTINCTION!" – Megatron to Optimus Prime
Prime 1 Studio is, finally, extremely proud to present the Megatron that started it all: MMTFM-34UTS Megatron Ultimate Bonus Version from Michael Bay's 2007 TRANSFORMERS!
Thousands of years ago, the Transformer planet – Cybertron – was consumed by a bitter civil war between the Autobots, led by Optimus Prime, and the Decepticons, led by Megatron! Both sides were in search for the All Spark – the source of all Cybertronian life. But while Optimus needed it to rebuild Cybertron, Megatron needed it to destroy the Autobots and rule the Universe!
Now, their unending battle brings the clashing warriors to Earth, where the All Spark has been hidden and where the winner of this conflict will determine the future of their race! Prime 1 Studio portrays the exalted leader of the Decepticons in all of his 31-inch-tall glory! Standing on a Hoover Dam themed base, Megatron taunts his enemies in his full majesty!
The talented artists at Prime 1 Studio have spent many hours of precision sculpting and exacting paintwork to bring you the first "live-action" film Megatron ever brought to the silver screen. "Screen accurate" does not even begin to describe the elegant beauty of this statue. All the complex curves, intricate details, and innumerable parts have been reproduced for your enjoyment.
This Ultimate Bonus Version comes with a raised Left Arm, a lowered Right arm, a Right Gun Arm, a Right Battle Mace Arm, and an intense Megatron face with red, seething eyes powered by LED Illumination! The Hoover Dam-themed Base calls back to the climactic battle set in that environment, featuring an impeccably sculpted Jazz as a hapless victim to Megatron's rage, just as the iconic Decepticons logo is emblazoned front-and-center! And when you pre-order this Ultimate Bonus Version from our official online store or any authorized distributor, you will receive a cool, extra Bonus Part: an additional Megatron Head, also with LED-Illuminated Eyes!
Discerning Megatron fans will not wait to Preorder this statue as soon as humanly possible! Get your MMTFM-34UTS Megatron Ultimate Bonus Version from Transformers now!
Specifications:
Transformers Hoover Dam-themed Base
LED-Illuminated on Eyes
Three (3) Swappable Right Arms
One (1) displayable Hapless Jazz on base
One (1) Swappable Megatron Head with LED-Illuminated Eyes [BONUS PART]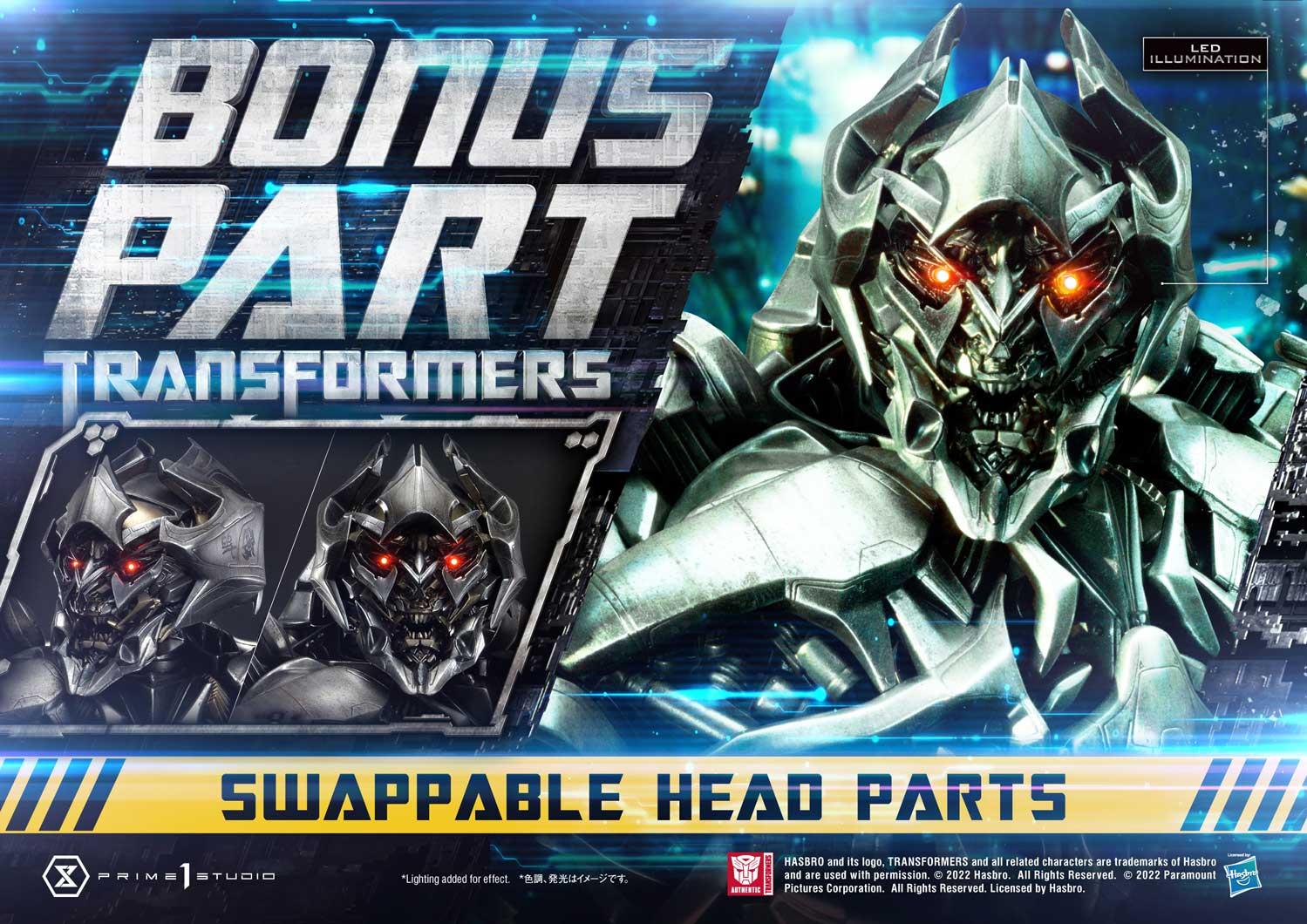 Notice:
Prototype samples shown.
Product details could be subject to change without further notice.
Please note the final product specifications may differ because each product is Handmade.
Since the product is still in the development stage, the Size (up to 10%) & Weight (up to 10kg) may be changed during the production stage.
© 2006 DreamWorks, LLC & Paramount Pictures Corporation. Manufactured under license from TOMY Company, Ltd.® and/or TM & © 2022 TOMY. All Rights Reserved. TM & ® denote Japan Trademarks. For sale in Japan only. 「トランスフォーマー」「TRANSFORMERS」は株式会社タカラトミーの登録商標です。
DETAILS
Product Size Approx.

H:84cm W:69cm D:65cm

Package Weight
Approx.

36.9 kg

Materials

Polystone and other materials

JAN

4580708042602
RELATED PRODUCTS