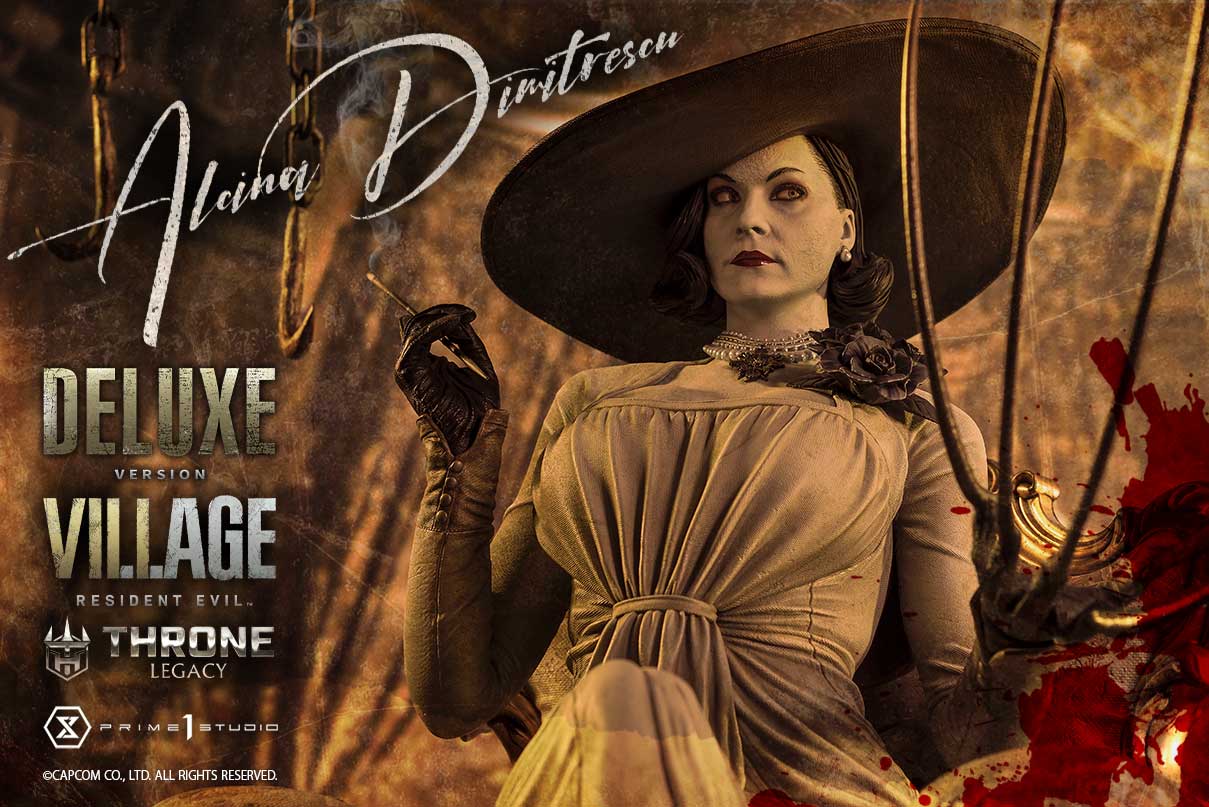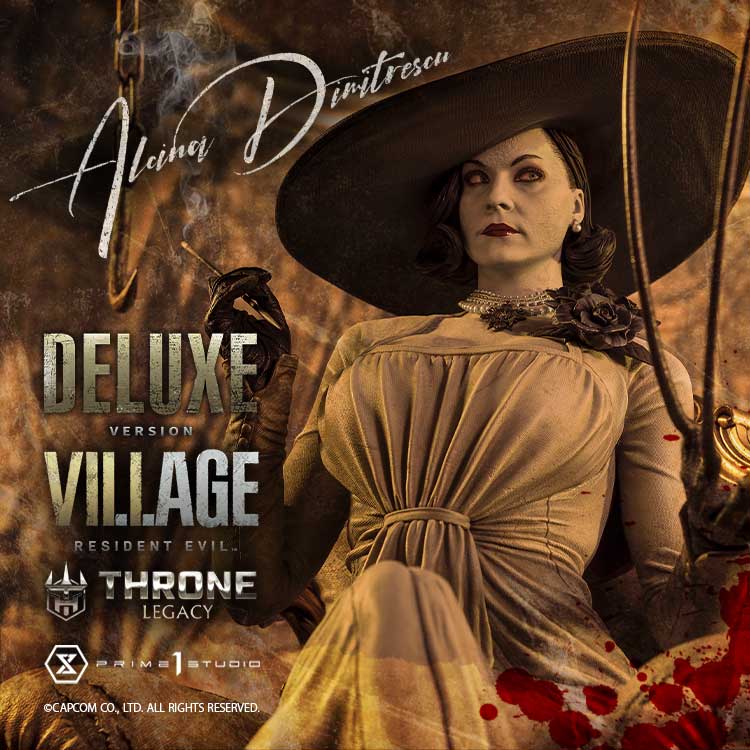 Resident Evil Village
Alcina Dimitrescu

DX Bonus Version
Edition Size: 500
Arrival Date: Oct 2024 - Jan 2025

"Rest while you can, because I will hunt you… and I will break you!"

Prime 1 Studio is proud to present this magnificent addition to the Throne Legacy Collection, the highly anticipated 1:4 Scale TLCRE-01DXS Alcina Dimitrescu Deluxe Bonus Version from Resident Evil Village!

After the franchise's massive success from the 7th installment, Biohazard, many fans were eager for its sequel, Village, which absolutely did not disappoint in any way, shape, or form! Juxtaposing her intimidating stature and sadistic demeanor, her captivating charisma makes you love to fear her and fear to love her. Alcina Dimistrescu also referred to as Lady Dimistrescu is one of the game's primary antagonists and for many, the very highlight of the game. Her striking appearance and elegant presence have left a very strong impression on fans. The artists at Prime 1 Studio have now put her on her throne, in all her splendor!

At almost 26 inches tall, the vampire countess is seated on her throne. She's showing off her feminine contour, in a way that is elegant, sophisticated, and seductive. Our artists have done an outstanding job of capturing her commanding presence. Her piercing gaze and sinister smirk faithfully replicate the impression she leaves in the game as she scornfully looks down on those who dare enter Castle Dimitrescu. Between her left fingers rests an ornate crimson cup for her wine... or maybe something else... She keeps a long cigarette holder in her right hand, an accessory that's never out of reach. Adding to her striking appearance is her hat, a key component of her gothic and aristocratic style, evoking a sense of luxury, and refinement, complimenting her formal attire as well as amplifying it as a whole.

Although her attire seems to be in perfect condition from head to toe, the lounge chair she sits on shows many signs of wear over the years. The elaborate base features an aged and opulent chair and carpet, further encapsulating the magnificence of the Victorian atmosphere. Torn and ripped at numerous places, crimson blood stains and smears are also found all over the chair and on the carpet underneath.

The Deluxe Version lets you expand your display options with the addition of two swappable head parts where she bears a haunting smile on one and sends a spine-chilling side-eye on the other. Both heads also come with a small headstand should you wish you display them next to the throne. A swappable left-hand part is also included, displaying her long, pointed claws.

And when you order the Bonus Version from our official store or any authorized distributor, you will receive a 7-inch-tall Crystal Dimitrescu, a treasured item that is granted at the very end of the game.

The TLCRE-01DXS Alcina Dimitrescu Deluxe Bonus Version is one breathtaking piece of art for any collector, regardless of whether they are long-term fans of the Resident Evil series or newcomers to the survival horror genre. Pre-order her now while quantities last!
Specifications:
Resident Evil-themed base
Three (3) Swappable head parts
Two (2) Swappable left-hand parts
One (1) Dimitrescu's Crystal [BONUS PART]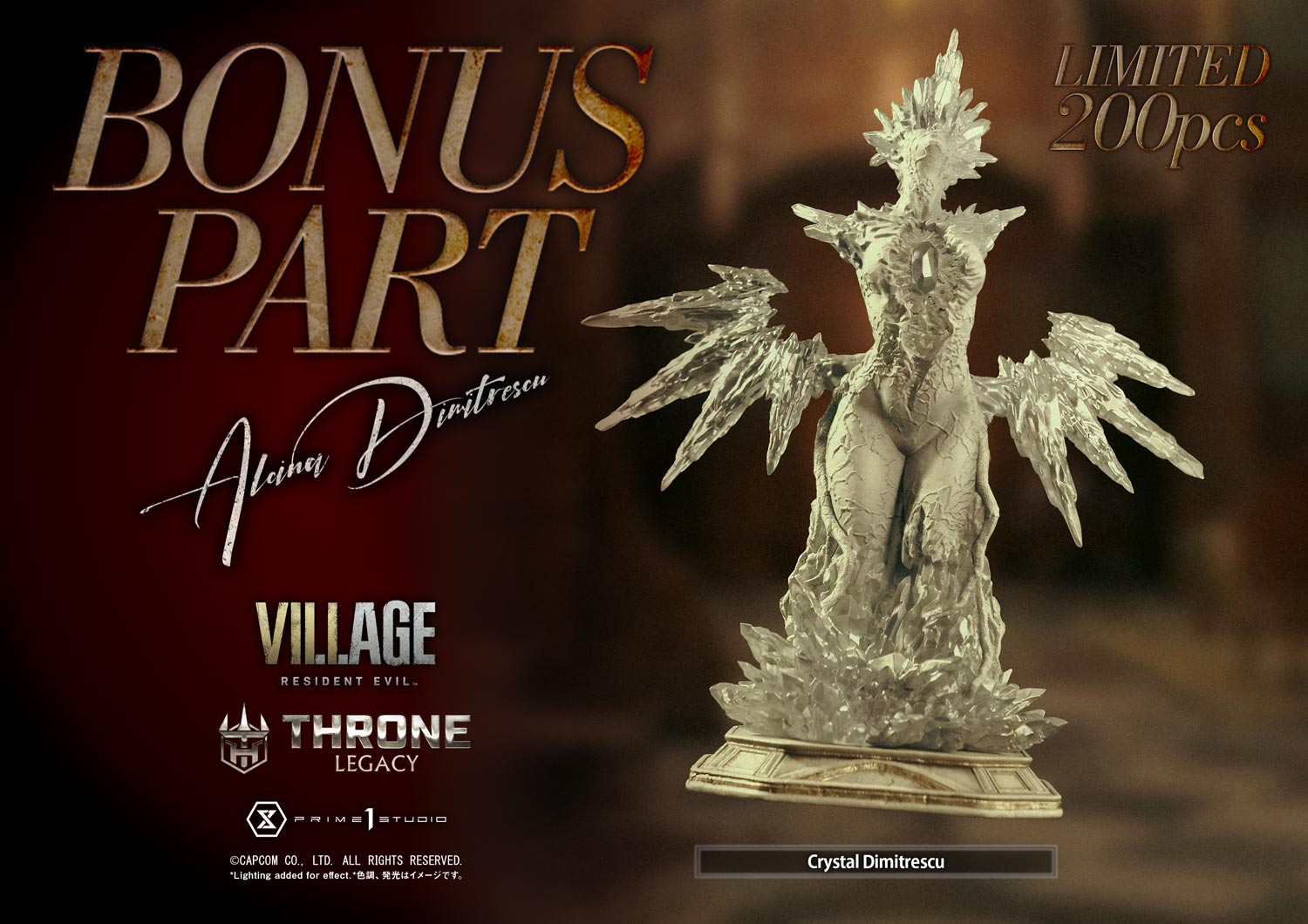 Notice:
Prototype samples shown.
Product details could be subject to change without further notice.
Please note the final product specifications may differ because each product is Handmade.
Since the product is still in the development stage, the Size (up to 10%) & Weight (up to 10kg) may be changed during the production stage.
©CAPCOM CO., LTD. ALL RIGHTS RESERVED.
DETAILS
Product Size Approx.

H:66cm W:56cm D:54cm
H:66cm W:67cm D:54cm (Long nail hand)
H:17cm W:16cm D:9cm (Bonus)

Product Weight
Approx.

About 26.1 kg

Materials

Polystone and other materials

JAN

4580708047942
RELATED PRODUCTS