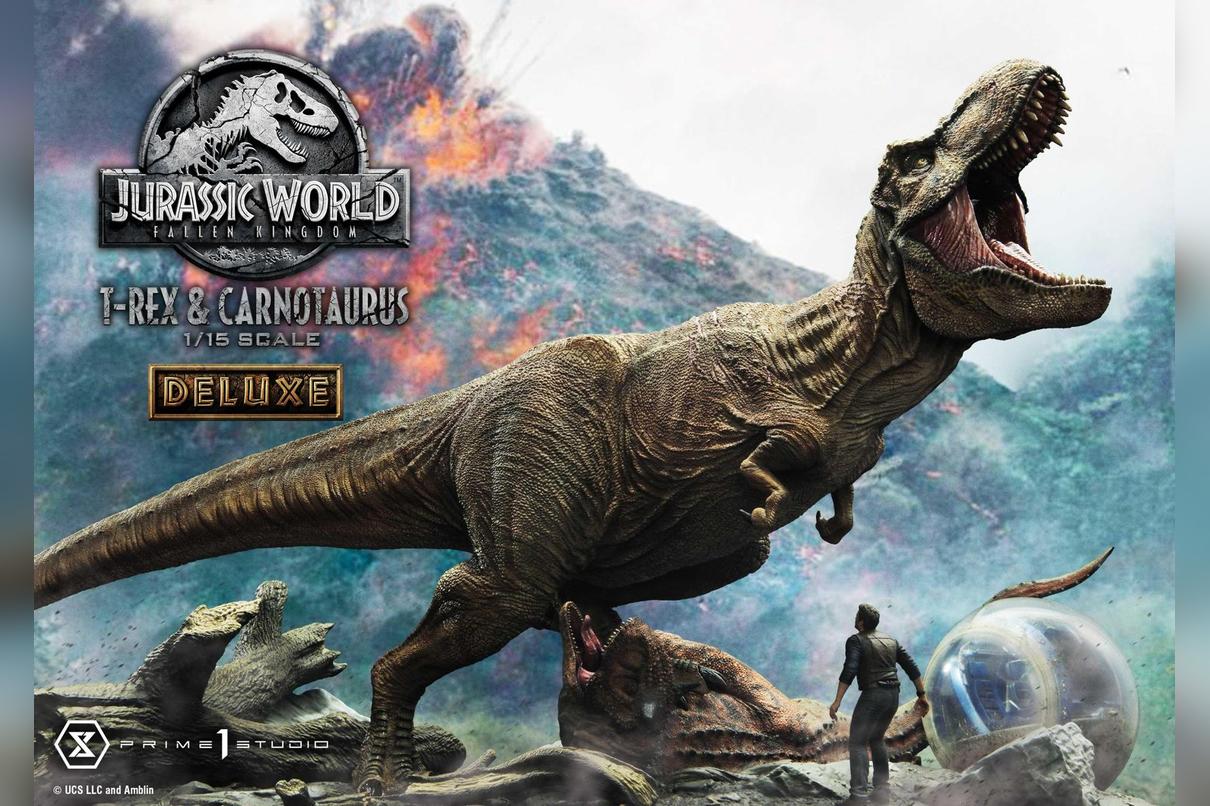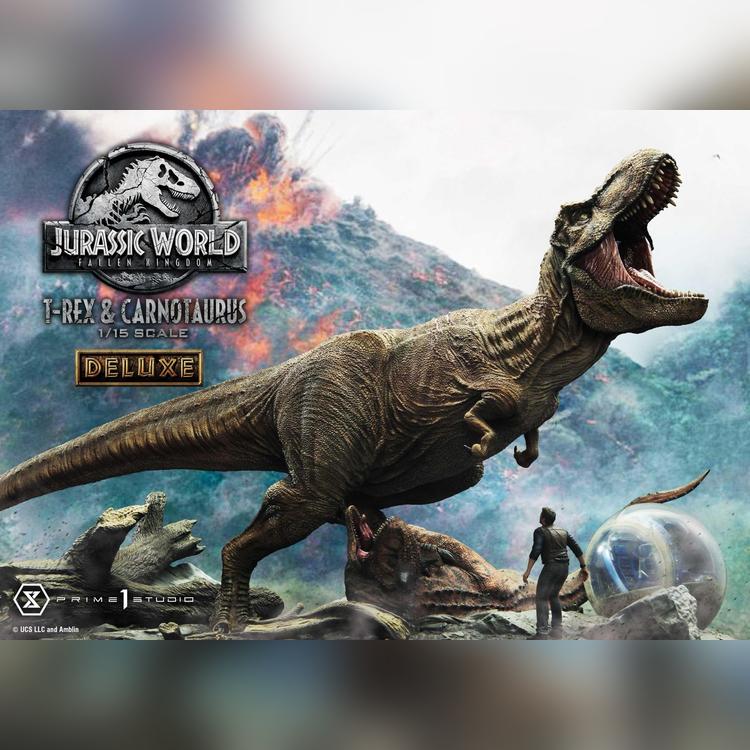 Jurassic World: Fallen Kingdom (Film)
Tyrannosaurus-Rex & Carnotaurus

Deluxe Version
Edition Size: 500
"If I don't make it back...remember that you're the one that made me come here!"
– Owen Grady to Claire Dearing
Prime 1 Studio is incredibly excited to reveal the King of Dinosaurs against the fastest of the large therapods in the Legacy Museum Collection Series: The 1/15 Scale Tyrannosaurus Rex & Carnotaurus from Jurassic World: Fallen Kingdom!
As the T-Rex's roar fills the air, Owen Grady is frozen in place...contemplating all the choices he's ever made that brought him to this perilous point in his life! Exposed and vulnerable, Owen stands in the presence of Jurassic World: Fallen Kingdom's two most awesome dinosaurs: T-Rex and Carnotaurus!
Prime 1 Studio is extremely proud to present this impressive 19 inches tall by almost 3 feet wide set piece as part of our Legacy Museum Collection Series. A snapshot in time, this pivotal moment in Jurassic World: Fallen Kingdom is brought to life through the sheer passion and artistic efforts of our skilled artisans, sculptors, and painters. Easily the star of the entire Jurassic series, the T-Rex stands in resplendent grandeur as it announces to his fallen foe and to the world, just who the King of the Dinosaurs is! Prime 1 Studio has painstakingly recreated the saurian hide of this magnificent creature with meticulous workmanship: sculpting each and every scale, wrinkle, spike, and tooth to perfection. The Carnotaurus, as much in an unviable position as he is, expresses his indignation at his imminent demise with lifelike ferocity! The same care and skill we showed with T-Rex, we likewise devoted to Carnotaurus. His scales, teeth, muscles, and talons are all sculpted to exquisite precision. Then our artistic painters poured all their experience and talents to recreate the dynamic coloration of each creature as they appeared in the film. An unspoken rule is that we always strive for screen-accurate perfection with all of our statues.
This legendary clash isn't complete without the mention of the lavish environment they inhabit. We imbued this scene with the film-accurate, natural surroundings in the movie; all the wood, debris, rock formations, mud and lastly...Owen Grady! Clearly not a good spot for Owen to be in, he's merely biding his time, in awe of these monstrous creatures, before he makes his getaway! Most especially, this Deluxe Version comes with a swappable Gyrosphere, sculpted to exacting scale and accuracy...and rendered in realistic materials and mud effects to remind you of the amazing action that just took place. The base is finished with a wraparound fossil-themed artifice and a Jurassic World: Fallen Kingdom plaque.
At almost three feet wide, this epic 1/15 scale statue will look fabulous in your display room and certainly garner the attention and envy of all your friends! Don't wait on this one, and order today!
Specifications:
Jurassic World: Fallen Kingdom-themed base with plaque
One (1) Swappable Gyrosphere
One (1) Swappable Rock feature
Notice:
Prototype samples shown.
Product details could be subjected to change without further notice.
Please note the final product specifications may differ because each product is Handmade.
Since the product is still in the development stage, the Size (up to 10%) & Weight (up to 10kg) may be changed during the production stage.

*Region Exclusive
© Universal City Studios LLC and Amblin Entertainment, Inc. All Rights Reserved.
DETAILS
Product Size Approx.

H:49cm W:90cm D:51cm

Product Weight
Approx.

24.59 kg

Materials

Polystone and other materials

JAN

4580708034874
RELATED PRODUCTS