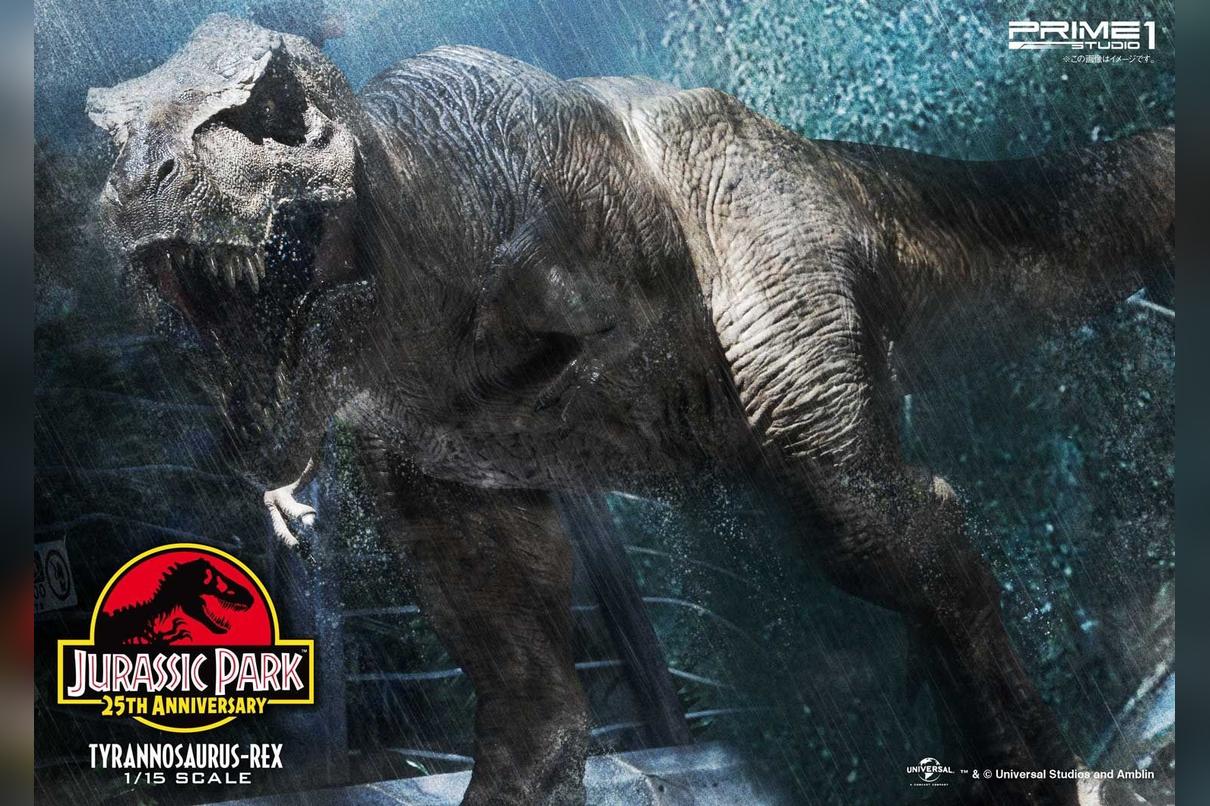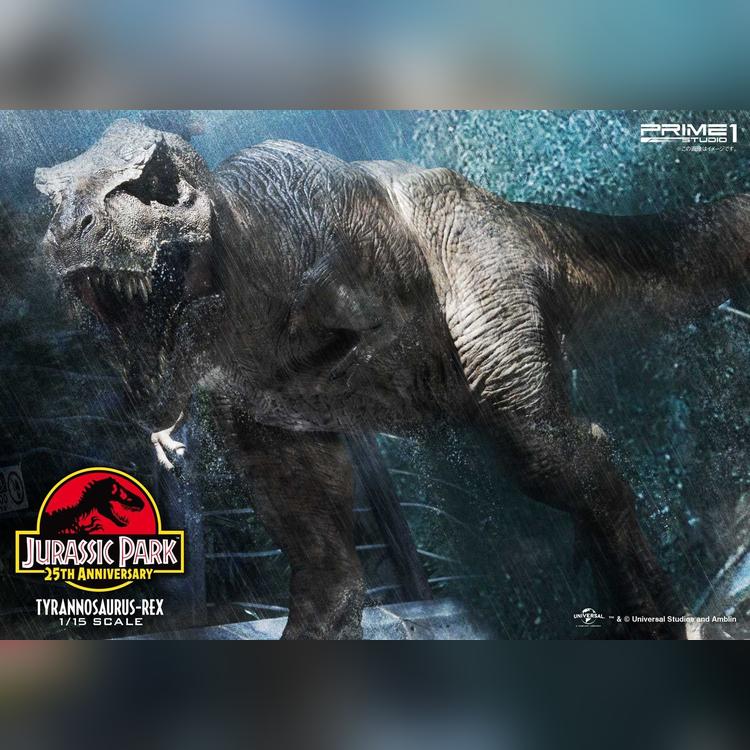 Jurassic Park (Film)
Tyrannosaurus-Rex

EX Version
Edition Size: 500
"Somewhere on this island is the greatest predator that ever lived." – Roland Tembo
Prime 1 Studio is proud to present 1/15 Scale LMCJP-01: Tyrannosaurus-Rex from Jurassic Park (Film 1993). Jurassic Park directed by Steven Spielberg, it is based on the 1990 novel of the same name by Michael Crichton. The film is set on the fictional island of Isla Nublar, located off Central America's Pacific Coast near Costa Rica, where billionaire philanthropist John Hammond and a small team of genetic scientists have created a wildlife park of cloned dinosaurs. Tyrannosaurus Rex is the largest carnivore living on Isla Nublar and, as such, grew into a fearless, bold, and domineering beast who walks the line between heroine and villainess. T-Rex nicknamed is Roberta but most fans call her Rexy/Rexie. She is a female Tyrannosaurus, largely motivated by two goals: keep intruders off her territory and eat any pry she finds there. She is known for participating in several incidents and for saving the major human participants involved in these incidents from other dangerous creatures, although inadvertently. This makes her role something of an anti-hero in the films. Based on the iconic scene from Jurassic Park, we are thrilled to let all our fans know the artists behind this project. Julien Romeo is the main modelers for the Jurassic Park: Origins. With him mainly sculpts this project with the help of Steve Jubinville which both have worked for ILM. Fans can expect this product to be the most movie accurate as possible. This is a must-have for all Rexy fans from Jurassic Park franchises.
Specifications:
One (1) The Dinner Goat statue (For Exclusive version only)
One (1) designed theme base
Notice:
Prototype samples shown.
Product details could be subjected to change without further notice.
Please note the final product specifications may differ because each product is Handmade.
Since the product is still in the development stage, the Size (up to 10%) & Weight (up to 10kg) may be changed during the production stage.

*Region Exclusive
Jurassic Park is a trademark and copyright of Universal Studios and Amblin Entertainment, Inc. Licensed by Universal Studios. All Rights Reserved.
DETAILS
Product Size Approx.

H:42.5cm W:84.2cm D:38.7cm Max width:84.2cm
H:12.9cm W:14.2cm D:8cm(The Goat statue)

Product Weight
Approx.

TBA

Materials

Polystone

JAN

4562471907104
RELATED PRODUCTS