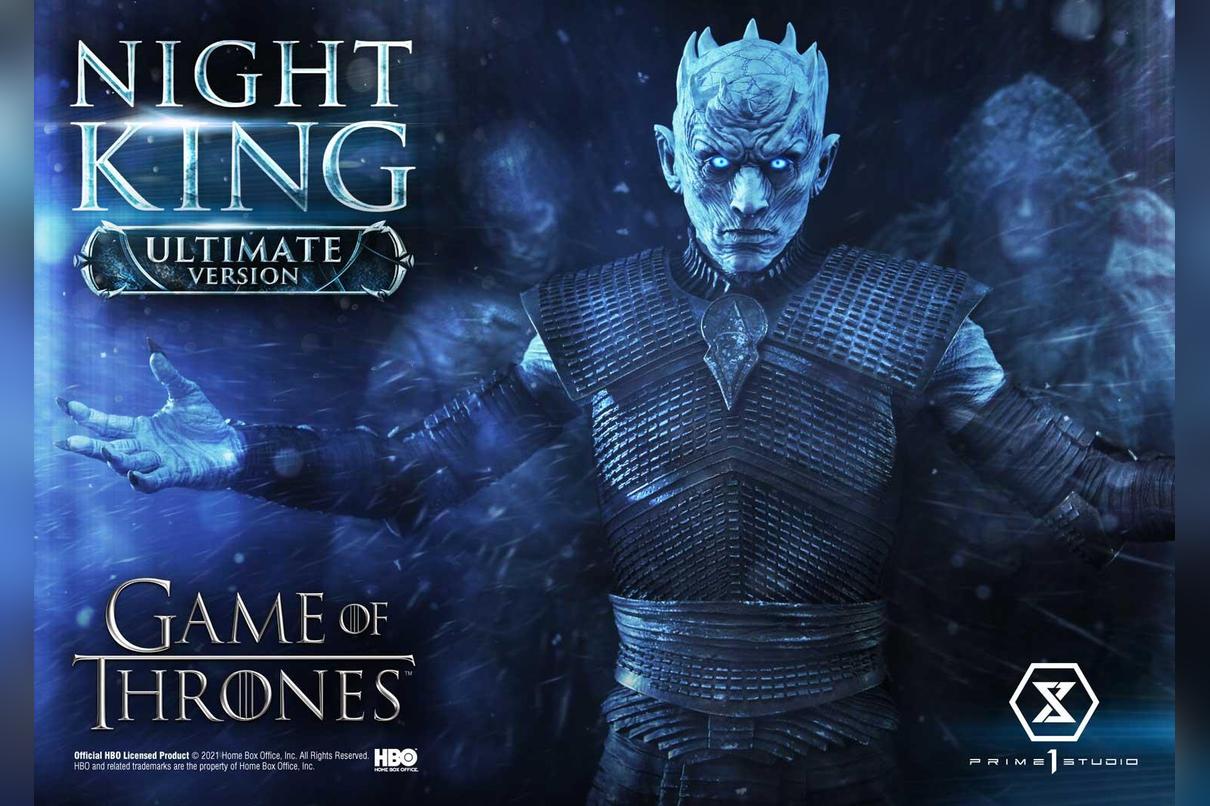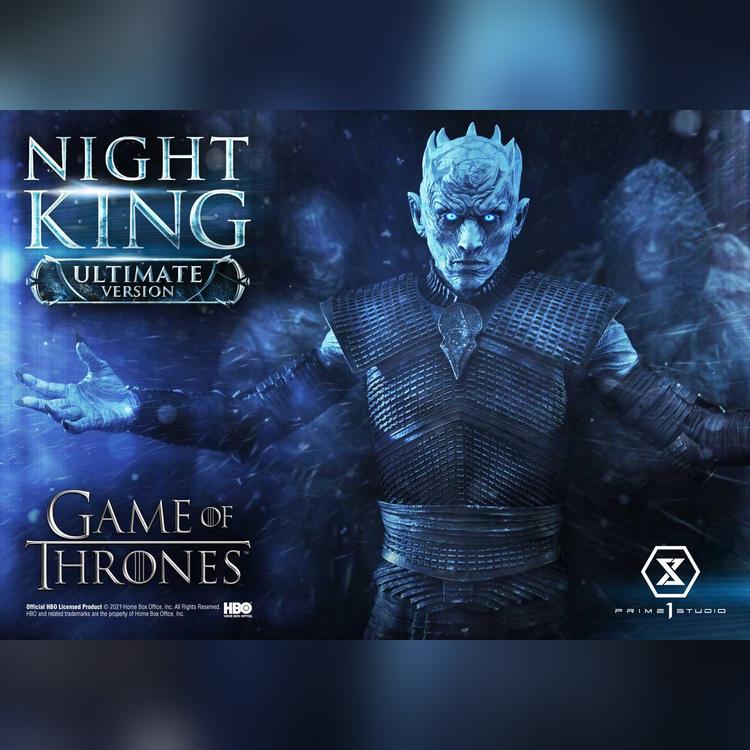 Game of Thrones
Night King

Ultimate Version
Edition Size: 200
"The true enemy won't wait out the storm. He brings the storm." – Jon Snow
Prime 1 Studio is proud to present the latest addition to the Ultimate Premium Masterline Series: UPMGOT-02UT: Night King Ultimate Version from Game of Thrones!
The Massacre at Hardhome.
Prime 1 Studio brings you an epic statue from this watershed moment in the Game of Thrones series, where the Night's Watch and Freefolk fought against the White Walkers and their wights. And as Jon Snow made his escape after that brutal devastation, the Night King appeared on the Hardhome dock, raised his arms, and resurrected his wights.
And now, our talented sculptors and painters bring to you, that pivotal scene. Standing at over 27 inches on an icy, ramshackle dock, the Night King postures in all his chilling splendor. We have taken care to carve all the intricate details of his wrinkled façade, his ominous stare, and his decrepit, battle-worn armor. We have rendered a faint dusting of snowfall on choice locations all over the Night King's form to call to mind the frigid Hardhome conditions brought about by his mere presence.
In this Ultimate Version, flanking the Night King behind him, are two of his resurrected wights. We spared no effort to bring these figures to life, whose exacting details underscore the terrifying nature of these undead creatures. From top to bottom, we have imbued jaw-dropping realism to these figures from the fabric detailing of their clothes, the withered, frozen attributes of their faces and chain mail armor. Stark splashes of dried blood on their hands and weapons round out the blood-chilling scene.
Combine the Ultimate Version Wights with the main Night King base for an exceptional set piece. All these gory figures are well-balanced on the Hardhome dock-inspired base that comes together to feature the ancient wooden moor, creepy skeletal remains, discarded weapons and armor...and frozen, translucent waters.
We at Prime 1 Studio cannot wait for all the hardcore Game of Thrones fans to get their hands on these striking Premium Ultimate statues!
Specifications:
Screen-accurate detailing on the whole Night King statue
Two (2) Intricately designed Wights with unique features, on a separate detachable base
Hardhome Dock-themed Base with Skulls and Icy, Translucent Waters
Notice:
Prototype samples shown.
Product details could be subjected to change without further notice.
Please note the final product specifications may differ because each product is Handmade.
Since the product is still in the development stage, the Size (up to 10%) & Weight (up to 10kg) may be changed during the production stage.
Official HBO Licensed Product © 2021 Home Box Office, Inc. All Rights Reserved. HBO and related trademarks are the property of Home Box Office, Inc.
DETAILS
Product Size Approx.

H:70cm W:46cm D:44cm (Night King only)
H:70cm W:46cm D:58cm (Including the back base)

Product Weight
Approx.

31 kg

Materials

Polystone and other materials

JAN

4580708034522
RELATED PRODUCTS