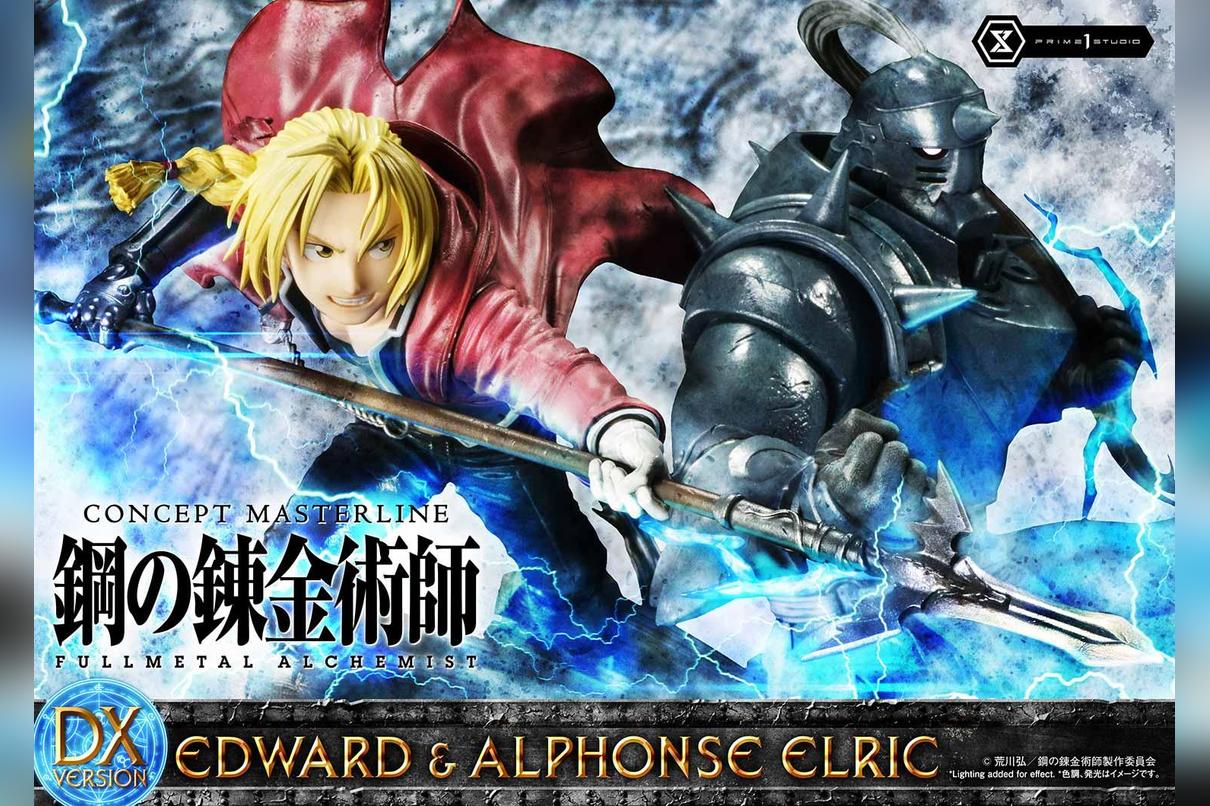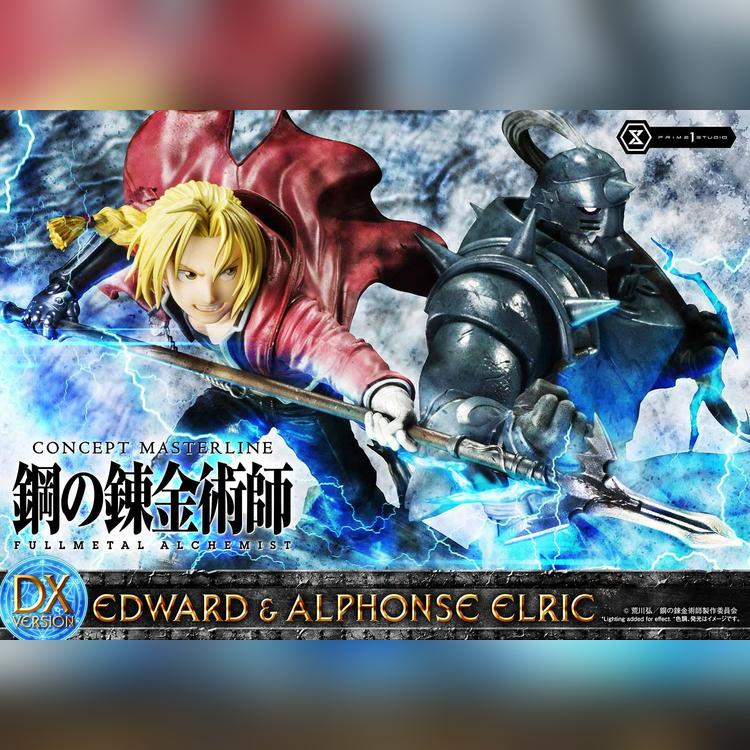 "Humankind cannot gain anything without first giving something in return. To obtain, something of equal value must be lost." – The Law of Equivalent Exchange
Prime 1 Studio is excited to present a dynamic addition to the Concept Masterline Series: The 1/6 Scale Edward and Alphonse Elric from Fullmetal Alchemist!
Set in the country of Amestris, Fullmetal Alchemist is the heartfelt and entertaining story of brothers Edward and Alphonse Elric and their quest for the Philosopher's Stone, in order to use it to bring back what they have lost. In this jawdropping statue measuring at 22 inches tall, Ed and Al display their proficiency in both Alchemy and Martial Arts, both learned from their equally enigmatic teacher, Izumi Curtis.
Our talented artists have posed State Alchemist, Ed Elric, bristling with alchemical energy, flying through the air on top of transmuted flooring; while Al, imposingly impressive in his defensive stance, stands ready above a transmutation circle crackling with otherworldly magic. We have highlighted Ed's agility and power in the flowing design of his coat, posture and movement of his State Alchemist pocketwatch. Ed looks as if plucked right out of the anime in his determined face and with his constructed Automail arm, which sports his go-to melee weapon, an Automail Blade! Al Elric, frequently mistaken as the Fullmetal Achemist because of his full suit of armor, is an accomplished martial artist himself, and shows off his skills in his perfect stance. We have made sure to match the exact tone and color of the paints used in his metallic armor to remain faithful to the anime. We even paid particular attention to the level of battle-damage on his armor to show that Alphone makes good use of it.
The absolutely-worth-it Deluxe Version gives you more flexibility in your storytelling by including a number of cool swappable pieces for Edward! You have a choice of four (4) swappable Automail arms for him. Switch between Ed's go-to melee weapon, his transmuted Automail Blade, a balled-up fist, or swap out for his other go-to weapon with reach, his transmuted Spear! Or simply pose him with an open Automail hand, ready to transmute something spectacular! Additionally, switch between three (3) swappable head pieces for Ed to show his different expressions: his trademark determined look, his action yell, and his signature smirk when he knows he's won! And not to be left out, Al Elric has a choice between two right hand poses: an open strike palm or a balled up fist.
Edward and Alphonse may be in statue form, but that does not take away from the energy of their dynamic pose as they are situated on top of an equally amazing base! We have equipped this transmutation circle base with LED-Illumination to emphasize the incredible alchemical energy that the brothers have at their disposal. The transmutation energy bristling around Ed and Al can be removed or added back for effect. Trasmuted flooring surrounds Ed and Al, and intertwined in them are the dark, shadowy hands that emanate from Truth, who is patiently waiting her due in the back of the base.
As you may have seen in Next Level Showcase 2, we at Prime 1 Studio have redesigned this Fullmetal Alchemist concept from top to bottom to deliver only the very best for you, the fans. Any hot-blooded fan of Fullmetal Alchemist will want to pre-order this amazing diorama without hesitation! Make it yours today!
Specifications:
Fullmetal Alchemist-themed base
LED-Illuminated transmutation circle base
Two (2) Swappable Edward Automail Right Arms
Two (2) Swappable Edward transmuted Automail w/wo Blade
One (1) Swappable Edward open Automail hand
One (1) Swappable pair of hands holding Edward transmuted Spear
Two (2) Swappable Alphonse Right Hands
Notice:
Prototype samples shown.
Product details could be subjected to change without further notice.
Please note the final product specifications may differ because each product is Handmade.
Since the product is still in the development stage, the Size (up to 10%) & Weight (up to 10kg) may be changed during the production stage.
©荒川弘/鋼の錬金術師製作委員会
DETAILS
Product Size Approx.

H:56cm W:41cm D:41cm

Product Weight
Approx.

12.8kg

Materials

Polystone and other materials

JAN

4580708032795