"An unusual creature, isn't it?" – Ritsuka Fujimaru
Prime 1 Studio is proud to add this incredible first offering to our Concept Masterline series: the 1:6 scale CMFGO-01S First Hassan Bonus Version from Fate/Grand Order!
The Old Man of the Mountain has arrived! This 22-inch-tall assassin stands proudly on an elaborate Fate/Grand Order-themed Base! Surrounded by the broken weapons and skeletal remains of his vanquished foes, First Hassan takes his place in Prime 1 Studio's vast library of amazing fantasy statues!
The amazing artists at Prime 1 Studio have surpassed themselves with the unbelievable features of the fearsome Hassan-I Sabbah! From head to toe, the fine skeletal themed mask, armor plating, and base brings to mind a deadly knight of death! The stately way First Hassan holds his greatsword belies his regal ownership of the title King Hassan, as given to him by Ritsuka Fujimaru. The realistic, weathered rendering of metal, fabric, and weaponry brings pride to the artists' painting skills.
As if the Hashashin was not fearsome enough, First Hassan's eyes are illuminated with LED power, to show how intimidating he is to his enemies! And when you pre-order this Bonus Version from our official online store or any authorized distributor will you receive a cool, extra Bonus Part: an extra swappable head with an LED-Illuminated angry expression!
First Hassan stands proudly on a Grand Order-themed base littered with skulls, broken swords, and energy writhing from in between the rock crevices of this amazing environmental pedestal!
If you love Fate/Grand Order, you owe it to yourself to get this breathtaking CMFGO-01 First Hassan statue through Pre-order now!
Specifications:
LED-Illuminated on Eyes
Fate/Grand Order-themed Base
One (1) Swappable Angry Head [BONUS PART]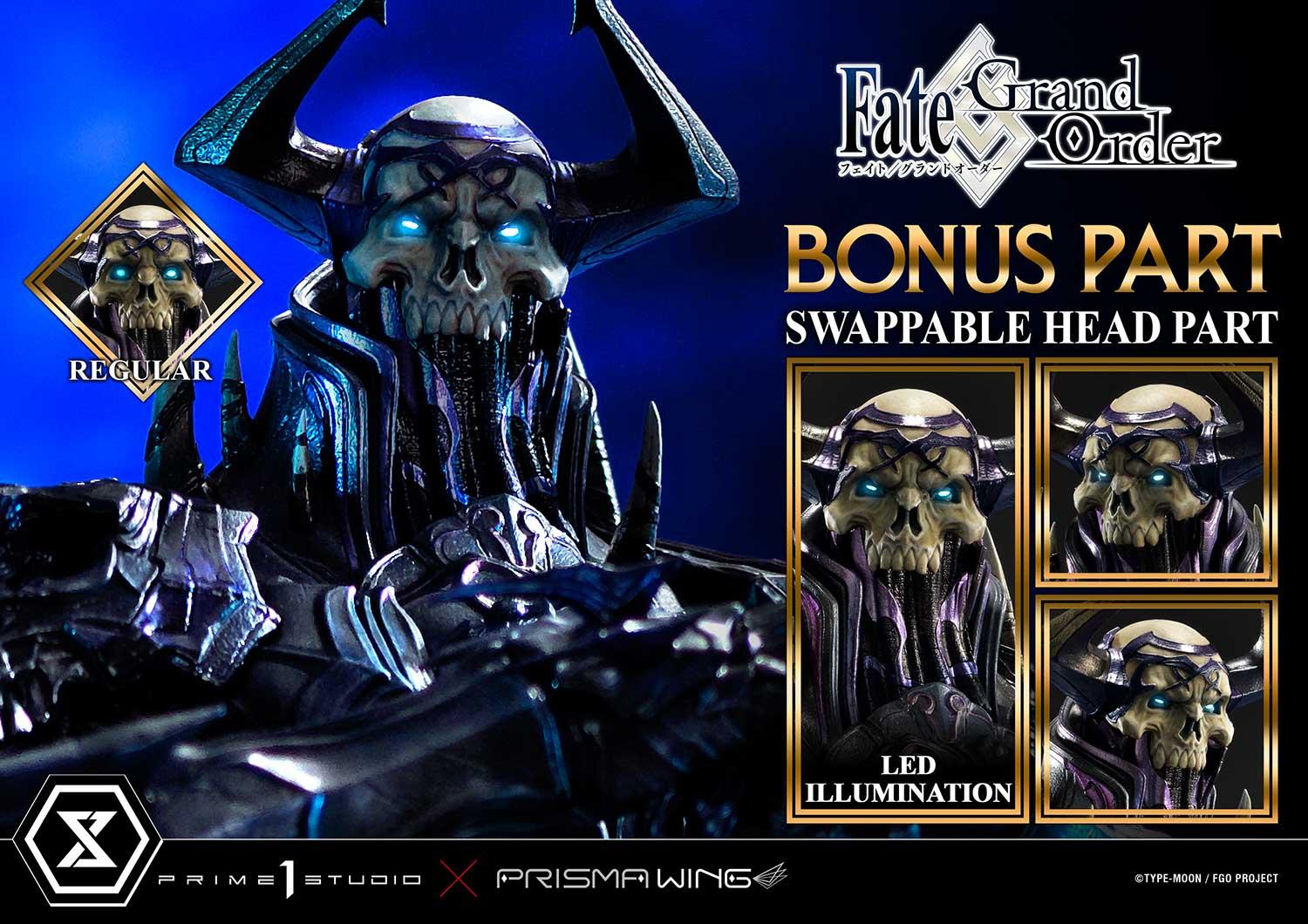 Notice:
Prototype samples shown.
Product details could be subject to change without further notice.
Please note the final product specifications may differ because each product is Handmade.
Since the product is still in the development stage, the Size (up to 10%) & Weight (up to 10kg) may be changed during the production stage.
©TYPE-MOON / FGO PROJECT
DETAILS
Product Size Approx.

H:56cm W:36cm D:34cm

Product Weight
Approx.

7.93 kg

Materials

Polystone and other materials

JAN

4580708043555