Devil May Cry 3
Vergil

DX Bonus Version
Edition Size: 500
Expected To Ship: Dec 2024 - Mar 2025

"Might controls everything, and without strength, you cannot protect anything, let alone yourself." – Vergil

The enigmatic and powerful older twin brother of Dante now takes center stage for our next release. Standing at a mesmerizing 1/4 scale, Prime 1 Studio is proud to announce the UPMDMC3-02DXS Ultimate Premium Masterline Devil May Cry 3 Vergil DX Bonus Version!

Vergil's journey is one of contrasts and conflicts, as he relentlessly pursues power while battling his own inner demons. His appearance is striking and imposing with fair, pale skin and white, swept-back hair. His blue eyes, reminiscent of his brother Dante's, hold a fierce and stoic expression. 

Adorned in his signature long, silver-buttoned blue coat with a distinct serpentine pattern, Vergil exudes an aura of authority and conviction. His navy-blue ascot and tight vest reveal his well-toned physique. Wearing fingerless gloves, he confidently wields his sinister Yamato sword as a subtle reminder of the dark power brewing within him. The demon's remains lying by his feet serve as a testament to the overwhelming dark forces he possesses. 

The statue offers versatility with swappable parts, including a normal head and a dual display head. This allows collectors to select their preferred expression and display options, especially when paired with the Devil May Cry 3 Dante statue. Additionally, a left hand holding a scabbard and a dual display left hand is included to add depth to the character's pose. 

The Deluxe Version elevates the experience with an extra left hand that wields the iconic Force Edge sword. This dynamic accessory allows fans to recreate the duo's dynamic battle stances. Also included are 2 Logo displays that pays homage to both the game's North American and European variations, capturing the essence of the Devil May Cry universe.

That's not all! Order on the Prime 1 Studio official online store and you will be gifted an extra head portrait that portrays Vergil with his hair down, which we all know is a rare sight for fans. This alternative head is sure to remind us of the complex relationship between the Nephilim twins.

The UPMDMC3-02DXS Vergil Statue is more than a collectible; it's a testament to Vergil's unyielding quest for power. Whether you're a dedicated Devil May Cry fan or a hardcore game enthusiast, this masterpiece is a must-have. Now is your chance to immortalize Vergil's formidable presence and embrace the true Nephilim within your display. 
Specifications:
Statue Size Approximately 27 inches [H: 69cm W: 56cm D: 37cm]
Statue Size Approximately 27 inches [H: 69cm W: 50cm D: 54cm] (Alongside Dante)
Statue Size Approximately 27 inches [H: 69cm W: 50cm D: 48cm] (Holding Force Edge)
Devil May Cry 3-themed base.
Two (2) Swappable head parts (Normal head & dual display head)
Three (3) Swappable left-hand parts (Holding gun, holding scabbard & holding Force Edge)
Two (2) Logo displays (NA/JP Version & EU Version)
One (1) Swappable bonus head part (Hair down) [BONUS PART]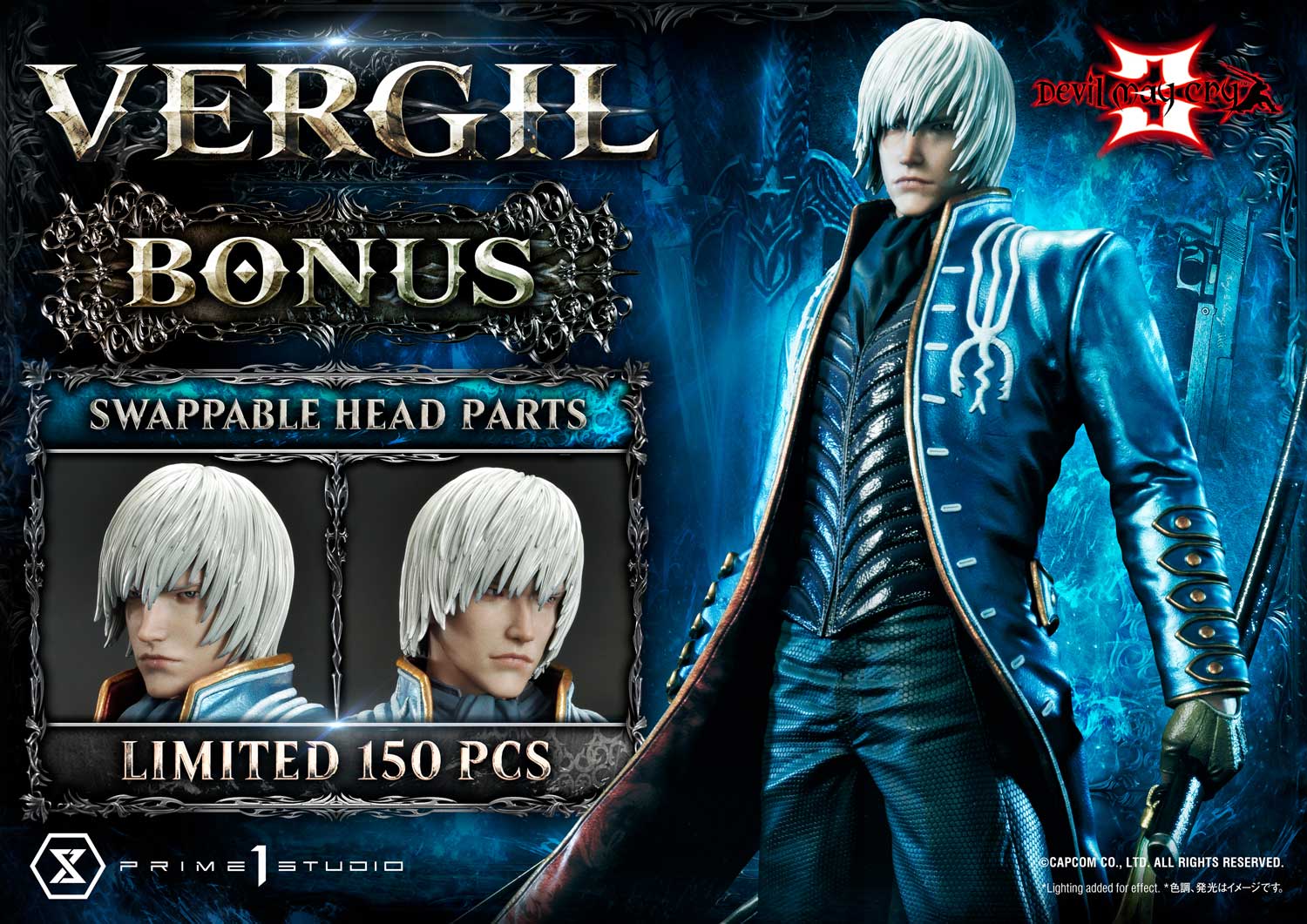 Notice:
Prototype samples shown.
Product details could be subject to change without further notice.
Please note the final product specifications may differ because each product is Handmade.
Since the product is still in the development stage, the Size (up to 10%) and weight (up to 10kg) may be changed during the production stage.
ⒸCAPCOM CO., LTD. ALL RIGHTS RESERVED.
DETAILS
Product Size Approx.

H:69cm W:56cm D:37cm

H:69cm W:50cm D:54cm (Alongside Dante)

H:69cm W:50cm D:48cm (Hand Holding Force Edge)

Package Weight
Approx.

About 16.9 kg

Materials

Polystone and other materials

JAN

4580708048147
RELATED PRODUCTS