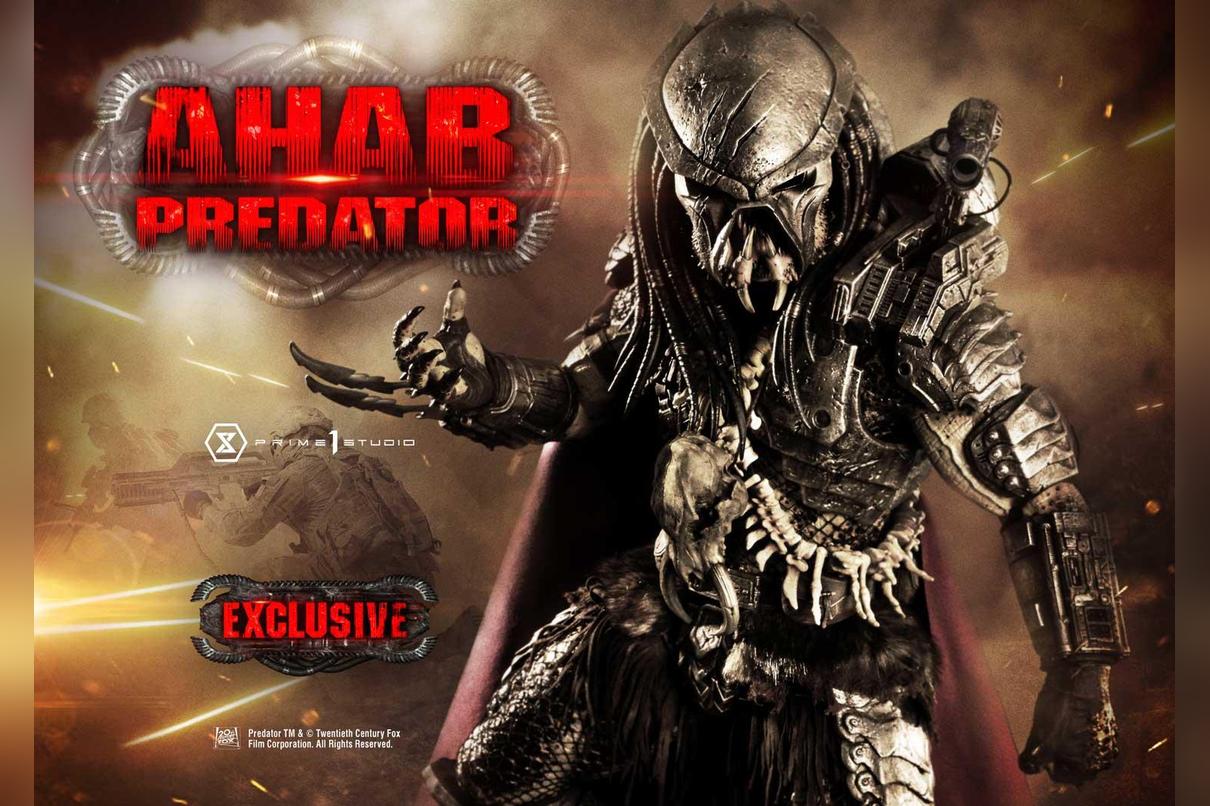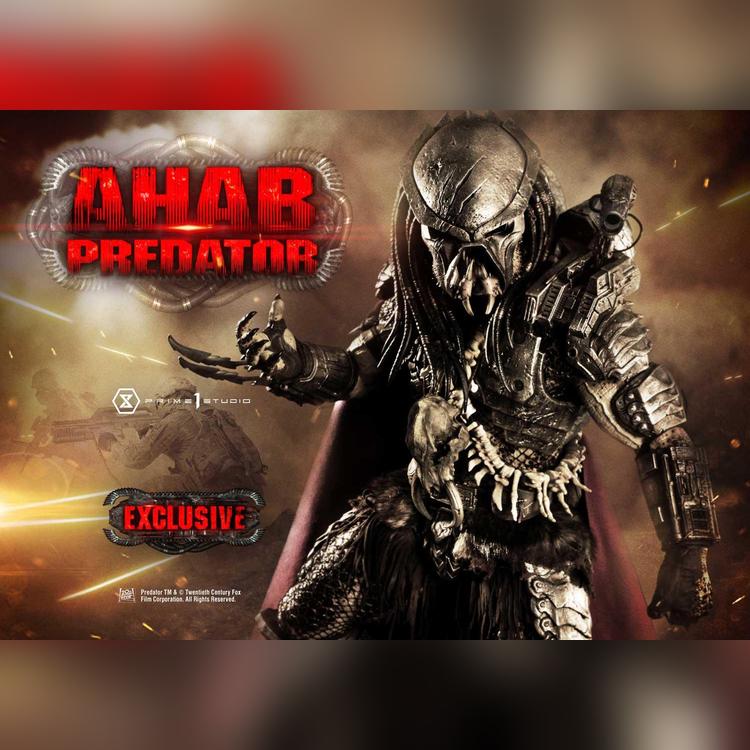 Predator (Comics)
Ahab Predator

EX Bonus Version
Edition Size: 150
"'Bond' is overstating. Ahab'd gut me soon as look, if he had to. An 'understanding', maybe. But let's call it 'bond' for simplicity." - Galgo
Prime 1 Studio is both honored and proud to present what could be the most badass Predator in the Premium Masterline Series: the 1/4 scale PMDHPR-05EX: Ahab Predator Exclusive Version from Dark Horse Comics!
In the book Moby Dick, Captain Ahab was obsessed with killing a giant white whale. Inspired by that book, the Predator nicknamed "Ahab" (by Galgo) became consumed with the desire to hunt his ultimate prey: an Engineer! Prime 1 Studio has captured the quintessential likeness of Ahab at a point in his life after he has accomplished his life's goal. Standing at over 34 inches tall, this highly skilled, intelligent, and experienced hunter has just vanquished a giant centipede to "keep himself busy", having already bagged an Engineer in a previous hunt.
Our talented suite of sculptors and painters really had a lot of fun with this one. Prime 1 Studio excels at adding life, realism and texture to every design we come across. It is our way of stamping our exceptional brand of quality into the high-end collectible industry. And nowhere is this more evident than in our Ahab statue. As you regard the figure from top to bottom, we are sure you will appreciate the ornate detailing of the scars on his metallic helmet, his battle-worn armor, and timeworn skeletal trophies, and the color and wrinkles on the skin of his feet. His face carries the weight of years of trophy hunts and a souvenir from chance encounter with a four-armed Tetrabrachial Humanoid. It was this red bastard that cost Ahab his right eye and part of his mandible, which in turn, garnered him his nickname!
You will absolutely get your money's worth: Ahab is a wonderland of multi-material features and extra parts. He is replete with leather straps, metal buckles, a synthetic fur kilt, real netting and a fabric cloak. His Plasmacaster features full LED functionality, and this Exclusive Bonus Version is chock-full of swappable parts! Choose between two Bio Mask portrait or the unmasked one to show off his magnificent scars (and good looks)! Display the portrait you are not featuring on its included head stand. And when you display the Bio Mask head on the statue, you can swap with the Exclusive Bio Mask part for an alternative look. Ahab comes with multiple swappable left and right hands to express many different gestural emotions, or just to show him wielding his signature Harpoon. And most of all, he comes with a treasured trophy: an Engineer rifle, capable of being slung on his back.
If you pre-order this Exclusive Bonus Version from our official online store, your Ahab Predator will come with a stunning Smart Disc which you will be able to place is his opened Right Hand!
More than a mere afterthought, Ahab's base features him standing on his freshest kill: an enormous centipede, gutted to the core, festooned with spiky legs & teeth and dripping with disgusting green blood. All this, balanced on a realistic tree root and Tartarus-Clan-aesthetic pedestal.
This Ahab Predator statue is literally dripping with personality and fierceness. You owe it to yourself to get one for your incredible Predator collection...so preorder it today!
Specifications:
Predator-themed Base featuring impressive, giant centipede
LED Illuminated on Plasma Cannon
One (1) Head Stand
Two (2) Swappable Heads (Bio Mask, Unmasked)
Two (2) Swappable Left Hand (Closed, Spear)
Two (2) Swappable Right Hand (Opened, Closed)
One (1) Swappable Exclusive Bio Mask
One (1) Bonus Smart Disc [BONUS PART]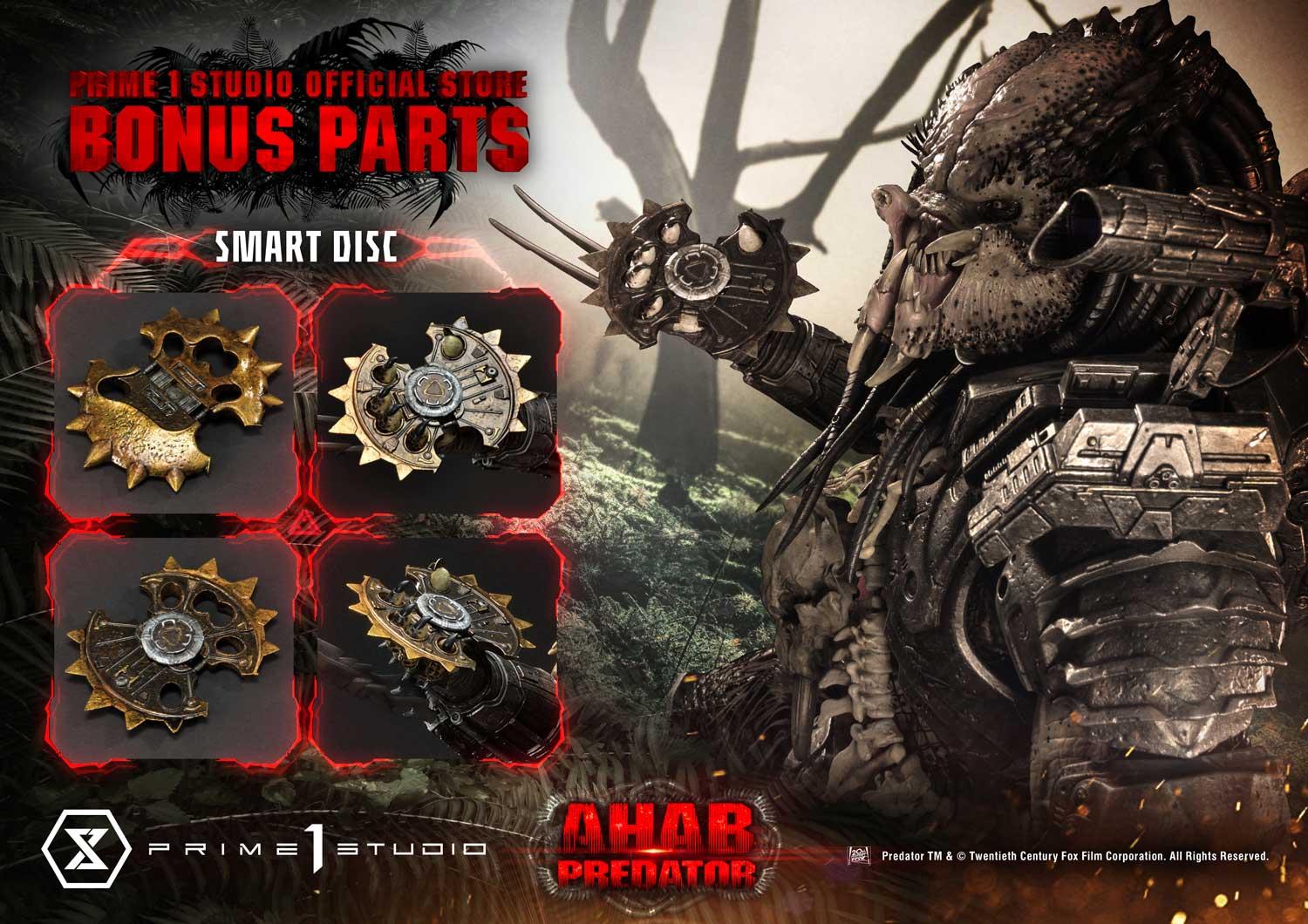 Notice:
Prototype samples shown.
Product details could be subjected to change without further notice.
Please note the final product specifications may differ because each product is Handmade.
Since the product is still in the development stage, the Size (up to 10%) & Weight (up to 10kg) may be changed during the production stage.
TM & © 2021 Twentieth Century Fox Film Corporation. All Rights Reserved.
DETAILS
Product Size Approx.

H:85cm W:57cm D:76cm

Package Weight
Approx.

37 kg

Materials

Polystone and other materials

JAN

4580708035192