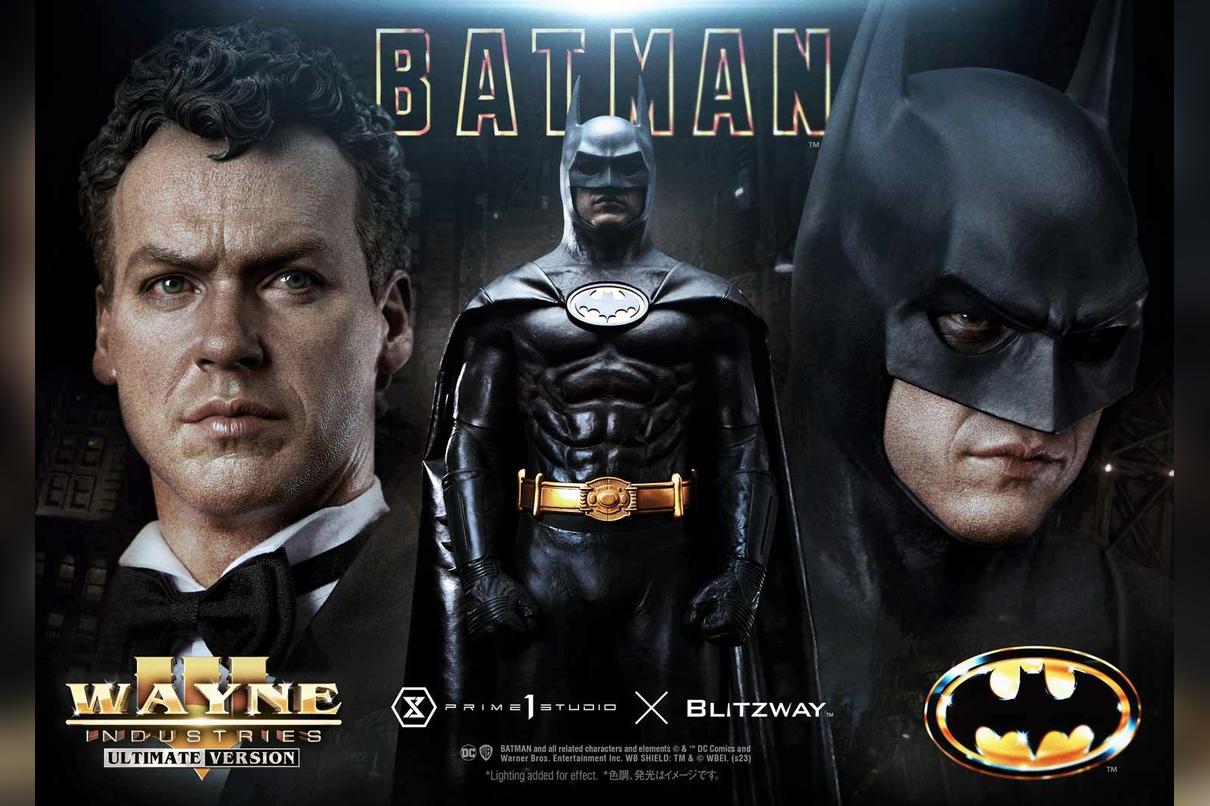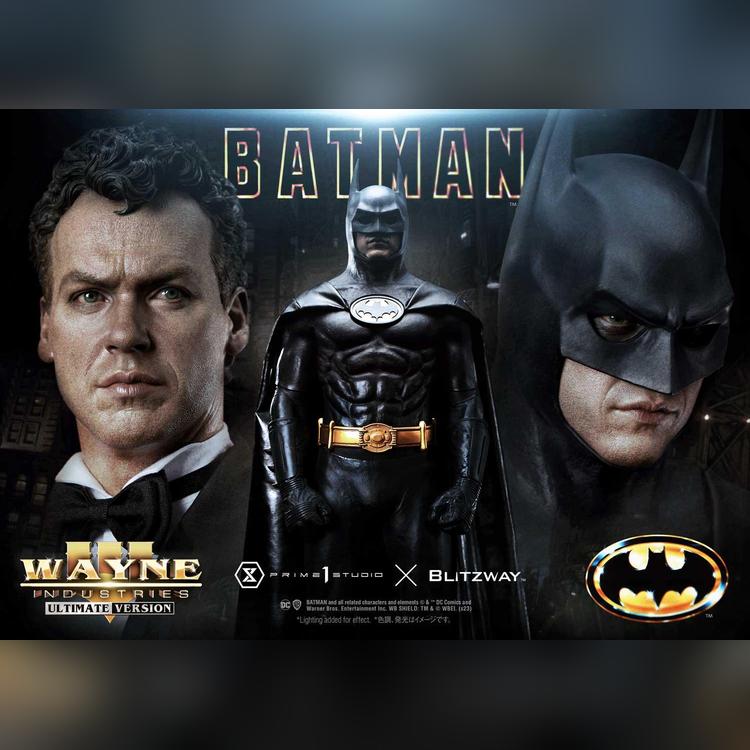 Batman (1989)
Batman

Ultimate Version
Edition Size: TBA
May. 2024 - Aug. 2024
Important Notice
When an order for this product has been canceled by another customer, you may be selected from the Waitlist.
If your Waitlist order is selected, you will have the opportunity to order the product through the notification email or from MyPage. The availability period to order is limited. Please note if the order is not confirmed within this period, the order will be canceled automatically.
"I'm not going to kill you. I want you to do me a favor. I want you to tell all your friends about me."
Prime 1 Studio is thrilled to present yet again another astonishing collaboration with Blitzway, introducing the next entry to our Museum Masterline Series: The 1:3 Scale MMBM-06UT Batman Ultimate Version from Batman 1989!
Prime 1 Studio and Blitzway have come together once again to deliver yet another statue of the highest quality and stunning accuracy of Michael Keaton's Batman from 1989's Batman!
Michael Keaton's portrayal of Batman in the 1989 film directed by Tim Burton was a defining moment in the Dark Knight's cinematic history. Keaton brought brooding intensity to the role, creating a dark and gritty atmosphere that made him a fan favorite and set the standard for future Batman films. This statue is a perfect way to commemorate his performance.
Prime 1 Studio and Blitzway brings you another screen-accurate depiction of Batman in a simple, yet powerful stance. Standing at an impressive height of 31 inches tall, it is sure to make a statement in any collection.
Blitzway did an astonishing job at not only recreating a Keaton's facial features, but also replicating the Batsuit. The costume's design was brough to us by Bob Ringwood, who was incorporated many elements from the comics, such as the cowl with pointed ears, the golden utility belt and the scalloped fabric leather-like cape that all add to the ominous presence of the character. The suit now takes a midnight black shade and heavily armored, giving it a much more menacing look and an air of invincibility.
Batman stands on a Batcave-themed base, a perfect representation of podium that the Dark Knight would have at the center of his underground base of operations. His grappling gun lays at his feet. This base also features a total of four spotlight LED illuminations.
The Ultimate Version takes your pre-order to the next level: a SECOND 1:3 Scale statue of Bruce Wayne is included. Just shy of 30 inches tall, Bruce Wayne, the wealthiest playboy philanthropist in Gotham, wears his unique and iconic expression, which seems to blend a touch of sophistication and urgency. He dons a classic tuxedo that stays true to the iconic look of the time. His sense of composure can be felt in his restrained posture, nonchalantly shifting his weight to one side. Bruce Wayne stands on a Wayne Manor-themed stone base where a detachable Batarang can be placed in his left hand. Having his Ultimate Version in your collection will definitely make anybody's jaw drop, whether they are hardcore collectors, Batman fans or simply a casual follower of the DC Comics universe.
These statues are a must-have for any fans of the Tim Burton's Batman film and Michael Keaton's iconic performance of the billionaire vigilante. Pre-order now while you can!
Specifications:
Highly detailed likeness sculpture of Michael Keaton
Perfectly designed Batman's original costume with a fabric cape
Perfectly designed Bruce Wayne in a fabric 80's trendy tuxedo
Batman, Batcave-themed base
Bruce Wayne, Wayne Manor-themed base
LED-Illuminated Base for Batman
Three (3) swappable right-hand for Batman (Open, Fist, Grapple Gun)
Two (2) swappable left-hand for Batman (Open, Fist)
One (1) detachable Batarang from the Wayne Manor themed-base
Notice:
Prototype samples shown.
Product details could be subject to change without further notice.
Please note the final product specifications may differ because each product is Handmade.
Since the product is still in the development stage, the Size (up to 10%) & Weight (up to 10kg) may be changed during the production stage.
BATMAN and all related characters and elements © & ™ DC Comics and Warner Bros. Entertainment Inc. WB SHIELD: TM & © WBEI. (s23)
DETAILS
Product Size Approx.

H:78cm W:39cm D:36cm
H:75cm W:33cm D:33cm (Bruce Wayne)

Product Weight
Approx.

16 kg
15 kg (Bruce Wayne)

Materials

Polystone and other materials

JAN

4580708046471