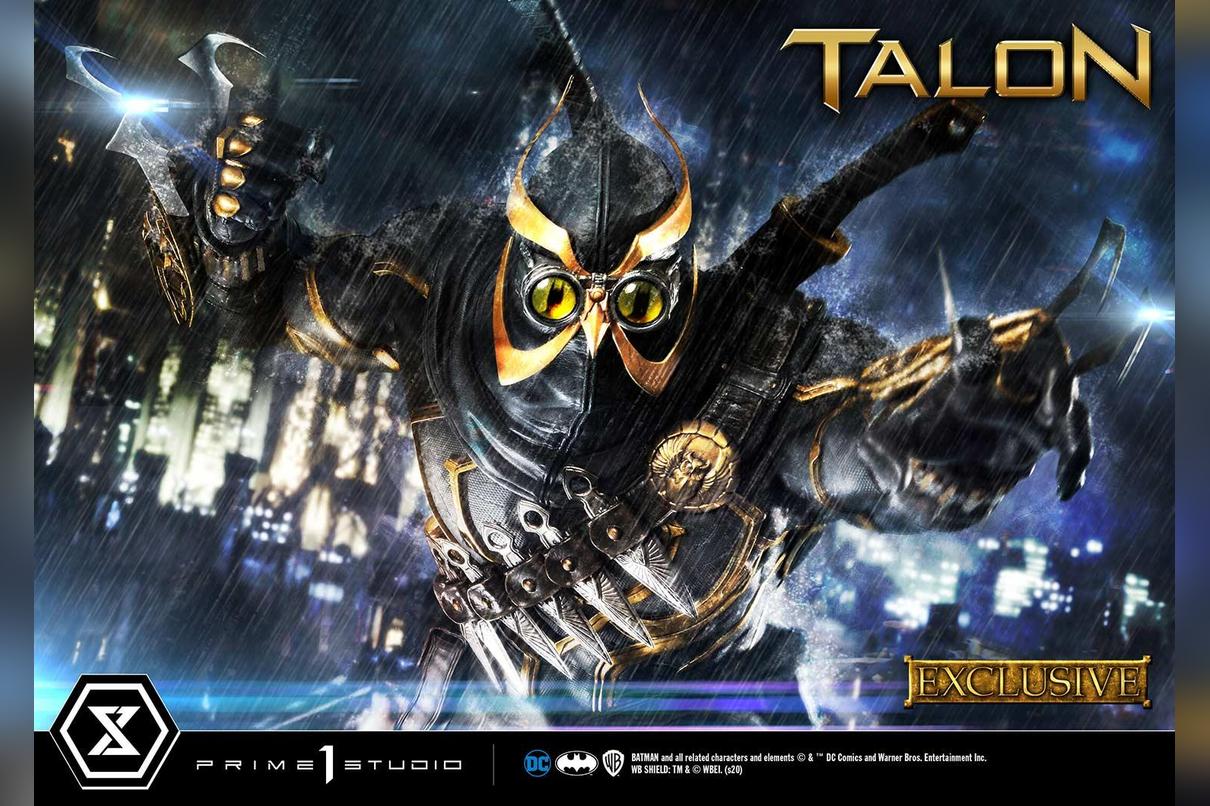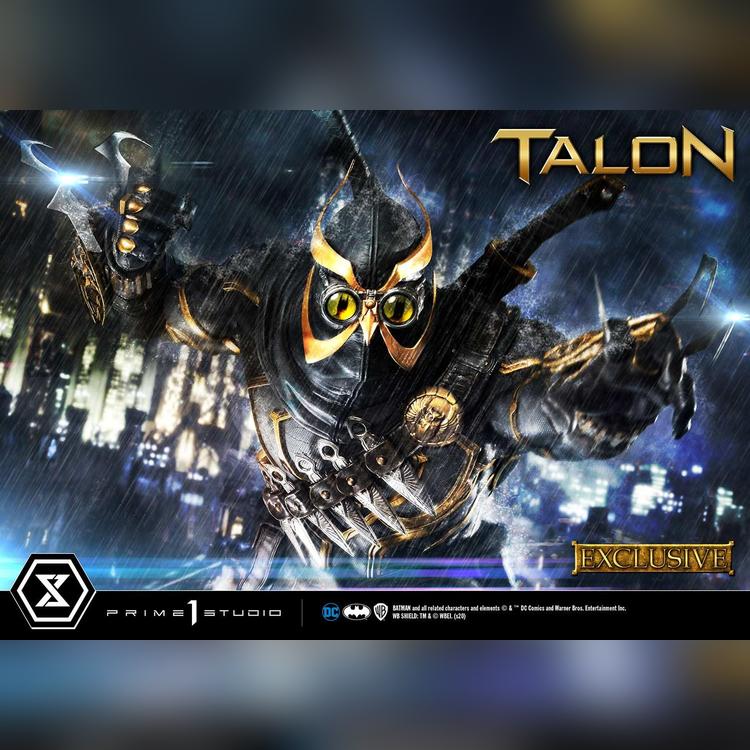 Batman (Comics)
Talon

EX Bonus Version
Edition Size: 250
Important Notice
When an order for this product has been canceled by another customer, you may be selected from the Waitlist.
If your Waitlist order is selected, you will have the opportunity to order the product through the notification email or from MyPage. The availability period to order is limited. Please note if the order is not confirmed within this period, the order will be canceled automatically.
"The Court of Owls has sentenced you to die. How I love killing Waynes!"
Prime 1 Studio is proud to present the latest addition to the timeless Museum Masterline Series. The highly skilled assassin MMDC-46: Talon from the Court of Owls.
The great grandfather of Dick Grayson, William Cobb, AKA Talon is one of most revered assassins in the Court of Owls. His powers are rare and allow him to be one of the most formidable foes in Gotham. Talon has extreme accelerated healing abilities and does not physically age. He is a master of martial arts and swordsmanship, making him virtually unbeatable.
Charging forward is the assassin Talon. Swords drawn and ready to take out his next victim in the blink of an eye! Talon has been sculpted and painted in accordance with his classic comic book appearance. The beautiful contrast of the gold, complete with weapons on his suit, make for an eye-catching piece that will set your collection apart from the rest!
Talon stands in a breathtaking dynamic pose 30 inches tall upon an ominous Court of Owls base, complete with the mysterious Court of Owls emblem, making it the perfect complement to his image. Bring the assassin to your collection today! A must-have for DC Comics fans everywhere!
Specifications:
Statue Size approx. 30 inches tall [H:75.1cm W:54.1cm D:46.3m]
Statue Size approx. 32 inches tall with sheathed swords [H:82.4cm W:49.1cm D:59.6m] (Exclusive Version Only)
One (1) Court of Owls designed theme base
One (1) unsheathed swords
One (1) pair of swappable arms holding Sword
One (1) sheathed swords [Exclusive Version Only]
One (1) pair of swappable arm with Claw Hands [Exclusive Version Only]
One (1) pair of swappable hands holding Throwing Knives [Exclusive Bonus Version Only]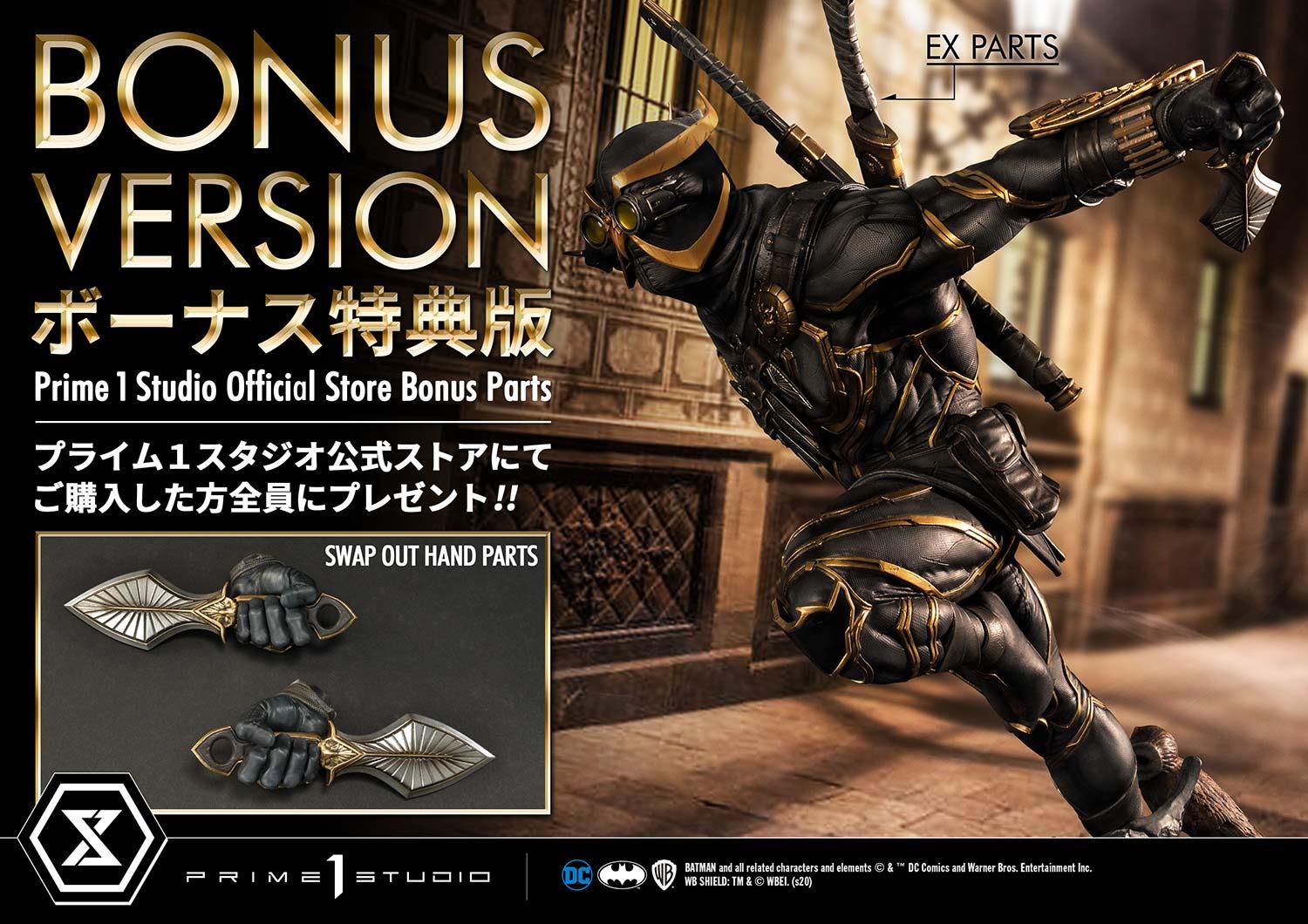 Notice:
Prototype samples shown.
Product details could be subjected to change without further notice.
Please note the final product specifications may differ because each product is Handmade.
Since the product is still in the development stage, the Size (up to 10%) & Weight (up to 10kg) may be changed during the production stage.
BATMAN and all related characters and elements © & ™ DC Comics and Warner Bros. Entertainment Inc. WB SHIELD: TM & © WBEI. (s20)
DETAILS
Product Size Approx.

H:75.1cm W:54.1cm D:46.3cm
(Equipped with sword)
H:82.4cm W:51.6cm D:46.3cm
(Equipped with kunai)
H:82.4cm W:49.1cm D:59.6cm
(Equipped with a hook)

Package Weight
Approx.

20.5 kg

Materials

Polystone and other materials

JAN

4582535945507
RELATED PRODUCTS