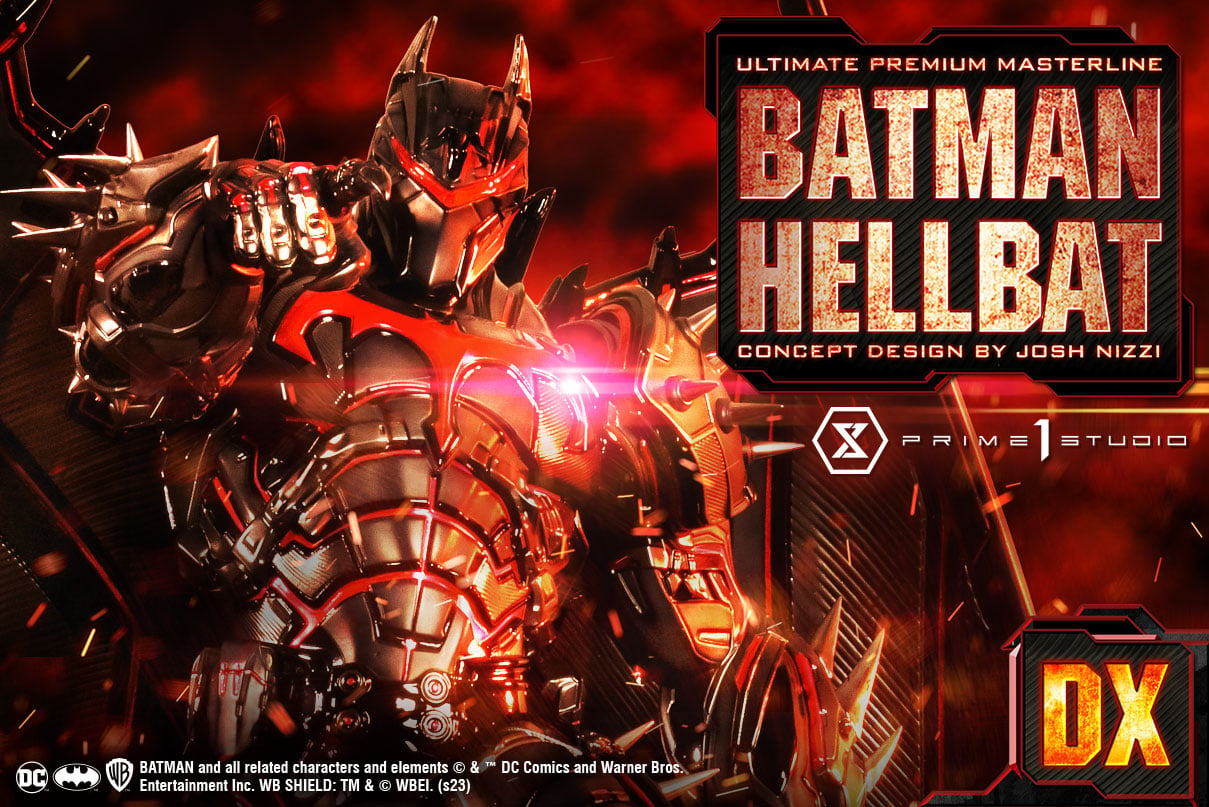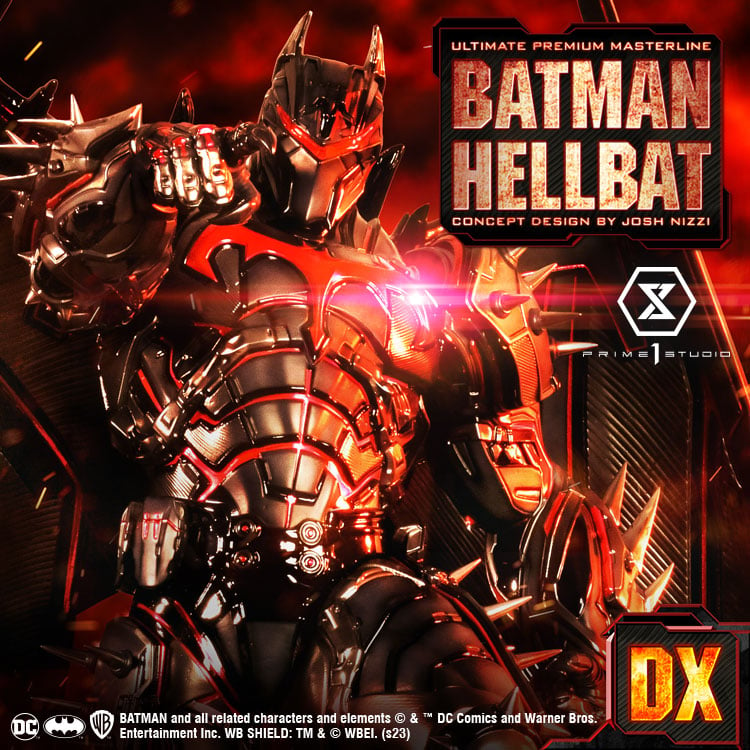 Batman (Comics)
Batman Hellbat
"Concept Design by Josh Nizzi"
DX Bonus Version
Edition Size: 350
Expected To Ship: Jan 2025 - Apr 2025

"You say I'm fated to die in this suit. My victory says otherwise."

Enter the treacherous Bat-Suit, a daring choice that seeks power at a price! Prime 1 Studio introduces DC fans to the super-ultimate release from our Batman lineup, the UPMDC-06DXS Ultimate Premium Masterline Batman Hellbat "Concept Design by Josh Nizzi" DX Bonus Version.

Batman equips his Hellbat suit and embarks on a grueling mission to resurrect his deceased son, Damian Wayne, while facing off against the DC Universe's most formidable villain, Darkseid. The Hellbat, forged by the Justice League and designed by Batman, is a double-edged blade that trades tremendous strength for the wearer's life.

Prime 1 Studio proudly collaborated with renowned concept artist Josh Nizzi to extract the full might of this high-risk, unforgiving menace of a suit. The exo-suit's surreal attack and evasive capabilities are evident in the energy-based broadsword and the large wings forming from its back. The helmet's red eye visor and the chest insignia on the mechanical torso scream "Don't mess with me." Josh Nizzi also adds a touch of originality and depth by highlighting the muscle lines across the whole body with red lines, showcasing the overall flexibility and durability of the nano-kinetic metallic suit. Inspired by the planet Apokolips, the base is finely finished with embedded LEDs, creating illuminating flames and a metallic red bat symbol that guides you to the battleground.

The Deluxe version includes an extra swappable head, right arm, left hand, and 3 swappable right hands for you to recreate detailed scenes from the comics. It also includes swappable armor with extra spiky armor plating, so your Hellbat is extra ready to take on the evil wrath of Darkseid.

That's not all, by purchasing the Deluxe bonus version from our official online store and authorized distributors, you can get another unmasked version swappable headpiece. With this, you can display your Hellbat Batman showing Bruce Wayne's stern face, determined to save his son.

This legendary suit, crafted with the combined wisdom of the Justice League to challenge even Darkseid, is a must-have addition to your collection. Bring justice to your display by Pre-ordering the UPMDC-06DXS Ultimate Premium Masterline Batman Hellbat "Concept Design by Josh Nizzi" DX Bonus Version now!
Specifications:
Apokolips -themed base
LED Illumination flames on base
Two (2) Swappable head
Two (2) Swappable armor plating (Longer Spikes)
Two (2) Swappable left hand (No Sword)
Two (2) Swappable right arm (Arm Raised)
Four (4) Swappable right hands (Hand Open, Hand Down & Pointing Finger)
One (1) Bonus swappable head [BONUS PART]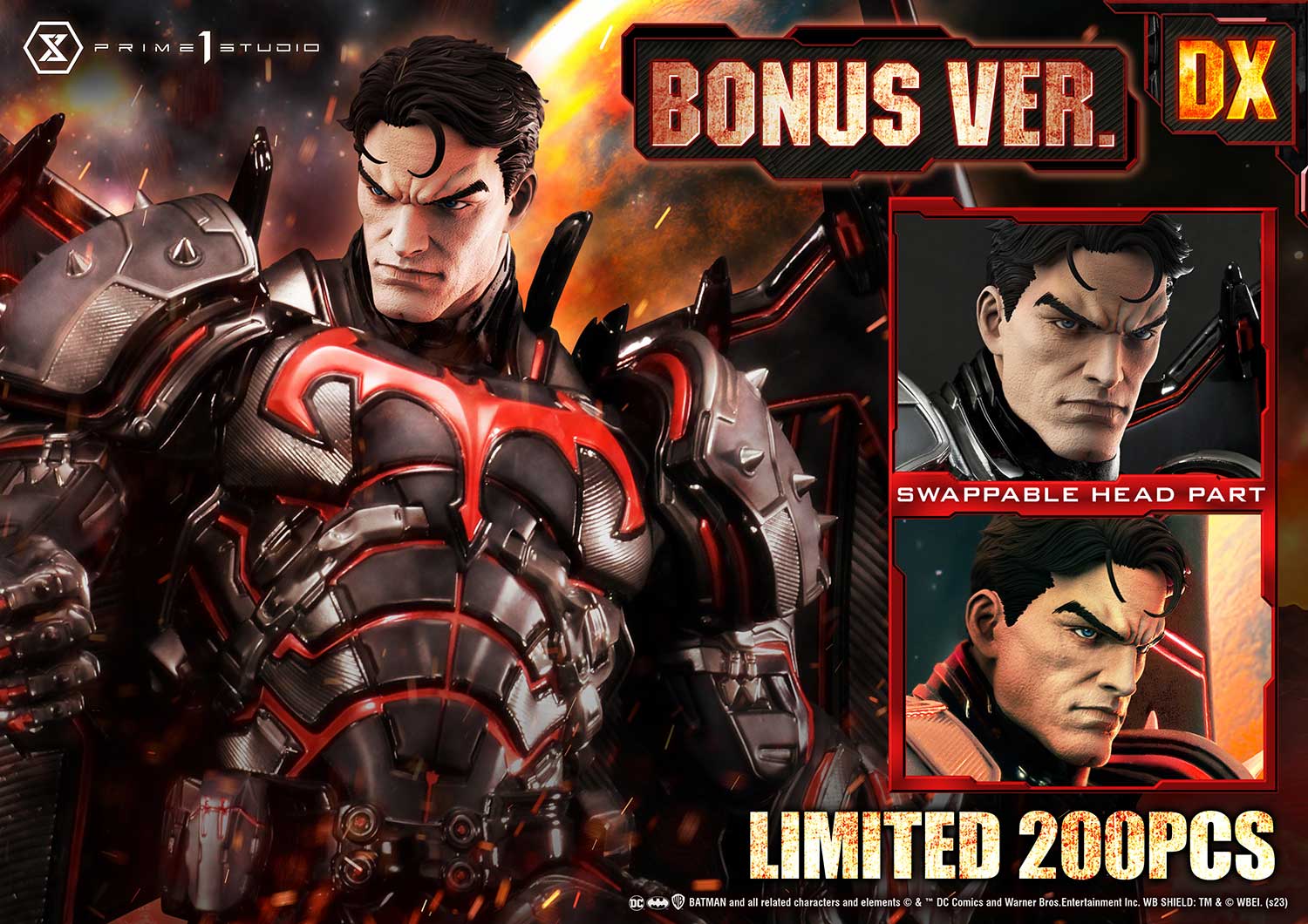 Notice:
Prototype samples shown.
Product details could be subject to change without further notice.
Please note the final product specifications may differ because each product is Handmade.
Since the product is still in the development stage, the Size (up to 10%) & Weight (up to 10kg) may be changed during the production stage.
BATMAN and all related characters and elements © & ™ DC Comics and Warner Bros. Entertainment Inc. WB SHIELD: TM & © WBEI. (s23)
DETAILS
Product Size Approx.

H:76cm W:49cm D:40cm
H:76cm W:47cm D:38cm (Right:finger,Left:fist)

Product Weight
Approx.

About 16.5 kg
Carton(Est.): 1 box

Materials

Polystone and other materials

JAN

4580708048291