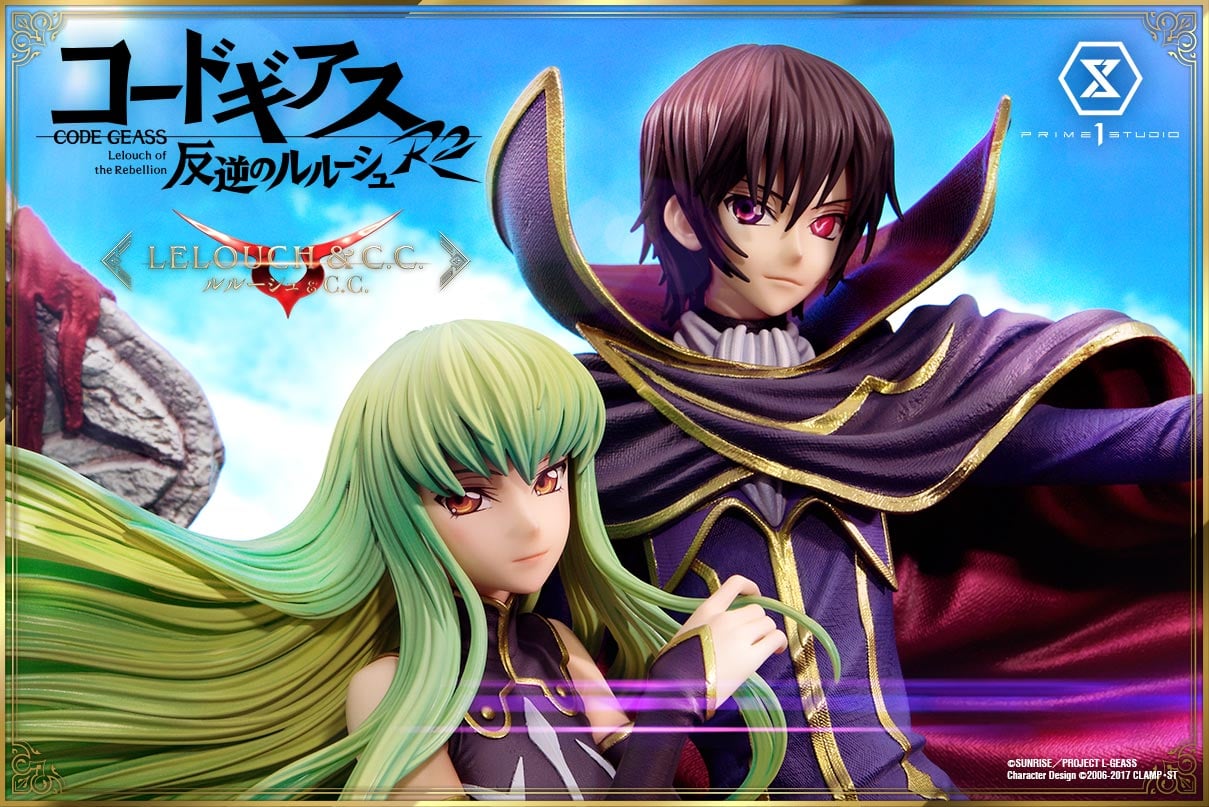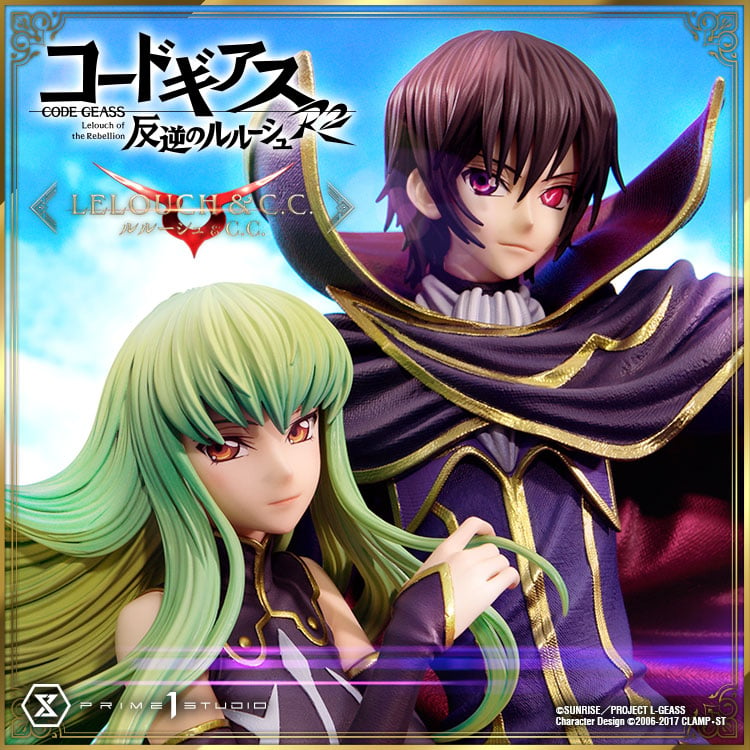 CODE GEASS Lelouch of the Rebellion R2
Lelouch Lamperouge & C.C.

Bonus Version
Edition Size: TBA
Expected To Ship: Jan 2025 - Apr 2025
"The world cannot be changed with pretty words alone"

Prime 1 Studio is extremely proud to present the next entry to our Concept Masterline Series: the two main protagonists of the fan-beloved series Code Geass Lelouch of the Rebellion R2, introducing the 1/6 scale CMCGR-03S Lelouch Lamperouge & C.C. Bonus Version!

Lelouch Vi Britannia, now also referred to as Lelouch Lamperouge has adopted the persona of Zero, the enigmatic leader of the Black Knights! Zero, along with his trusted advisor C.C. and the Black Knights are the very Symbol of Rebellion for Japan, vowing to fight back Britannia's oppression. They are now at an all-out war as Lelouch masters his Geass that has been bestowed upon him by C.C., The Power of Kings. Under the masked guise of Zero, Lelouch will rely on his genius-level intellect and strategic brilliance to rally his people to victory against his father's reign.

Our talented artists at Prime 1 Studio bring you this majestic piece of art, perfectly showcasing the complex chemistry and close emotional bond of the two main characters. This beautifully crafted statue radiates elegance, enigmatic charm and commanding aura, perfectly encapsulating the essence of both Lelouch and C.C.

At 17 inches tall, the iconic duo comes together in their Black Knights attire. Lelouch with his overflowing black and crimson cape, as he has his left hand outstretched as he is often seen doing in the series when throwing out commands with his Geass. He wears his mask that allows him to conceal his identity as he fights for justice against Britannia. C.C. leans on Lelouch although she is the one providing him with immense support and advice. Her stunning Black Knights outfit is form fitting and accentuates her femininity and her commanding presence as Zero's consort. Our artists have once again, went over and beyond in capturing the powerful aura that few others can do like Lelouch and C.C. when together as they fight to liberate Japan from the Holy Britannian Empire's grasp. To top it all off, the base features a rocky sculpture, a carefully carved angelic wing spreads behind their back, making for a very ethereal and striking centerpiece that exudes a sense of timeless beauty and grace.

To further expand your storytelling and help you find the perfect pose for the right occasion, the statue comes swappable head-parts for each character. Lelouch has an additional head without the mask, revealing his handsome face with an active Geass in the left eye. C.C. also has an additional swappable head-part featuring a closed mouth.

And when you order the Bonus version from our official store or any authorized distributor, you will receive a third swappable Lelouch head-part of his real face with a smirk.

Pre-order the CMCGR-03S Lelouch Lamperouge & C.C. Bonus Version statue now and bring the Rebellion to the warmth of your home, whether you are a Rebel or just want to expand your anime collection! Whether you are a long time Code Geass fan or a premium statue enthusiast, this work of art is sure to take your breath away.

Specifications:
Statue size approximately 17 inches tall [H:44cm, W:48cm, D:22cm]
Code Geass-themed base
Two (2) Swappable Lelouch Head parts (Masked, Unmasked)
Two (2) Swappable C.C. Head parts (Open, Closed)
One (1) Swappable Lelouch Bonus Head part [BONUS PART]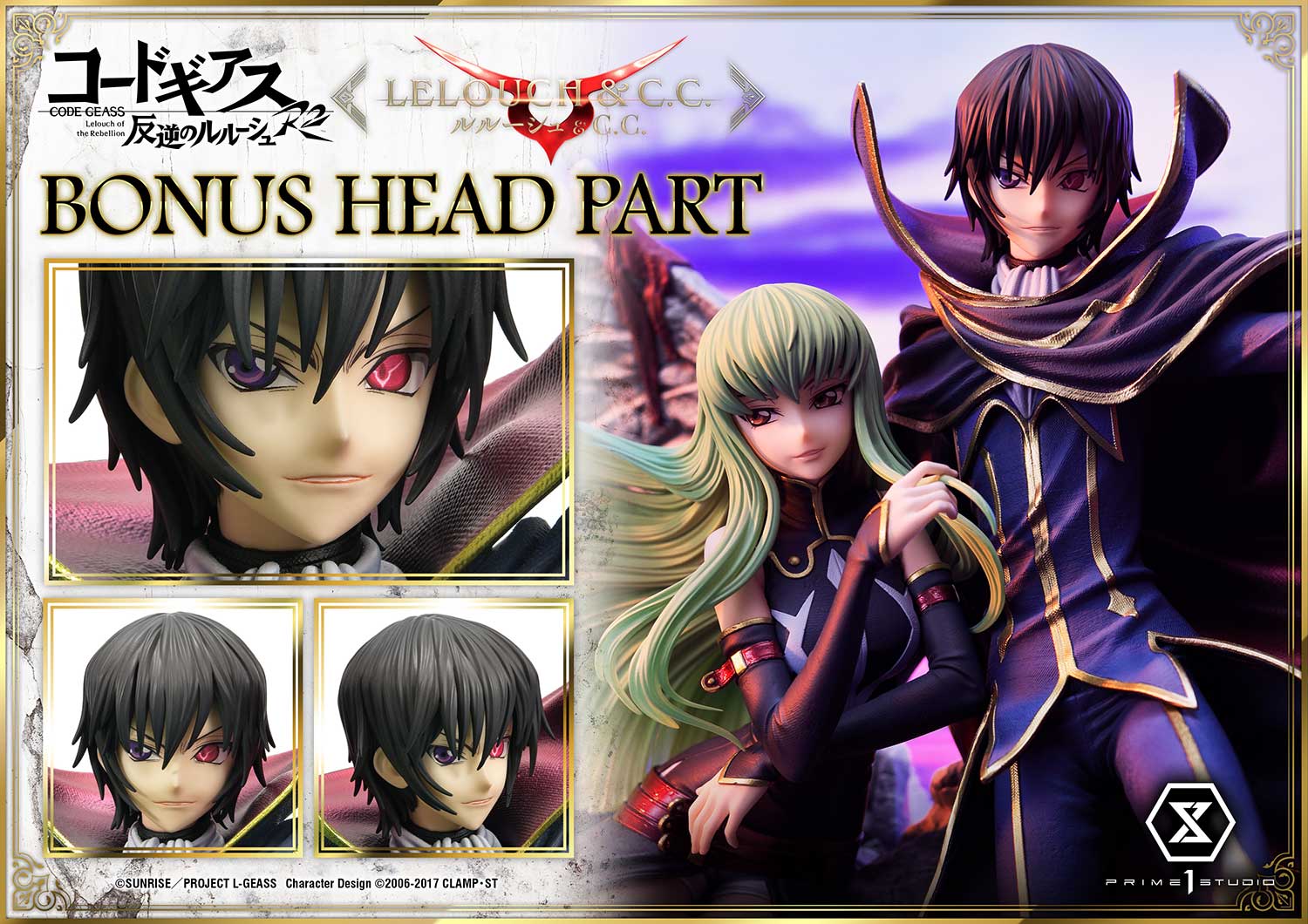 Notice:
Prototype samples shown.
Product details could be subject to change without further notice.
Please note the final product specifications may differ because each product is Handmade.
Since the product is still in the development stage, the Size (up to 10%) & Weight (up to 10kg) may be changed during the production stage.
©SUNRISE/PROJECT L-GEASS Character Design ©2006-2017 CLAMP・ST
DETAILS
Product Size Approx.

H:44cm W:48cm D:22cm

Product Weight
Approx.

About 7.2 kg

Materials

Polystone and other materials

JAN

4580708048413
RELATED PRODUCTS